Business
How are Custom Vinyl Records Made? Where can I Press my own vinyl?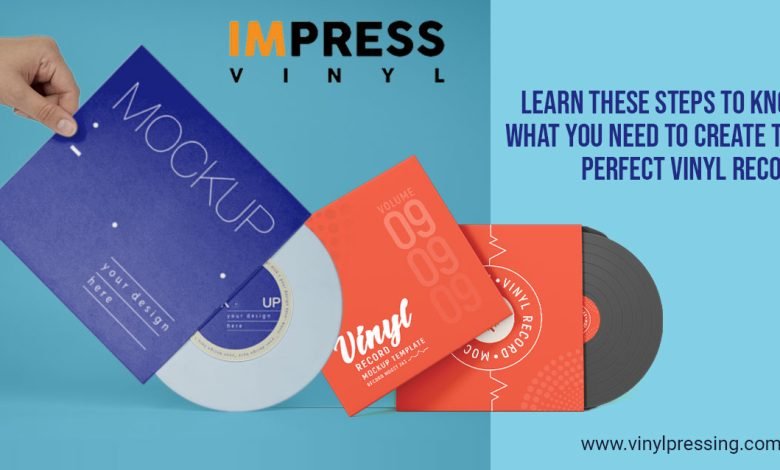 In the modern era of the digital world, online music streaming is the number one method people listen to music. However, custom vinyl records have returned, so why not make your own vinyl record?
In this blog, let us learn how are custom vinyl records made and where you can press your own vinyl record in Australia.
The Requirements to Make Custom Vinyl Records
Every vinyl lover dreamt of having their own record, and some have achieved it by taking the help of a pressing plant. A custom vinyl manufacturer uses a lather to cut a groove into a master disc made of metal or lacquer.
The master disc used to create lacquer is pressed to the copies that go into a vinyl run. The cost can vary from several hundred for a band to tens of thousands of copies if you are a famous artist.
Particular works enable artists to create one-of-a-kind custom vinyl records. You can press your own vinyl with a cut lathe process with various sizes, colors, and price ranges at Impress vinyl.
Pressing vinyl records with more copies will lessen the overall price per copy. The minimum order to press a vinyl record varies in multiple pressing plants. Start the process of pressing your own vinyl by organizing and planning.
Select your desired track, create your own labels and covers, and then the pressing plant can start the cutting process. Impress vinyl suggests some insight into making choices to create high-quality custom vinyl records with the best sound. Every decision to make a custom vinyl record came from a love for music and vinyl.
Get Your Audio Ready and Mastered in Vinyl
If your audio quality is poor with improper bass frequencies, the needle on the record jumps and leads to inappropriate sound quality. Sound engineers and vinyl engineers come together to master your song on vinyl to optimize the music format.
If you have an existing vinyl and need to press your own vinyl by remastering a song, ask the manufacturer to cut a new lathe with your desired designs and artwork. The vinyl engineer will press your vinyl record and make necessary changes as per your needs.
Always Have High-Resolution Artwork
When working with the designer, ensure all the source vinyl files are ready to create your desired artwork. All pressing plants ask for high-resolution artwork to get top-notch results. And finalize your liner notes if you plan to add them to the artwork.
Make your own vinyl by selecting your font, size, weight, and styles for your artwork. For better results, make sure your artwork is in high resolution with PNG or JPEG format. Create your design to stand out from the rest.
Choose Your Vinyl colors and design wisely
You can choose a wide range of vinyl colors and combine various covers and labels. Always find a contrasting color paring for your text on both covers and labels for the audience to read easily. For instance, do not use white text on a light background.
Choose your logo design, cover art, and jacket, and ensure your design and text are within the red lines or safety zone. Texts will discard anything beyond the red line in the vinyl fold.
Make Sure to Use Free Copyright Music
Impress vinyl takes copyright infringement seriously, so make sure your music or message is copyright free. Many pressing plants ask you to fill out the IPR (Intellectual Property Rights) form to confirm that your music is authentic and avoid unnecessary mishaps.
Choose Your Template and Achieve mechanical licenses
If you know to create your own vinyl record and don't know how to press your own vinyl. Then be easy on yourself and use our wide range of Vinyl record templates to attract eyeballs. Send your designs, and we will implement your design on our template.
Ensure you have appropriate mechanical licenses to get copyright owners' permissions or compensate for your unique cover songs. You can ask Impress vinyl to have your own cover songs.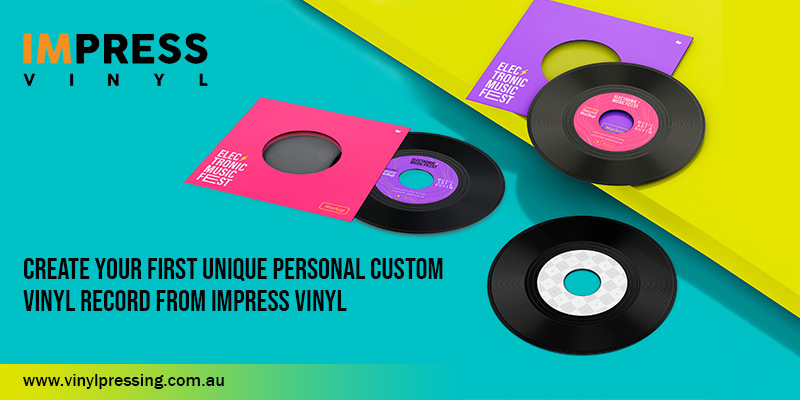 How to Press Your Own Vinyl Record?
Everyone wonders, can you press your own vinyl? The answer is yes, with proper equipment and techniques. Make sure you are prepared with necessary things from packaging, design, jackets, inner sleeves, type, labels, and albums so that the pressing plant can deliver your desired products, the ones you dreamt of holding.
Pick Your Track
Upload your favorite artists' music or personal voice message within a minimum time as per your chosen vinyl size record. The pressing plant usually asks for audio in MP3 format or WAV file for mastering the track.
To ensure high-quality audio from the beginning, you should use a sampling rate of 44.1 kHz and a bit depth of 16 or 24 bits. Then your first step of making your own vinyl record is complete.
Create Your labels and Covers
Creating your own vinyl record with a stunning label and cover is vital to stand out in the crowd. Pick numerous cover templates or create your personalized vinyl record cover from scratch.
Impress vinyl has the latest custom vinyl press equipment to design your custom vinyl record as per your requirements. Eventually, it looks fantastic and sounds as you expected. Submit the cover and label design file in PNG or JPEG format to get first-in-class cover designs.
Select the Vinyl Stock
Create your personalized vinyl record in Australia by choosing our different stocks, including transparent, splatter, marbling, black stone, flag effect, picture discs, vinyl graving, laser serials, locked groove, and many more. You can also choose different shapes for your loved ones with limited edition shapes.
Mastering
Impress vinyl has the mastering service with the cost or extra charge depending on your requirements. Vinyl is a physical medium so make sure your audio is below 250hz and get rid of the sss-sound in the vocal track. And 24bit, 44.1 kHz AIFF, or WAV files are best because no sonic information will be lost.
Test Pressing
By adopting custom vinyl pressing, you can ensure the track is in the right length and get the All-ok on your mastering and pressing techniques. You need to send your audio for a test pressing for vinyl before it goes on live vinyl record.
You can find the issues and adjust the sound of a custom vinyl record by doing a test pressing. It is also an excellent method to ensure all the tracks are in the proper order on both sides of the record.
Here at Impress vinyl, we have specialized engineers to produce high-quality custom vinyl records at competive prices. We wrap your music from the labels to grooves with various records and eye-catchy designs with instant pricing. Talk to our friendly team to create beautiful custom vinyl records per your needs.