Fashion
Long Mangalsurtas That Go Well with Wedding Attires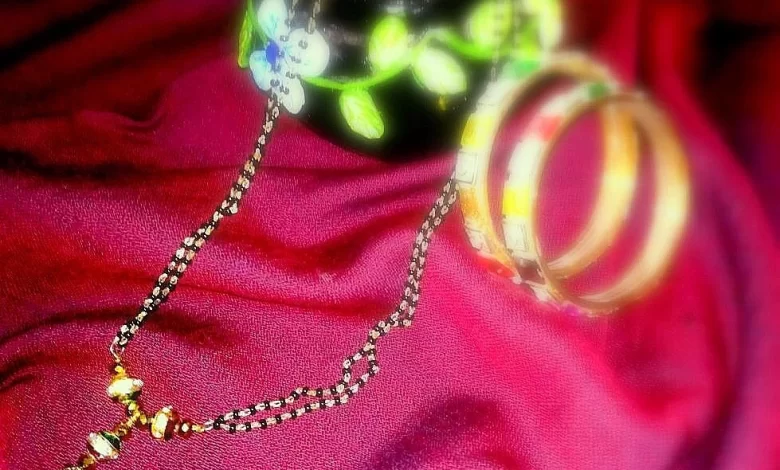 In India, newlywed women wear a mangalsutra, a long chain made of black beads having a pendant that signifies their marriage. When considering a mangalsutra, conventional, traditional designs instantly come to mind. But given that every facet of weddings is changing today, how can a millennial woman avoid wanting a distinctive mangalsutra?
Read Also:7 Karwa Chauth Gifts For Wife You Never Forget To Try
You've undoubtedly pinned a dozen different mangalsutra ideas to the wedding storyboard, but until now, probably none of them has successfully fused contemporary and traditional design elements. In India, the mangalsutra has a rich history and distinctive traditions associated with it. The bride and groom's families joyfully celebrate Mangalya Dharanam, the holy event of tying this fortunate thread or chain. This sacred necklace and pendant are said to protect the couple's holy bond from danger and all kinds of evil. The black bead mangalsutra is thought to prevent evil from happening and keep the marriage happy and healthy.
Make the best decision by looking at a vast collection of long mangalsutra designs for your wedding if you enjoy fusing the best of traditions with a dash of modernity.
A Tear of Joy Mangalsutra – 14 kt 
Just for aesthetics, this long mangalsutra necklace in a contemporary style is a woman's best friend. In this piece, there are long threads of black beads, one of which is knotted into an infinity symbol, and a teardrop-shaped diamond embedded in yellow gold. For a kurta or saree with delicate stitching, this mangalsutra is ideal!
Everlasting Accord Mangalsutra – 14 kt
A long mangalsutra with a modern, minimalistic twist! It has a fashionable vibe and goes well with any ensemble. This design has an infinity loop, a diamond-studded flower, and a narrow, textured gold bar with black beads dangling from it on either side. For a silk or cotton saree that is lightweight, this simple but gorgeous mangalsutra will look incredible!
Gold Evil Eye Mangalsutra – 14 kt
We understand that minimalist design conveys a lot. Let's say you dislike pendants in a bigger sizes. This elegant, modest, and simple design goes well with any aesthetic. An exquisite evil eye with diamond embellishments and black pearls is attached to each side of a delicate chain with an infinity knot on one end. Pair this long mangalsutra with a cotton or crepe sari to complete your outfit!
Yellow Gold & Diamond Manga Sutra Bound by Love – 18kt
This mangalsutra made of yellow gold represents your affection and the closeness you have with your partner. It is anything but ordinary with its striking appearance and cutting-edge diamond pattern. Folklore holds that fish are fortunate and healthy. As a reference to everything they stand for, this 18kt mangalsutra is adorned with tiny fish-shaped patterns and diamond-studded stones.
Two-in-One yellow gold mangalsutra – 14 kt
We are aware of simplicity's power! It complements everything and is classy and understated. If you want to adhere to tradition, you can also add a single gold or black bead on either side of the stone. In this design, two small gold chains are there, one with a diamond-studded blossom and the other with a string of black beads and an infinity knot stitched into one side. Wear this with any traditional outfit, and you are good to go!
Because they are simpler to dress, ladies today prefer lighter gold mangalsutras than the hefty varieties that married women would commonly wear about two to three decades ago. Among married ladies today, modern, and long Mangalsutra necklaces are one of the most popular fashion accessories. As a result, you should consider your options if you wish to join this movement.
You must go to Mia by Tanishq to finish this task. At Mia by Tanishq, you may choose from a huge variety of long mangalsutra pendants. The designs are unending, and you will most definitely find something to your liking!