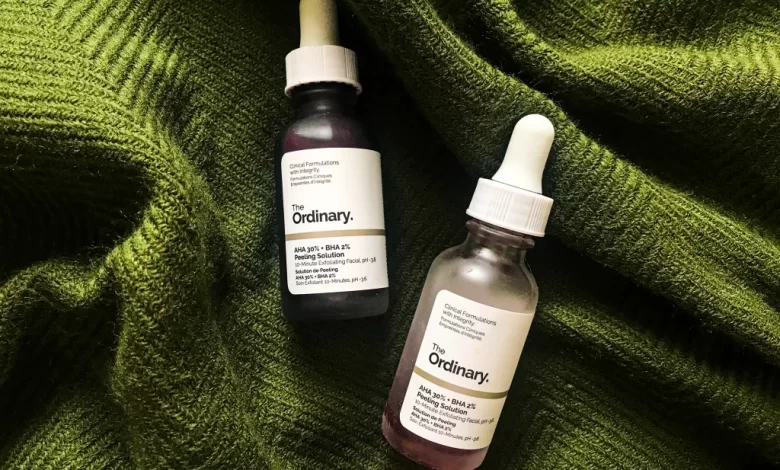 Exfoliation is a crucial component of any skincare regimen. Dead skin cells must be removed to maintain healthy-looking skin, help other treatments operate more effectively, and prevent problems like dullness and patchiness. Alpha-hydroxy acids (AHA) and beta-hydroxy acids (BHA) are the most commonly used substances for chemical exfoliation, which are becoming more and more popular as people yearn for more information about the products they use on their skin. Although poly-hydroxy acids (PHA) are also popular at the moment for being the most gentle exfoliate class available, the debate always seems to come down to the distinction between AHA and BHA SERUM.
Difference between AHA and BHA SERUM
What is AHA?
The main principle of the classification is that the higher the concentration of the acid, the lower is the pH value – hence the greater exfoliation effect it has. The first type is the AHA or alpha-hydroxy acid, this group includes glycolic acid, lactic acid, citric acid, and malic acid. They are derived mostly from fruits, but can also be produced synthetically. They have the ability to dissolve in water, so they work on the surface of the skin to mostly improve its texture. The most commonly used ones are usually glycolic and lactic acid. The ideal recommendation is between 5% – 10%.
What is BHA?
Beta-hydroxy acids, or BHAs, are soluble in oil, allowing them to operate both on the surface of the skin and deeper into the pores of your skin. BHAs can assist dissolve any oil or sebum that may be clogging your pores in order to clear the skin. They not only improve the texture of the skin as a result, but they also open up the pores and get rid of the sebum that contributes to acne. Salicylic acid and tropic acid are the best BHA examples, with their exfoliating and anti-inflammatory properties, these BHAs are miracle products for oily and acne-prone skin. With regular application, they can also aid in achieving an even tone, reduce pore size, and soften rough skin.
 AHA can help to:
Enhances collagen and blood flow
Correct discoloration from scars and age spots
Improve areas of surface lines and wrinkles
Prevent acne breakouts
Brighten your complexion
Increase product absorption
Alleviate the issue of ingrown hair 
BHA can help to:
BHAs are primarily used for acne and sun damage.
Unclog pores to prevent acne
Very effective in treating acne
Salicylic acid helps
calm down general redness and inflammation
Can you use AHA & BHA SERUM together?
According to the skin specialists at NOIR. You can use AHA and BHA SERUM together as long as they come from the same product. Products containing a balanced amount of both AHA and BHA in their mix are typically safe for all skin types and have a low risk of over-exfoliation.
The NOIR skin experts think that both the AHA and BHA SERUM exfoliates have advantages of their own and can be used in combination. However, it would also be important to get the advice of a dermatologist or other skin professional to determine the best product or combination for your skin. Additionally, Noir Salon provides exfoliation and numerous skin treatments.
Also Read: From Eye Shadow Stick to Highlighter: Feel Luxurious In Your Makeup