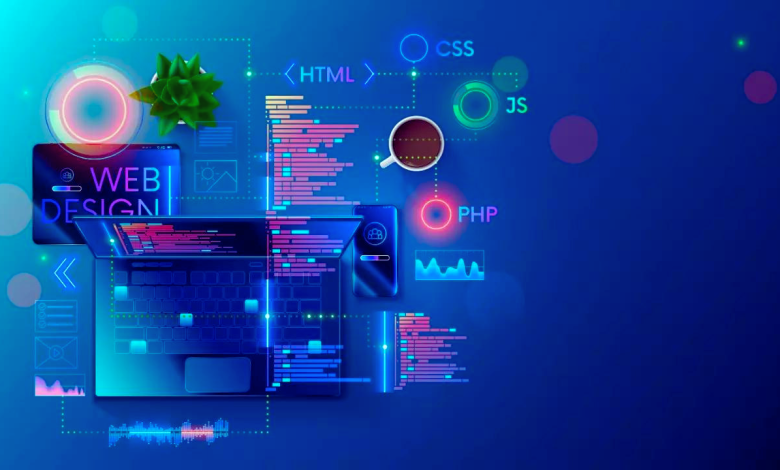 You must construct a stunning website for your company because 94% of first impressions are based on it. However, when you first begin designing websites, you might not know how to approach them. Which web design styles are ideal for your company? Fortunately for you, we know the answers. Learn about six kinds of web design in Web Designing courses along with each one's benefits and drawbacks, by reading on:
Static Page Layout

Liquid Design Layout

Adaptive Website Layout

Dynamic Website Layout

Responsive Design Layout

Single Page Layout
1. Static page layout
One of the most basic types of website design is a static page layout. With this layout, you can build a website with fixed width and predetermined page dimensions. Static layouts follow these dimensions across all browsers and devices. Static layouts are no longer relevant due to the rise in mobile usage. Because these websites don't adapt to multiple platforms, they don't provide a pleasant user experience on smartphones or tablets.
Pros of static page layout:
Cons of static page layout:
Browsers and devices are not responsive

requires building a unique mobile website (more work)
2. Liquid design layout
The next type of website design on our list is liquid design layouts. This layout, which is also known as fluid design, utilizes flexible units as opposed to the fixed units used by static layouts. Because the units are adjustable, regardless of the type of device, the page will always fill the width of the device's screen. Since user experience is essential for bringing in and keeping visitors to your website, liquid layouts have also begun to fall out of favor as a workable commercial option. You can still employ this layout, but you run the risk of disappointing visitors if your website is too lengthy or has too much content on a single page.
Pros of liquid design layout:
A responsive design that is simpler to set up

No text is omitted from pages.
Cons of liquid design layout:
When content is stretched to suit the screen when a browser is extremely broad, it may not look pleasing.

When a browser is smaller, content is crammed onto the screen and becomes difficult to read and navigate.
3. Adaptive website layout
One form of web design you can use for your website is an adaptive website layout. This website uses CSS queries to alter its size according to the browser being used, as implied by the name. Adaptive websites will change their layout automatically to improve visitors' user experiences. There are predetermined guidelines for how a website will modify when it has an adaptive website layout.
A set parameter might read, for instance, "Set the main content container to 400 pixels wide if the browser is 500 pixels wide." For instance, the adaptive layout might convert into a single-column design on a small browser screen if your website had a two-column layout.
Pros of adaptive website layout:
Simple to set up

less time to build than responsive layouts

can change your website to accommodate different browser sizes
Cons of adaptive website layout:
Device widths between defined points can result in too much or not enough space on

your

website.

not completely responsive
4. Dynamic website layout
When you look at a list of the various web design types, one of your possibilities is the dynamic website layout. Dynamic website layouts are excellent for people who don't have any HTML skills. These websites may show different content to users even if they are viewing the same page simultaneously.
A dynamic website, as opposed to a static one, enables you to build a database of features and material. When a user requests a page, the web code then automatically puts together the components from your database to build the webpage.
Pros of dynamic website layout:
Communication with users

increased user functionality

fewer coding skills are necessary
Cons of dynamic website layout:
being more difficult to set up with several functionalities

Because of all the many elements and page compositions, they tend to load more slowly.
5. Responsive design layout
The responsive design layout is the next type of website layout on our list. The most popular layout type precisely covers the browser area and enables your site to run on all platforms. The mobile device is the cornerstone of responsive design.
Creating your mobile layout comes after your website has been optimized for smaller browser sizes. Therefore, you should start small and gradually increase the size of your website rather than try to make it smaller.
  Pros of responsive design:
Get a website that is mobile-friendly.

provides an intuitive user experience across all devices

no need to create a separate mobile website
Cons of responsive design:
longer to construct and develop
6. Single-page layout
A single-page layout will be the last sort of web design we discuss in this article. Single-page layouts, as the name suggests, just have one page, which customers scroll down to learn more about your goods or services. You can have a "navigation menu" with connections to particular sections of your page using this design pattern.
  Pros of single-page layout:
simple to produce

can assist you in building an easy-to-use website
Cons of single-page layout:
not applicable to companies who sell things online

Cannot be applied to businesses that require numerous pages

If a single page is overly long and requires a lot of scrolling, it may turn consumers away.
Types of websites: 4 types of websites you can create
You must decide what kind of website you need to build for your business in addition to whittling down your choice of possible website design to the ideal one. Your site type might be distinct from others because every company has various needs. You can develop the following four types of websites for your company:
1. Blogs
We start our list of website categorize blogs to provide users with useful information about subjects related to their sector. s with blogs. Even while a blog might not be your business's main website, if you're using content marketing, you might think about setting one up.
2. Ecommerce websites
Ecommerce websites are yet another design option for your company's website. If you wish to sell things on your website, this website type is appropriate for your company. Ecommerce websites are designed to contain product pages, allow customers to add items to their carts, and finalize purchases.
3. Business websites
A company website is another form of website you can make. A business website is a typical website that provides details about your organization and the services you provide. You can create a business website even if you don't sell things online in order to highlight your services.
These websites are straightforward informational hubs for your company. If your website doesn't offer things, you can choose this website type. You can utilize any of the web design styles mentioned above for a company website, but you should pick the ones that will help you give your audience the most incredible experience possible.
4. Membership websites
A membership website is the final website design option. With this kind of website, entry is behind a paywall. Your website can only be accessed and your products can only be seen by members. To view all of their products, you must sign up for a membership and pay the required cost. You can choose between adaptive and responsive web design layouts if you wish to use this type of website. The hosting of products for members will function best with these layouts.