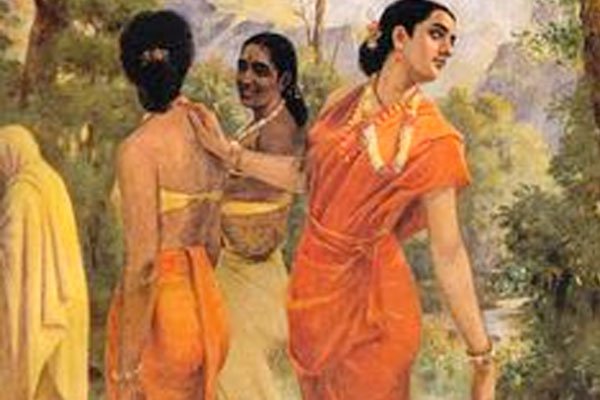 Floors and walls were painted with Indian Paintings during ancient times. And they've served as a window into our ancestors' old celebrations, customs, and rituals.
In this post, we'll look at some of our country's most accomplished painters' masterpieces — the most famous Indian paintings of modern times.
Painting, like all art genres, evolved over time. each Indian time has a specific type of Painting associated with it.
Indeed, some of our time's most iconic paintings date from a period marked by the most bloodshed and human horrors.
The following is a list of the most well-known modern Indian paintings:
Nandlal Bose's Dandi March (Bapuji)
Nandlal Bose did this painting in 1930 to commemorate Gandhi's Dandi March protest. Mahatma Gandhi started the Dandi March protest. It was a protest against the British salt tariff.
Abanindranath Tagore's Bharat Mata
Watercolor painting of Bharat Mata. "Bharat Mata" is a personification of the Indian subcontinent. It means she bestows shikhsa, Deeksha, ann, and vastra on her worshippers.
Raja Ravi Varma's Shakuntala
Raja Ravi Varma created Shakuntala in 1870. In the guise of removing a thorn from her foot, we witness Mahabharat's Shakuntala excitedly staring back. She is looking for Dushyant, her spouse.
Jamini Roy's Three Pujarins
One of India's first Modernist artists is Jamini Roy. His paintings are mostly concerned with the traditional Bengali way of life. Three Pujarins, a painting by him, displays senior Bengali women dressed in traditional indigo sarees. The saree's Indigo color has historical importance since it refers to the Indigo revolt against the British government.
Amrita Sher-Gil's Brahmacharis
Brahmacharis was painted by Amrita in 1937 as part of her Indian trilogy. This painting is inspired by her belief in South India in 1937. 
Rabindranath Tagore's Self Portrait
Rabindranath Tagore began drawing pictures for his poems and verses as a child. He did, however, go on to produce sketches later in life. The self-portrait was one such sketch: it was simple, raw, and bold, yet it was also utterly expressive.
S.H.Raza's Ankuran
S H Raza painted Ankuran in 1987. Geometrically abstract paintings are represented by Ankaran. Instead of creative emotions in human figures or landscapes, this picture, like all of his others, features a "Bindu." According to him, "Bindu" is the source of all creative force in the universe.
Satish-Days Gujral's of Glory
Satish Gujral was a well-known painter who received the Padma Vibhushan award. However, his work encompasses more than just painting. It includes writing, painting murals, and sculpting. Days of Glory was his creation in 1952. The painting is black and white. And, during the partition of India and Pakistan, he witnessed human feelings of grief, suffering, and tragedy.
Tyeb Mehta's Mahishasura
Mahishasura, by Tyeb Mehta, tells the legend of Mahishasur's birth. It depicts a demon king's marriage to a she-buffalo. This finally leads to the birth of Mahishasur, his son.
Manishi Dey's Bengal Women
Manishi Dey was a Shantiniketan pupil of Abanindranath Tagore. Traditional Indian art culture and art styles were emphasized by Abanindranath Tagore. As a result, Dey's paintings focused on promoting India's traditional cultural heritage. Around 1950, Manishi Day painted Bengal Women. It reflects the essence of Bengali ladies in rural areas.