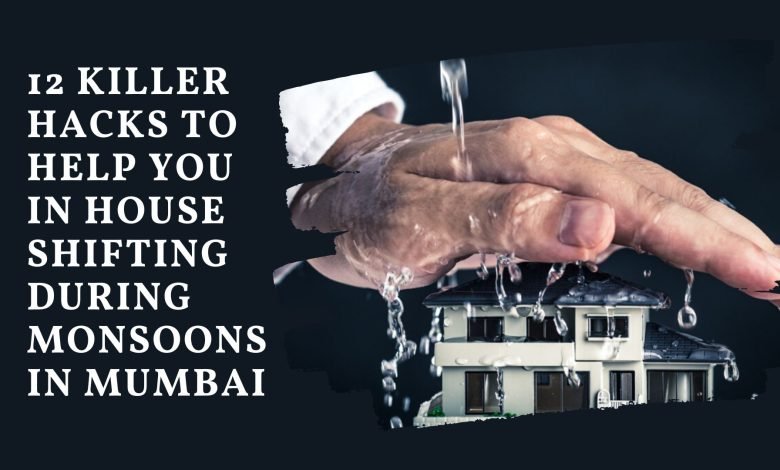 House shifting during monsoons in Mumbai should be used as an idiom for depicting an impossible task! But it is not as impossible as it seems. You can make it possible if you follow the below-mentioned pointers on the 12 killer hacks to help you with house shifting during monsoons in Mumbai:
1. Don't procrastinate about preparing
When you are considering a house shifting, the first thing that you should do is plan out your move. Decide the day of your move and the budget that you are ready to spend on this venture. Make sure that you keep enough time to prepare as you decide on a moving day. Again, make sure that you have sufficient money left to carry on with your usual monthly expenses even after you execute the house shifting. Right after you figure out the moving day and the budget, it is time to prepare. Don't delay assuming that you will have ample time later on.
2. Keep your umbrellas and raincoats handy
Since it is the monsoons in Mumbai, you can do without bread and butter but not without umbrellas and raincoats! So, better keep them handy. You will need to go out to get daily essentials as well as the shifting essentials. Any moment you may have to face the wrath of the rain gods! Thus, carry your umbrellas or raincoats with you as you go out on unending errands.
3. Save your belongings from the rainwater
When you have decided to conduct a house shifting amidst the Mumbai monsoons, you have to think of ways of saving your belongings from the rainwater. The best way to do so is by getting plastic sheets to cover the packing boxes from the outside after they are packed with your belongings. Secure the plastic sheets by pasting packing tapes on them after wrapping. There will be no chance of seepage of rainwater inside the box in this way. You can get these plastic sheets from hardware stores or a local supermarket.
4. Seek professional help
House shifting in itself is a very daunting activity comprising hectic tasks. Doing all these hectic tasks in the mid of the endless monsoons of Mumbai is a pathetic experience. But by the good graces of Ganpati Bappa, you have ways to battle every adversity in Mumbai. So, the best way to combat this situation is to seek professional help for the same. Hire a moving company that is genuine, reputed, available on your moving day and fits your moving budget.
5. Construct a moving inventory
As we previously discussed that you should not waste any time after you plan out your move. The primary way to start with the preparations is by constructing a moving inventory. Your inventory should constitute all the to-do tasks for the preparations before the moving day. Constructing the moving inventory will be a success only if you adhere to it and complete the tasks on time. Don't pile up the tasks for the last day or you will land up in trouble.
6. De-clutter your house
Whenever you are shifting your house, make sure that you include this particular step in your moving process. De-clutter your house to make your move concise. Your move should only contain the essentials. Therefore, you should pick out the inessentials from your house and sell or donate sustainable products and toss out the useless ones. Keeping the size of your move within limit helps you to limit the moving charges. It also makes it easy for the packers and movers to handle your goods that are of a manageable size.
7. Wash and dry your clothes beforehand
Since we are dealing with the Mumbai monsoons, you cannot wash your clothes one or two days before the move and expect them to get dry in the soggy weather. You should wash your clothes a fortnight in advance. Air-dry them and then iron them to make sure that they are not damp. Wet clothes weigh heavier thereby exceeding the weight of your move. Plus these clothes will be home to mildew and mold if they are transported to distant locations for 6 to 7 days. Be careful about keeping your clothes completely free of moisture during the monsoon house shifting.
8. Book a covered moving vehicle
Make sure that the moving vehicle that you are booking is a covered container. Have a discussion with your moving company before the moving day and tell them to provide you with a covered container. A covered container will keep your belongings safe from the drilling and pouring weather outside.
9. Get shoe covers for everyone
Since you have decided to hire packers and movers Mumbai to Noida for your monsoon house shifting, you have to be sure that your current house remains clean throughout the moving day. Get shoe covers for every member who goes out and moves inside the house. You will not want their muddy shoes laden with germs and bacteria to contaminate your house while you are still in it. If you have toddlers or pets, it is dangerous for them to roam around barefooted on such dirty floors.
10. Start your move during the daytime
Start your move while the sun is still peeking from the sky. The condition of the roads in Mumbai becomes severe during monsoons as the streets turn to rivers. You will not be able to understand if there is a hump ahead on the road or a pothole as everything remains submerged. The situation worsens in the evening as there is not sufficient light. So, make sure that you start your journey during the daytime so that you cross the city premises of Mumbai before sundown.
11. Ensure that the warehouse is leak protected
If you are moving to Mumbai from some other city during monsoons and need a warehouse to store your belongings, make sure it is leak protected. There should be door seals to cut the flow of rainwater inside the warehouse. The roofs and walls should not be damp. There should be racks to store the boxes that are high above the ground level.
12. Get moving insurance
As you shift your house during monsoons in Mumbai, you have to be prepared for a lot of challenges that may happen as a part of the process. Get moving insurance to keep your belongings safe during the move. You cannot foretell if anything goes wrong on the way. If you avail of the moving insurance, your moving company will take care of your belongings. You do not have to worry about the goods as the moving company will pay rightful compensation to incur your monetary losses.
Also, Read This:- How To Save Your Moving Costs As You Conduct A House Shifting?
The Final Outcome
Shifting your house is an arduous and aggravating activity. Doing the same job in the Mumbai monsoons is a next-level challenge. As you have decided to partake in this colossal task up your sleeves, you have to be brave and prepared for whatever comes up against you in this regard. Follow the aforesaid 12 killer hacks to help you in house shifting during monsoons to carry out this chaotic process in an organized way. I wish that may all the odds be in your favor!