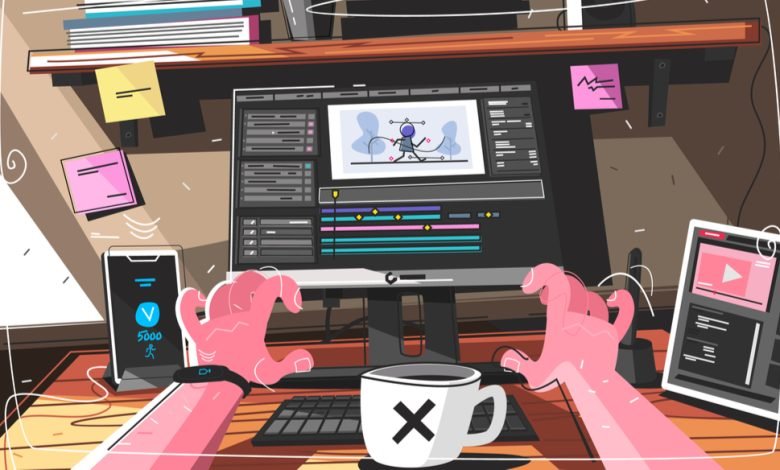 Motion graphics is a branch of animation. There are many motion graphics enthusiasts, from startup companies to B2B. Motion graphic is not the easiest but it is like a basic skill that must be possessed if you are an animator.
Motion graphics, one of the styles in making animated films or videos that animators definitely know. In this article, we will discuss some of the tools that can be used to create motion graphics.
Motion graphic animation videos are actually very easy to make. You can take advantage of several video marketing tools to create this type of high-performance animation.
Motion Graphics Tools for Video Marketing
While there are so many tools out there, we help you narrow down your choices so you can easily choose the one that fits your preferences, needs and budget.
#1. After Effects
After Effects (AE) is the ultimate tool for motion designers. This seems to be the gold standard and is used by professionals and beginners alike.
It is a 2.5D animation software that allows you to design, transform, composite and animate in both 2D and 3D space. It's the most common tool that animators used, simply to put any sound effects on it.
After Effects is the ultimate tool for motion graphics. If you want to master as a Motion Graphic Artist, then you must learn Adobe After Effects. The versatile and versatile nature of AE makes it a favorite among animators.
After creating your storyboard and elements in Photoshop and Illustrator, you can combine your work in AE to animate and manipulate it as part of a motion graphic.
AE doesn't just help you with 2D animation; it also works with 3D elements. Hundreds of add-ons and other third-party add-ons such as the Effects browser, Timeline, and composition panel let your imagination turn into motion art on screen.
Once you're done with the storyboard, you can use this tool to animate and manipulate it as a moving image.
#2. Nuke
If you're looking for a tool that's more geared towards 2D compositing and VFX, Nuke is one of the best options.
However, it does offer more professional and more technical features, so it's best to say that Nuke is the tool of choice for larger pipelines focused on compositing for film, television and more.
#3. Cinema 4D
Cinema 4D is one of the most popular 3D modeling, animation and motion graphics software. Although it's a pricey tool to invest, it gives you the basic features you need to create stunning 3D motion graphics.
These advanced features make it easy for you to improve 3D modeling, animation, and rendering. It is also very flexible when integrated into After Effects.
#4. Adobe Photoshop
The basic tool for all motion artists and graphic designers in the design industry is editing software and it has much greater capabilities. You can do the following activities in Photoshop:
Resize an image that is too large.
Crop image from photo.
Using various filters and powerful tools, you can create designs.
#5. Adobe Illustrator
Illustrator is another well-known tool for motion graphics in the animation industry. It is very similar to Photoshop, with many variations of the functionality in Illustrator. The main difference is that Photoshop deals with bitmaps, whereas Illustrator is a completely vector based editing software (Vector Image).
A vector image is a file that you can scale indefinitely without creating pixels. Additionally, Vector Images are an essential part of any motion graphic workflow in creating logos, shape objects, and vector backgrounds.
Furthermore, you can easily import files into AE for animated stuff.
Those were the recommended tools for editing motion graphic animation videos. You can always hire an explainer video production to make it simply. What do you think you have mastered?