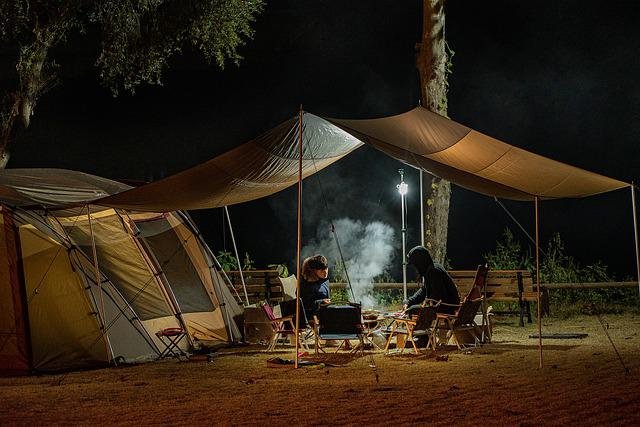 Camping is an extremely enjoyable outdoor pastime. Camping is packed with incredible activities and experiences. However, without proper planning and collection of important gear, the initial thrilling experience could turn sore.
In this article, we shared with you the top 7 best camping hacks you must know for a better and more enjoyable camping experience.
Get A Decent Sleeping Bag
One reason we go camping is to relax our minds and recharge our bodies. Sleeping is one of the best ways to do this. Therefore, investing in a decent sleeping bag for a night's rest is certainly a major decision.
Given that your nights will be chilly and cold, especially in spring and fall, getting a cozier sleeping bag would be a great decision. Generally, a decent 3-season sleeping bag would be a perfect choice.
2. Reversible Napsack
If you're going to camp alone for several days, stuff like sleeping bags, jackets, and blankets would be of great need to you. These gear would help you get warm during those cold nights.
However, a napsack would be a better option to keep warm. Napsacks are very comfortable as they retain adequate heat to keep warm. Plus, they also don't make you feel stuffy and sweaty like you'd with a jacket or blanket.
Having a good-quality napsack handy is one of the best camping hacks you won't regret.
3. Get A Decent Cool Box 
Most cool boxes can only keep your drinks and foods cool for about 8 hours, which is only excellent for one-day camping. If you're going to camp for several days, get a decent passive cool box that can keep your drinks and freezes cool for up to 5 days without needing power.
But, if you have a power source, such as an electric hookup, then a decent electric cool box will be a better option.
4. Get Your Utensils Ready
Utensils are essential gear you can easily forget because of their sizes. They include spoons, knives, spatula, scissors, bottles and cans opener, etc. 
The easiest way to keep your utensils handy is to get a kitchen utensils box alongside other gear. Eco-friendly or wooden spoons and forks are preferable due to their lightweight and convenience. 
5. Get A Decent Rechargeable Tactical Flashlight
Yes, you should have a campfire to light up your campsite and keep warm. But you need a better lighting source to see farther than your immediate campground. 
There are tons of decent and budget-friendly rechargeable tactical flashlights that you can use to this end. With just about $50, you can get a decent rechargeable flashlight with high lumens to keep watch at night.
You'll find tons of decent options here.
6. Have More Than One Cooking Option
Aside from cooking or roasting your foods with a campfire, plan to have another cooking option as a backup, especially for wet days or nights. A portable suitcase grill is one of the best go-to options as an extra cooking gadget.
Suitcase grills are portable and still produce the same smokey taste of campfire roasted foods. They'll save you the hassles of fetching dry woods for cooking.
7. Invest In A Sturdy Camping Chair
If you're looking forward to sunbath or chilling out under the thick forest trees during the hot afternoons, a camping chair is extremely vital. You'll also find it especially handy for resting from your exploration, and when you need to read your favorite book or reflect on some important thoughts.
Camping chairs come with various weight limits. So, ensure you check out your weight requirement before picking one. You will find some great options to consider here
There you go with the 7 best camping hacks for a better camping experience. For a great summer camping, this is your sure guide.
SEE ALSO:
9 Best Treks to Do In India