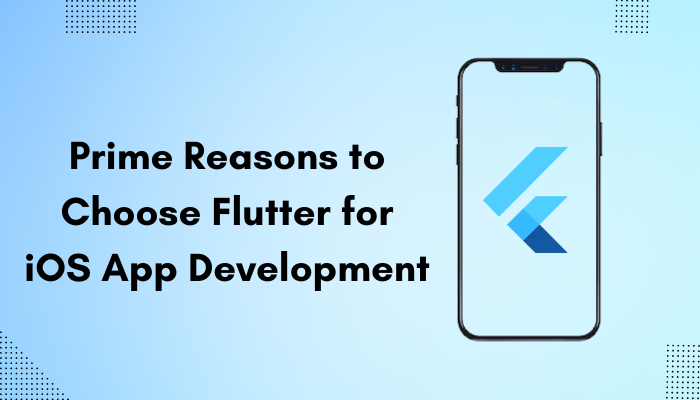 Mobile app development has been a buzz in the market with technological advancements. From the customers using more smartphone apps to the increased mobile app development companies, entrepreneurs are actively exploring the ideas and innovations to develop robust mobile apps that yield profit. With the availability of a wide range of technologies to build mobile apps, Flutter mobile app development is a popular and key component in developing apps. The article will enlist the prime reasons entrepreneurs must use flutter for iOS app development in 2022. So without any further wait, let's start out with the prime reasons.
The Prime Reasons Entrepreneurs must use Flutter for iOS App Development
Massive Libraries and Detailed Documentation
Documentation is one of the key components when developers want to learn about something or are stuck in a query. For every feature and functionality, Google has practically developed excellent documentation with screenshots and videos.
Further, iOS app developers will face no problem while developing feature-rich applications because of its massive library to achieve any functionality.
No Efforts in Porting for Older Devices
Flutter is a new framework, but it does support Android Jelly bean and upper versions. For the iPhones, a device released in 2015 can also run the application designed for new devices. It just need to meet the hardware requirements. iOS app developers do not have to worry about porting the app for older devices separately since the framework is intelligent and robust enough to perform it for you.
Aesthetic UI/UX for Apps
Static text is no more appealing in the digital world. With the advancements in technology and users' preference, users do not stay on websites that do not look appealing to them. Flutter iOS app development is efficient enough in creating customization widgets for beautiful UIs. The material designs are rich in looks and feel with a number of color and font patterns that developers can select from. With Flutter, you can embed a mature branding for your mobile app.
Faster and Efficient Testing
Testing is key to successful mobile app development. You cannot create an app without setting a proper phase for testing. The quality and amount of effort going into mobile app development are monitored during the phase of testing to understand if the app is lacking behind in performance and general issues. Further, robust features like Stateful Hot Reload fix bugs faster as compared to other frameworks used for iOS app development. It reloads the application in real-time without requiring you to compile the whole application. Flutter iOS app development is quick in testing time.
Apps are Smooth and Fast
In the smartphone age, the most important factor in people's life is time. People perform majority of their work with their smartphones. For that, they want apps that are build to work fast and successfully complete their query. Flutter iOS app development lets you develop fully functional apps with a great advantage of speed. The apps are rendered fast with their fast rendering engine. Further, Flutter provides an advantage of a silver layout model that delivers a smart and quick scrolling for the users providing a smooth experience.
Cross-platform Ability
iOS and Android are the two of the most popular platforms in today's digital age. iOS users are no doubt increasing, and the same is happening with android users. Entrepreneurs building an application want to actively target both the users with one build. This is where Flutter comes into the picture because, with Flutter, you can develop an iOS application and port it to the Android operating system with just the code you wrote for iOS. This saves extreme time and money for the entrepreneurs. From design to functionality, developers can go fully cross-platform with just a single baseline of code without affecting the quality.
Massive Community Support
Flutter is The flutter community is continuously growing. And with the growing community comes the supporting members who are actively solving the queries of developers when they are stuck. When you use Flutter for iOS app development, you become a part of the community. You also enjoy the support of millions of queries asked by the developers and answered by the experts.
Wrapping Up
Flutter for iOS app development is a perfect choice in 2022. The above advantages clearly represent the power and efficiency of Flutter, developed by Google. If you are looking to build an app, choosing Flutter is a perfect decision since it enjoys the above-mentioned prime reasons. For entrepreneurs, without waiting further time, they must find a top iOS app development company who is expert in Flutter app development.