Products
A Smart 4K PoE Security Camera System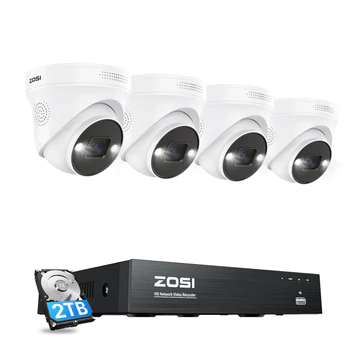 PoE security camera system are a reliable choice for both home and business monitoring. These wired security camera systems use Internet Protocol (IP) cameras with PoE technology. Instead of requiring separate ethernet and power cable, a PoE security camera uses a single ethernet cable to draw power, connect to the internet, and transmit video footage to the network.
PoE security cameras offer several benefits, including simple installation, less cord clutter, a consistent connection, and no need for a Wi-Fi network. Like other security camera systems, a good PoE system is reliable, easy to install, and simple to access and monitor. There are different types of systems, however, and not all features suit all users. So read on to learn a bit more about PoE security camera systems and check out our recommendations for the best models to monitor your property.
Easy Setup and Installation
This Zosi 5MP PoE security camera system included four dome-type cameras, each with a 60 feet Ethernet cable for PoE installation. The setup process followed the usual steps for installing PoE cameras— plug in the NVR and connect the cameras to it using the Ethernet cables. However, what we particularly liked about the camera was that we were able to adjust it freely post-installation. The camera rotated freely on its base up and it tilted up and down up to 70 degrees. This made it easy for us to adjust the viewing angle while the camera was on, using the live stream as a reference.
Installing Zosi
Affordable PoE Camera System for Residential Use
The Zosi 5 MP PoE system with an eight-channel NVR was one of the most affordable PoE cameras we tested. The entire system— cameras, NVR, and accessories included— only cost $340. Better still, when we sprung for additional cameras, each one cost us just under $50. If we do the math, we could have built an eight-camera system for $540. That's a hard-to-beat price considering that similar PoE systems are usually in the $800 to $1,200 price range.
FTP Server as Backup Storage
Another cool thing about the Zosi 5 MP PoE system was that it was able to backup video clips to our FTP server. We've been using an FTP server to share work files among our colleagues, and because it had a considerable amount of storage space, we used it as backup storage for our Zosi cameras. It was pretty easy to set up. Using the NVR itself, we just entered our server IP address, input our username and password, and defined the rules for saving videos to the server. We set up our NVR so that it would backup motion activated videos to our FTP server. The advantage of this setup is that if someone breaks in and manages to destroy all video evidence in the NVR, we'd have backup videos safely stored in the FTP server.
Important Points to Keep in Mind While Selecting a Surveillance Kit
Selecting the right surveillance kit depends on the specific needs of your home or business.
The ZOSI 4K PoE security system is an excellent choice for those who need a reliable and easy-to-use surveillance system.
This system comes with everything you need to get started, including four cameras, a DVR, and all the necessary cables.
Installation is quick and easy, so you can be up and running in no time.
With its 4K high definition resolution, this security system is able to provide crystal clear footage that's sure to catch every detail.
Motion detection is also included, which means you'll always know when something out of the ordinary happens.
Plus, it has wide angle viewing that provides a complete view of any area it's set up in – perfect for homes or businesses with multiple entry points!
With this DIY kit from ZOSI, installing a reliable surveillance system has never been easier!
Whether you're looking for protection against burglars or just want peace of mind knowing what's happening at home while you're away, these systems are a great way to go! 10.
How Much Space Do You Need?
The ZOSI 4K PoE security system is one of the most popular home security systems on the market. It is easy to install and simple to use, making it an excellent choice for those looking for a DIY security solution. But how much space do you need for this system?
How Much Do You Want to Spend?
The ZOSI 4K PoE security system is an excellent choice for home security. It is easy to install and simple to use. Plus, it is very affordable. You can purchase the system for just $129.99. That includes the 4K NVR, four 1080p cameras, and a 2TB hard drive.
Considerations Before Choosing the Right Surveillance Kit
When it comes to choosing a surveillance system, there are many things to consider. First, you need to decide what type of system you need. Do you need a 4K PoE security system? Or will a lower resolution system suffice? Next, you need to think about the size of the area you need to cover. If you have a large home or property, you'll need a system with more cameras. Finally, you'll need to consider your budget.
Our Pick: the ZOSI 4K PoE Security Camera System
The ZOSI 4K PoE Security Camera System is one of the best on the market, and it's perfect for anyone looking to add or upgrade their home security system. The system comes with four cameras that can record in 4K resolution, and it has a built-in 2TB hard drive for storing footage. The cameras are also equipped with night vision, so you can rest assured that your home will be protected even when it's dark outside. Plus, the system is very easy to install – you can do it yourself in just a few minutes. And if you ever have any questions, ZOSI's customer service is excellent and they're always happy to help.
Other Great Choices in the Market
There are many great choices available on the market when it comes to home security systems. However, the ZOSI 4K PoE Security System is one of the best. It is easy to install and use, and it provides excellent 4K video quality. Plus, it is very affordable. If you are looking for a great home security system, the ZOSI 4K PoE Security System is an excellent choice.
How We Chose the Best PoE Security Camera Systems
A security camera system is an investment in your safety and peace of mind, so it's important to find the right option for your home. When selecting the best PoE security camera systems, we kept reliability, ease of installation, and security features in mind. We chose camera systems from reputable brands, conducting extensive product research and reviewing shopper feedback to find dependable cameras.
Installing a security camera system can feel daunting, so to make the task easier, we prioritized camera systems with plug-and-play installation processes. When looking at full-system products, we also considered what came in the package; systems that included an NVR, cables, and mounting hardware rose to the top.
For better security (and the best value), we looked for cameras with robust security features, including motion detection, human recognition, night vision, and even a model with heat detection. We also prioritized systems with ample storage space that make it easy to store footage. Lastly, security shouldn't come at an exorbitant price, so we chose several budget-friendly options.
ZOSI 4K PoE Security System – An Excellent Choice for Home Security
The ZOSI 4K PoE Security System comes with everything you need to get your home fully protected in no time at all. Setting up this system couldn't be easier, and most people can get it done in an hour or less. With its 4K PoE security camera, this is an excellent system for keeping your home safe and secure, no matter where you are. More than that, it allows you to monitor what's going on at home from almost anywhere – an essential benefit if you travel frequently for work or pleasure.
Now continue your reading to learn more about home security and Poe security system.