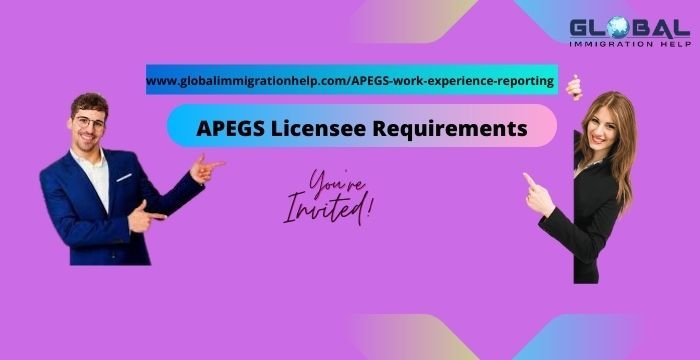 The APEGS Licensee Admissions Committee has offered a tool for those who consider applying as either an Engineering Licensee or Geoscience Licensee. You must fulfill the below-given eligibility criteria to become a Licensee.
Keep in mind: internationally-educated candidates must apply as engineer-in-training or geoscientist-in-training. After that, they have to go through the APEGS Academic Review to determine the Canadian equivalency of the education. Apart from that, they also need to determine the best option for registration with APEGS.
APEGS Licensee eligibility criteria in all the areas:
Education:
You need to satisfy at least one of the following minimum educational requirements (check all that apply):
4-year science degree (physics, chemistry, computer science and math) from a university program acceptable to Council
2-year diploma in engineering or geoscience technology from a program acceptable to Council
Successful completion of at least two years of post-secondary bachelor's degree in engineering, geoscience or related science
 2. Experience:
You need different levels of experience, which depends on your education. All of the requirements below, under the application education category you need to meet before you apply:
4-year Science Degree:
At least 5 years of post-degree work experience in the requested scope of practice 1
A minimum of one year of Canadian or equivalent experience
A minimum of 5-years of work experience under the direct supervision of a Canadian or equivalent to P.Geo or P.Eng
2-year Diploma in Engineering or Geoscience Technology:
A minimum of 8 years of post-diploma work experience
At least five years in the requested scope of practice
A minimum of 1-year of Canadian or equivalent experience
At least 5-year of work experience under the direct supervision of a Canadian or equivalent to P.Geo or P.Eng
3. English Competency:
The capability of communicating effectively and professionally is an important skill for any APEGS member. If English is not your language, one of the below-given requirements you need to meet:
Earned a university degree at an institution where the language of instruction was English
Have taught courses at an institution where the instruction language was English
Written in an approved English language test and achieving the necessary level/grade
4. Good character:
Good character means moral and ethical strength. It is distinguishable as an amalgam of socially or virtuous acceptable traits and attributes. These traits and attributes include integrity, empathy, candour and honesty.
Satisfy the needs of the APEGS Good Character Guideline.
References:
You need to give the names of 4 or more people to act as referees with first-hand (supervisory or in a review capacity) knowledge of your work. At least 3 of the referees have to be Canadian or equivalent to Professional Engineers, Professional Geoscientists, Engineering Licensees or Geoscience Licensees.
At least one of the referees has to be registered in Canada (there are some expectations: contact APEGS experts to know about that). If experience is outside Canada or the USA, you need extra referees.
Conclusion:
The purpose of this APEGS self-assessment questionnaire is to be a beginning point to determine if a probable candidate is capable of Engineering or Geoscientist Licensee with APEGS.
If you have answered 'yes' to this, then you can apply to APEGS for an Engineering or Geoscientist Licensee.
Why should you take APEGS report writing services?
Only knowing all the eligibility criteria for the APEGS geoscientist or engineering Licensee is not enough. Besides that, there will be a lot of documents that you need to submit. Before submission, you have to provide the required details or information to the authority via those documents.
Apart from that, preparing your report in a way that shows your eligibility that can fit the Canadian atmosphere is quite different. When you hire a professional, then they will show your competency that way. This way, you will hit the right mark.
Apart from that, you will also get the following benefits:
Free professional advice and guidance from APEGS experts. That will give you a clear idea of the professional atmosphere in Saskatchewan. Knowing so, you will be able to better prepare for that.
Free reference materials so that you can attain a deep knowledge of your field. Aside from that, you will always stay ahead of others due to having expertise in your field.
Round-the-clock customer support services will always keep you tension-free. It is because you will always have somebody to answer your questions and clear your doubts.
Free Turnitin reports, which is the best proof of genuine content in your APEGS report.
Unlimited free correction services to let you ask the writer to make edits to your report. You can ask for this service unlimited times without paying extra for your full satisfaction.
An instant money-back guarantee so that you can have your money refunded immediately. You can get it back if having a negative assessment or late delivery.
100 transparency and privacy to keep your nerves calm.