Foods
Best Japanese Restaurant in Dubai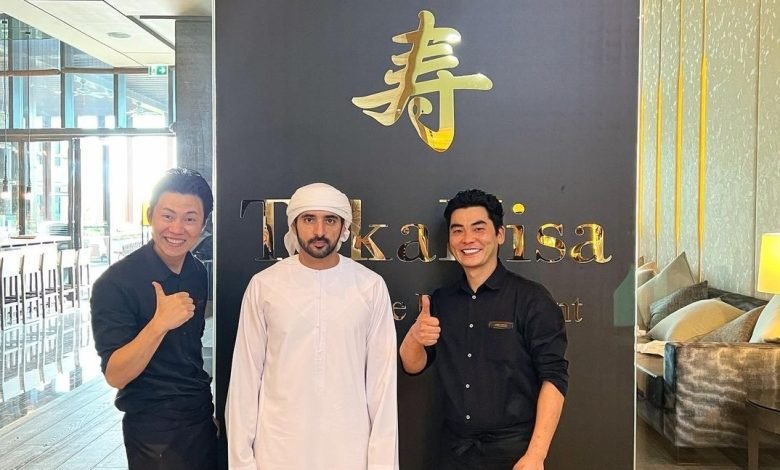 Those looking for authentic Japanese food should not miss out on this restaurant. It offers a variety of traditional Japanese dishes and is staffed by a team of skilled executive chefs. Their years of experience have left them with skills that have been polished like diamonds. They also host various social events. While this Japanese restaurant in Dubai has a posh aesthetic, the service is welcoming and professional.
TakaHisa
If you're looking for a Japanese restaurant in Dubai, then you've come to the right place. This restaurant features authentic Japanese dishes, and the chefs are expert at what they do. You can expect the finest quality ingredients and the freshest fish. The menu also features premium items such as A5 Kobe Beef and Toyosu Market seafood. In addition, you can order a selection of Japanese beverages from their premium lounge.
TakaHisa is the best Japanese restaurant in Dubai, and was named after its executive chefs Takashi Namekata and Hisao Ueda. The restaurant specializes in high-quality Japanese cuisine and is a great choice for social events. It is also open for reservations.
Another great place to try authentic Japanese food is Gonpachi. This restaurant is a Tokyo-based concept and serves Japanese cuisine. It has a cozy atmosphere and is decorated with warm wood and bamboo beams. The restaurant has two levels and an upper level terrace where you can view the city skyline. Gonpachi also offers private parties and group bookings.
Miyabi
If you're looking for a great Japanese meal in Dubai, Miyabi is your place to go. With a vast menu, Miyabi offers everything from traditional sushi to modern and innovative dishes. The menu also includes a variety of main courses. For example, you can order seafood yaki udon or black garlic and mushroom. You can also order charred Brussel sprouts. The restaurant has six exciting locations, including a chic upmarket location in the DIFC, and also location on Palm Jumeirah.
This popular Japanese restaurant in Dubai features a variety of Japanese dishes at a reasonable price. There are six outlets in the city, and you can order Japanese dishes or a mix of international and local cuisine. The staff is friendly, and you can choose from fresh juices, mocktails, and also other beverages to wash down your meal.
Miyabi is a great choice for Japanese food in the heart of the city. It's conveniently located near Burj Khalifa, which makes it ideal for corporate meetings and for those who enjoy a wide variety of Japanese dishes. The restaurant is adorned with Japanese art, as well as a range of Japanese beverages. It even has a premium lounge, complete with a live counter.
Hoseki
If you're looking for a place to eat authentic Japanese food in the Middle East, you'll want to head to Hoseki in Dubai. The restaurant offers an intimate experience with just nine seats and an omakase menu. This means that the chef will customize your food based on what you like, as well as what's in season. The chef, Masahiro Sugiyama, is a sixth-generation sushi chef and imports fresh ingredients from his home country.
Guests are welcomed to the restaurant through a special 'Tokonoma' or traditional reception area. Waiters dressed in traditional Japanese kimonos will then transport you to one of the nine counter seats where you'll put your taste buds into the hands of the chefs. From here, you can enjoy gorgeous views of the city skyline.
You can also try Ikigai in Dubai, which aims to combine traditional Japanese cuisine with trendy international street food. The menu features everything from grilled tiger prawns with Kombu butter to crispy tempura burgers and mix-and-match sharing plates.
Akiba Dori
Akiba Dori is a critically acclaimed Japanese street-food concept located in the Dubai Design District. Founded by Samer S. Hamadeh in April 2018, this new restaurant will also feature the only Tokyo-style Neapolitan Pizzeria in the region. The interior design is inspired by Tokyo's Akihabara district and has a retro-modern vibe. The décor includes a street-style layout, neon-lit DJ decks and an authentic Japanese wood-oven.
The menu offers Japanese street food staples, as well as a fusion of pizza and sushi. Signature dishes include chicken katsu curry, sushi, and also Tokyo-style pizza. Desserts include lotus cheesecake. The venue is decorated in a rich red and gold colour scheme. A decorative oriental pattern is placed above the central bar.
If you're looking for a casual atmosphere with a view of the skyline, TABU Dubai is the place for you. The restaurant is located on the 23rd floor of The St. Regis Downtown and offers stunning views of Downtown Dubai. You can also enjoy a special drink during Nichobotsu Happy Hour (from 5pm to 7pm).
Gonpachi
Gonpachi is an iconic Japanese restaurant that originated in Tokyo. It has a modern twist, but retains the taste of the old classic. The menu is designed to be both authentic and modern, with a wide selection of sushi, sashimi, and also many more. The atmosphere is casual yet sophisticated, with an emphasis on fresh ingredients.
The Gonpachi in Dubai is a replica of a famous Tokyo restaurant that was featured in Quentin Tarantino's 2004 film, Kill Bill. The restaurant features authentic Japanese cuisine that includes Kushi-style grilled skewers, tempura, fresh soba noodles, and also wagyu. It also offers inventive cocktails and a foliage-filled terrace to enjoy the meal.
The Gonpachi in Tokyo is a famous Japanese restaurant, and a branch of this restaurant in Dubai has just opened.
Mimi Kakushi
Mimi Kakushi is a sophisticating Japanese restaurant inspires the art of Japanese joinery and the principles of life. It is a fusion of oriental art deco and time-honoured Japanese cuisine, with a contemporary twist. Its 70-plus-item menu offers familiar twists on classic dishes.
The elegant decor of Mimi Kakushi is bound to dazzle you. The restaurant is located in the Four Seasons Jumeirah, and also its prices reflect its upscale, upmarket appeal.
This Japanese restaurant in Dubai offers a unique dining experience. The decor is reminiscent of a 1920s Osaka private members club. The vibrant atmosphere is reminiscent of the era's nightlife and art.
Nobu
Sleek and modern, Nobu Japanese restaurant in Dubai is a must-visit if you're in the area. It boasts an elegant sushi bar and sake lounge in a grand hotel. The elegant design sets the mood for a relaxing evening of fine Japanese cuisine and sake.
Nobu Dubai is the first Nobu restaurant to open in the Middle East. It is located inside the Atlantis Resort in the Palm Jumeirah. The restaurant offers a wide variety of pre-dinner drinks and is very well-price.
Nobu's menu features authentic Japanese dishes from around the world, and a live seafood counter. There is also a wide variety of ramen available. The portions are large and the taste is outstanding. The drinks are also superb. You can choose from various cocktails and mocktails to complement your dining experience.
This award-winning Japanese restaurant is located in the Atlantis resort on the palm-shaped Palm Jumeirah. It's part of a rapidly growing empire of 'destination' restaurants, known for their exquisite Japanese cuisine. The restaurant's design is similar to Nobu 57 in New York, and has an emphasis on natural materials and ocean themes.
Wokyo Noodle Bar
For the best Japanese food in Dubai, there is no need to go all the way to Japan. Instead, you can head to the Humble Asian Eatery. This cosy eatery is a great place for casual eats, offering make-your-own soups and mochi or matcha drinks. It also offers a wide range of sushi rolls and sushi-related items.
The restaurant is located in Al Wasl Square, and is set to open a second location in Sheikh Zayed Road in 3 months. It is open daily from 11am to 11pm, and also the menu has over 800 WOKYO to choose from. The food is fresh and the service is great, and you can order your food to be deliver within 45 minutes.
Wokyo Noodle Bar serves authentic Japanese noodles and stir-fries. Customers can also create their own noodle bowls, choosing the proteins, sauces, and also vegetables. It also offers Japanese snacks and home-brewed ice tea.
Also Read: How to Open a Mediterranean Restaurant