Travel
Best Time To Visit Munnar For A Wonderful Vacation in 2022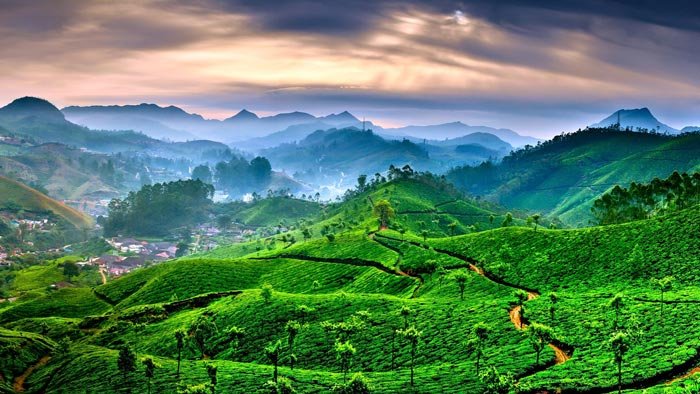 The best time to visit Munnar is any time of year, however between September and November, and January and March, you may have a stress-free vacation here. Tourists and adventurers travel from all around the country to see the wonders of Munnar, which is covered in lush foliage and spectacular beauty. Munnar is best visited in the winter and during the summer months. The weather is beautiful, the sights are bright and fog-free, and the crowds are welcomed with open arms. You can also visit Munnar for a wonderful vacation by just booking the Munnar 3 Nights 4 Days Package offered by Lock Your Trip. 
Munnar is known as the Kashmir of the South, with breathtaking valleys, rolling green hills, waterfalls, tea plantations, and more. The hill station's environment is increasingly alluring, with a large number of people going here to experience nature during the best time to visit Munnar. Munnar is one of South India's most valued destinations and preserves its ideal beauty in addition to its delicious tea. 
Kerala's hill station manages to attract visitors to come to experience the peace at any time of year. And, after all, why not? Munnar is equally gorgeous and exhilarating in the winter, summer, and monsoon seasons. Munnar is a great place to visit for a vacation because of its comfortable climate and lovely scenery. Though the environment in Munnar is pleasant throughout the year, here is a season by season breakdown to help you better understand Munnar's weather and plan your vacation suitably. 
Summer Season In Kerala
In Munnar, March marks the start of summer, and the weather stays comfortable, with temperatures ranging from 19 to 35 degrees Celsius. It's the best time to visit Munnar tea gardens, the Tata Tea Museum, and other attractions. Carry light cotton clothing, as well as an umbrella, because rain showers are typical in the summer. 
Temperature: During the summer, the temperature varies between 19 and 35 degrees Celsius.
Weather: Munnar's summer weather is unpredictable, yet lovely. The weather can be rather pleasant during the day, but the evenings can be quite cool. The environment is usually comfortable due to the mild temperatures, making it an ideal time for sightseeing and exploring the town. 
Why You Should Visit: Clear blue sky, warm golden sunshine, and green landscapes have a certain charm. During the months of March to June, Munnar takes on a dreamlike appearance. In addition, the area is ideal for adventure activities. There's an unlimited number of fun things to do, from long treks to scenic drives, bicycling, hiking, camping, picnics and many more. 
Know Before Visiting: Summer is a popular time to visit Munnar since the town is very attractive during that time. When planning your trip, keep this in mind. Make a reservation for your accommodation ahead of time to avoid any last-minute problems.
Tips: Summer months can be enjoyable, but they can also be cold or hot at times. As a result, bring long-sleeved cotton t-shirts and pants. Because you'll be in closer proximity to the sun, don't forget to apply SPF 30+ sunscreen. You might also need to bring a hat and sunglasses. Finally, make sure you keep hydrated throughout the day and eat light meals.
Monsoon Season In Munnar
Allow the green to be greener during the monsoon season; Munnar blooms with beautiful green during the monsoon season, and you can experience the freshness all around you. Monsoons in Munnar have their own beauty, with their lush green flora. Due to the offseason, this is also a wonderful time to take advantage of hotel deals. Munnar is yours to enjoy without any hustle and bustle. 
Temperature: During the monsoon season, the temperature varies between 23° C to 34° C.
Weather: Munnar's monsoon weather might be described as magical. The weather is perfect, the environment is acceptable, and the air is clean. The area is filled with lush greens, and the air is clean with fog. If you want to interact with nature, this is the best time to visit Munnar. 
Why You Should Visit: Munnar is known for its beautiful hills, valleys, lakes, waterfalls, and tea plantations. This natural beauty should be enjoyed while it is still fresh. And what better time to do it than during monsoon season? The entire town comes to life, from the air to the views, sounds, and fragrances. 
Know Before Visiting: Ignoring the fact that the location is truly beautiful at this time, it is still considered the off-season. As a result, travel and accommodation will be more accessible, and fantastic offers will be available. However, with fewer tourists, there is an overall sense of peace. 
Tips: Always be prepared for a monsoon.  That means bringing an umbrella, a windcheater, and rain-resistant shoes or gumboots. Dress comfortably in light clothes. Keep your electronic devices secure in the comfort of plastic bags when you're out and about. Don't forget to apply insect repellent; you won't regret it. Finally, keep an eye on the hygiene situation, since rainwater pools can stagnate and form a mosquito breeding ground. 
Visit More Information Click Here:-
Winter Season In Munnar
Winters in Munnar are definitely the most suitable and best weather to visit in the entire year, and they bring their unique beauty to the hills and fields of Munnar. The months of October till February are marked by a significant drop in temperature, which can reach single digits at times. During this time, you will be able to experience Munnar from a unique perspective. 
Temperature: During the winter, the temperature ranges between 10° C to 28° C, with occasionally sub-zero temperatures after reaching the higher altitudes. 
Weather: Munnar's winter atmosphere is nothing less than magical. Even though the temperatures are in the single digits, the air is fresh and wonderful. The air is chilly, with fog and mist thrown in for good measure. The overall environment is warm and comforting. This is considered by some to be the best time to visit Munnar. 
Why You Should Visit: During the winter, this beautiful town in Kerala takes on a whole new dimension. Honeymooners, families, and explorers will find all they need for a fantastic vacation. The possibilities are equally fascinating whether you want to be out and about in nature or limit yourself to a beautiful homestay. 
Know Before Visiting: Winter is the most popular tourist season. Millions of visitors visit the region at this time. Crowds are heavier, waits are long, and there is a real feeling of hectic bustle. As a result, there's a chance that hotels and tour packages will sell out in a flash. As a result, make sure to plan your journey ahead of time to avoid any inconveniences.
Tips: Munnar becomes extremely chilly in the winter due to its height. So bring woollen sweaters, scarves, gloves, stockings, and a winter jacket with you. Also, get some thermals and vests.  Don't forget to bring a pair of solid shoes with you. It's always a good idea to keep moisturiser and lip balm on hand during this season since your skin may shrivel or become dry.