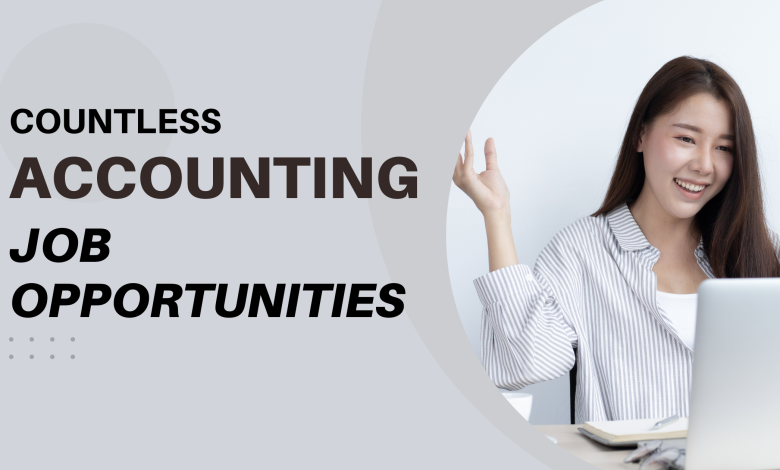 Do you feel like there are not sufficient job options in the field of accounting? Then my friend, you were wrong! Accountants and finance professionals have a wide variety of job opportunities. Starting a career in accounting is a wise decision – with the potential for substantial growth in the industry, a high average salary, and a demand for qualified accounting professionals, the time has never been better to join the field. However, once you've decided that you're willing to pursue an accounting career, you'll quickly find that the field is much larger and more diverse than you might have thought. This is because you can apply your skills in a number of different areas. 
Accounting is an emerging field of commerce and career prospects in this field keep on increasing according to market requirements. Accounting is an organised way to keep records of business and financial transactions to analyse, verify and report business results. It is a blend of many fields such as Commerce, Finance, Business Administration, Banking and Insurance. Users of accounting information can use these fields together to make more accurate financial decisions for their companies.
Career in Accounting 
In reality, there is no one set career path for accountants. Many people think accounting is one homogeneous industry. There are many different fields of accounting to choose from, each with its own focus and specialisation. While almost all accounting careers will require a solid understanding of fundamental technical accounting skills and capabilities, from there, you can develop oneself  in any number of directions based on your interests. Here are just a few of the accounting career options that might be helpful to you.
Accounting Clerk 
Accounting clerks assist accountants in maintaining organisations  finances through a variety of tasks. In addition to filing paperwork, tracking income and debt, creating reports, and maintaining records, you may also be required to keep track of financial information.
Auditor 
An auditor reviews a business' or individual's accounting filings to ensure calculations are correct and all finances are accounted for. In addition to assessing financial management randomly, auditors are called to investigate specific cases of suspected financial crimes. 
Tax Accountant 
A tax accountant, or tax CPA, is a finance professional responsible for helping individuals and organisations file their taxes appropriately while following statutory requirements. This is done to obtain the maximum possible tax return. Their duties include collecting tax forms and tracking client paperwork, identifying potential tax credits and producing tax reports. Prepare tax provisions schedules, returns, payments, reports and maintain a company's tax database. Also, find tax solutions for complicated tax issues or errors resulting from incorrect tax filings. Identify legal tax savings and recommend ways to improve profits and they also make sure that clients comply with federal, state and local tax regulations.
Financial Analyst 
A financial analyst evaluates and analyses capital expenditures, depreciation, proposals, investment opportunities, rate of return, profit plans, operating records, financial statements, etc. Study a company's financial data to give advice for guiding business investments and overall investment strategy. Their main duties include monitoring stock markets, bonds, and other investments to provide recommendations and predictions to organisations. By assessing the economic implications of each decision, they take into account the goals of the company and the individual.
Budget Analyst 
Budget analysts are responsible for making decisions regarding when, where and how much money an organisation should spend. Also, they are often tasked with managing a variety of budgets throughout the company to ensure money is being spent properly.
Credit Analyst 
A credit analyst collects and analyses information about an individual's financial background to determine their creditworthiness. In many cases, they determine whether an applicant is eligible for a loan on behalf of banks or insurance companies.
Accounts Payable Manager 
Accounts payable managers are responsible for all of the bills and invoices that a company must pay. Also, they are responsible for managing a team, ensuring the department adheres to all policies and overseeing invoice and check distribution.
Bookkeeper 
The bookkeeper is responsible for maintaining the financial records of a company on a day-to-day basis. Also, their responsibilities include recording and presenting financial standings and reports to management and other supervisors.
Accounting Software Developer 
Accounting software developers are responsible for creating, maintaining and improving software that accounting organisations use to manage finances. To ensure the software helps teams and individuals accomplish goals and is easy to use, they often work closely with the teams and individuals that use it.
Chief Financial Officer 
A chief financial officer (CFO) overseas money-related operations within an organisation. An accountant forecasts, analyses, and manages an organisation's financial risks, makes short- and long-term budgets, goals, and projections, assists with monetary decisions, and oversees the company's financial records. Also, the CFO often works closely with a company's chief operating officer to manage the company's budget, create revenue forecasts and secure funding for the company. 
Finance Manager 
It takes strong analytical skills to become a finance manager. Also, they work alongside other managers in a company. Tracking expenses, ensuring managers stay within their department's budget, and creating accurate and timely financial reports are just a few of the responsibilities of this role.
Forensic Accountant  
A forensic accountant investigates the financial details of a crime. As part of their investigation, they will likely work with financial institutions to understand how parties spent, sent, and received money during key periods.
Corporate Controller 
Corporate controllers typically supervise  the accounting department and are responsible for ensuring organisations are compliant, preparing and maintaining budgets, creating financial reports and more. 
Risk Analyst 
Risk analysts are responsible for assessing the financial risk that comes with critical business decisions. They often work for insurance companies and use software to calculate the most likely and unfortunate outcomes. 
Finance Director 
Finance directors keep an eye on and manage the economic and financial health of an organisation. Also, they make high-level decisions to meet financial goals and strategize for long-term budgetary health. 
Actuarial Analyst 
Actuarial analysts use data to measure risk for a company or organisation. Usually employed by insurance companies and financial services businesses, they are in charge of creating charts and graphs to communicate risk evaluation. Also, they interpret data analysis results and ensure all relevant reports are accurate.
Certified Financial Planner 
Certified financial planners are employed by individuals, though they often work as part of a firm. They are liable for helping a person or family reach their financial goals, such as education and retirement. Specific tasks include assisting clients with tax returns, offering investment advice and assisting clients with estate planning. 
Compliance Officer 
Compliance officers are responsible for making sure that all financial filings, decisions and tasks are compliant with national laws regarding company finances. In particular, their obligations include distributing information about compliance throughout their organisation, implementing compliance policies and procedures and evaluating their company's compliance performance.
Accounting is an emerging field of commerce and career prospects in this field keeps on increasing according to the market requirements.Different job roles in Accounting fields are financial controller, financial analyst, Financial Manager, Financial Advisor, Chief Financial Officer, Certified Public Accountant, Company Secretary and Chartered Management Consultant, Bookkeeper, auditing clerk, forensic accounting etc. 
The accounting and finance fields offer many career opportunities. SpotGiraffe allows you to apply for accounting jobs according to your sound knowledge and expertise in the field. Get hired at the company of your choice by registering now.