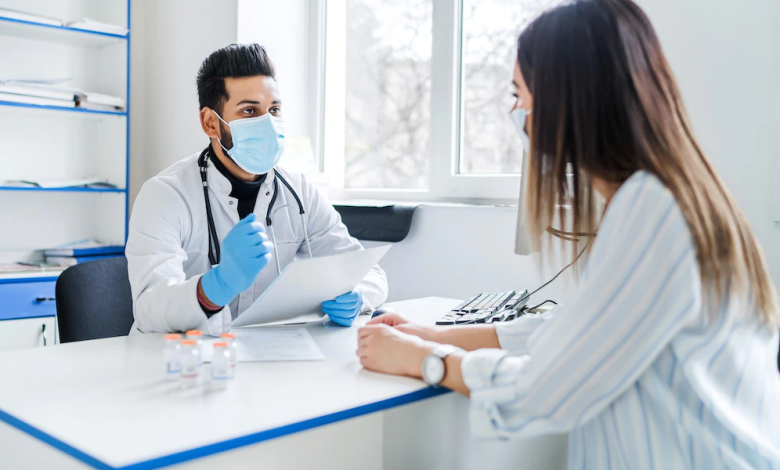 You may be aware that several industries have seen significant advancements in technology. The medical field is very important in that. The patient will look out for simple communication in their environment. The healthcare portal development is beneficial for this purpose.
The usage of patient portals in healthcare is expanding following the beginning of electronic health records and medical records. Organizations and practices of all sizes are starting to use portals more.
The wide use of patient portals may expand patients' access to their medical records and enable companies to achieve treatment focused on their needs.
Patients can access portals' features, secure websites, or digital platforms anytime. Portals are valuable tools that significantly impact patients' interactions with healthcare facilities. Even if it may be clear that they provide patients quick access to their health details. Here will look for everything that you need to know and do about the patient portal.
What is a patient portal?
A secure website created by a hospital, clinic, or healthcare organization is known as a patient portal. Each portal has a different set of tools. The patient portal development is done to access medical records, schedule appointments, communicate with your doctor, and pay medical costs.
Some businesses provide solutions that many healthcare systems can use. But some portals are developed specifically for a hospital. A regular internet browser may access portals. Some may also be available through a smartphone app which you can use it.
During the peak of the COVID-19 outbreak, several online resources were beneficial. Many hospitals used them at the time to arrange virtual visits, and many individuals relied on them to acquire test results so they could go back to work and school. Because of this, more people have accepted them.
To increase utilization, there are still challenges. It can be difficult to use the internet when you don't have access to it or only have restricted access. Additionally, not everyone is at ease with having their medical records accessible online, or they might not enjoy engaging with their healthcare provider online.
How do you set up a patient portal?
must set up a username and password to keep data as secure as possible. You will then log in to access the portal.
You must access a healthcare portal development online because it is located on a hospital website. On their homepages, the majority of hospitals and clinics provide a link to their patient portals.
There is little to learn because most patient portals are simple. You must familiarise yourself with the UI and learn about the tools available to you. Find a support button to contact a technical staff if you need assistance. For assistance, you can get in touch with the hospital also.
Using a patient portal does not require you to be an internet or app expert. Doing this may simplify your life, save time, and maintain control over your health.
Patient Portal: Patients can view
Patients can view health data by entering a secure account and password:
lab findings
Recent medical appointments
A listing of discharges
the allergies
Prescription drugs
• Vaccinations
In some patient portals, you can also do the following:
Emailing your doctor is secure.
You may request further medications.
Plan ahead for non-urgent appointments.
Consider the advantages and insurance.
fresh contact details
Pay your bills
Gather the forms, then fill them out.
Look at the study tools
With the help of your patient portal, you can control your health and care. Additionally, patient portals can help you communicate with your doctor, save time, and support care between appointments.
Patient Portal development: Feature analysis
The creation of a patient portal is a difficult process. A careful selection must be made. Spend time considering your unique needs before deciding the features you want in your portal. Distinguish between must-have and best skills. Set priorities based on your needs. A feature guide is provided below to assist you:
Appointment scheduling
In the process of healthcare portal development, online appointment scheduling is a core part. Regardless of location, it allows you to schedule appointments at any time. With a calendar linked to your site, you can see if the times and days you are looking for are available or not. As it automatically removes pointless appointments from the schedule, this function can completely transform how time is used.
Patient help center
Self-service resources as a patient you can also be made available to you through patient portals. You can develop healthy behaviors as a result of this. Doctors and managers can provide health-related information in the form of FAQs and a knowledge base. This is also an effective strategy for patient participation. The content can be supplied directly to patients' accounts and customized for specific needs.
Notifications
Patients can use this service to receive notifications and reminders for appointments, required tests, report pickup, etc. By doing this, it will be ensured that the patients keep their scheduled appointments. Additionally, it takes the stress out of having to recall checkup procedures.
Prescription management
Your patient portal must support telemedicine. Patients frequently need access to prescription refills since they are receiving continuing care and undergoing many medical procedures. Professionals might expect a rise in patient online participation by supporting this procedure. Doing this will lessen the number of people coming onto your site.
Online payment management
A study found that setting up a patient portal significantly impacted patient payments by 4% to 8%. Including this function in the patient, the portal enables doctors to locate you for unpaid invoices. They can use the portal to handle your insurance and medical claim information. This helps everyone involved save a huge amount of time and lengthens.
Healthcare record management
As patients, you can access the healthcare record module and can see your health information from above. You receive access to your reports, allowing you to view any changes and obtain a complete data map. Additionally, it can serve as a repository for patient records on blood tests, treatment progress, medicine, X-rays, and other scans and reports required for the care.
Features for admin tasks
The entire objective of administrative features is to make healthcare administration easier for the administrative staff. Through the portal, they may manage and keep track of the medical supplies in the hospital. They are able to manage the doctors' and nurses' schedules.
They can also make plans for unexpected events. So that doctors and patients always have a current overview of the patient's health data, admins can also update lab reports to the patient's profile.
What are the benefits of a patient portal?
The patient portal development aims to boost patient involvement, foster trust, and ultimately enhance outcomes. The industry's patient- and family-centered treatment model is consistent with this. The following are some potential advantages of using patient portals:
Staff saves time when contacting patients to inform them of test findings.
Direct communication between a patient and a doctor reduces the likelihood of miscommunication.
Patients have the option to review their records for errors.
The staff spends less time answering inbound calls for records requests, non-emergency medical issues, and prescriptions.
Test results are available to patients more quickly.
Patients now have an easier time managing their medical records.
Final Thoughts
There are a number of advantages to using the healthcare portal development for your medical thing. You should be prepared to use a patient portal once you have considered these factors.
Read More Article: Here