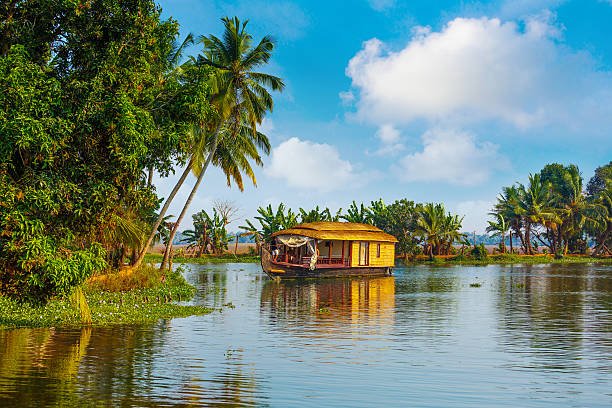 Kerala's Alleppey district, popularly known as Alappuzha, is a coastal region. Alleppey gained notoriety for a variety of factors, including the stunning combination of lakes, rivers, lagoons, paddy fields, coconut palms, and crisscrossed small canals. You can book Alleppey Tour Packages and have the best travel experience during your Kerala trip. The town is 55 kilometers from Kochi and 155 kilometers from Trivandrum away. This peaceful hamlet on the Malabar Coast will undoubtedly provide you with the perfect vacation you are looking for with its houseboats and paddy fields. In the past, Alleppey and the surrounding surroundings were low-lying, swampy lands.
These wet areas are a portion of Vembanadu Lake, which extends from Quilon's Astamudi Lake to Kochi. The Maharaja of the erstwhile Travancore state authorised the reclamation of these wetlands and conversion to productive paddy fields due to the increased demand for rice among the local populace.
1.Enjoy Your Houseboat Stay
The main draw of Alleppey is a stay in a boat house, which you simply must experience. Your vacation will be pleasantly concluded if you stay aboard a houseboat in Alleppey's backwaters. It is one of the best things to do in Alleppey. The houseboats are exquisitely made and furnished with ornaments. You can experience paddy fields close to backwaters, lush greenery, palm trees, and other attractions when staying on houseboats, all of which are sure to enchant you. Numerous houseboats routinely travel the canals. They all spread out during the day, but in the evening, they all begin to cruise back to the banks for the night. And at that time, you will see a great deal of them. It is enjoyable to observe the various beauties of the houseboats as they pass.
As other houseboats pass by, you will observe tourists who are similar to you unwinding and having fun. For the utmost backwater comfort, you can also select a luxury houseboat in Alleppey. Couples can find Alleppey honeymoon packages from numerous houseboat tour providers.
2.Enjoy the Sunset at Pozhiyoram Beach
This beach is located near Alleppey, and it's the perfect location if you want to spend some quiet time with your family. Water sports are not well-known at this lovely beach. The main draw of this beach is the tranquility of the sunset. Go to Pozhiyoram if you wish to de-stress and spend time closely observing nature. The sky undergoes a number of color changes as nightfall draw near. Finally, you can make out the sun setting over the horizon and its lovely reflections in the water. which a passing boat occasionally waves at. The morning phenomenon is equally captivating. This beach is the ideal location for photography enthusiasts.
3.Relish the renowned Ayurvedic Massages.
Don't neglect to treat yourself to a soothing massage if you are planning a trip to Alleppey. In Alleppey, there are a lot of resorts that offer the best ayurvedic treatments for uncommon and persistent disorders. Massages and spa services can rejuvenate your life and make you feel more vibrant and energetic. Even though it's one of the most well-liked activities in Alleppey, be aware that it's a highly oily experience.
4.Experience Village Life at Kuttanad
Alappuzha and Kottayam districts are part of Kerala's Kuttanad area. People who enjoy the outdoors and are enthusiastic photographers should visit this location. Paddy fields, coconut groves, duck farms, spice farms, fishing, and canals are all prevalent in this area. It is frequently referred to as the Rice Bowl of the Country. This is the lowest place in the nation and the only area where farming is practiced 4 to 10 feet below sea level. Living in the country and a village will immerse you in a different world from the one you are used to in the city.
5.Explore the Fascinating Vembanad Lake
This lake is the largest in Kerala and the second largest in all of India. Punnamada Lake near Alleppey is another name for this body of water. Numerous marine bird and animal species call the lake home. The lake has several small islands, including Vypin, Mulavuyad, and Willington Island. In a section of this lake, the Nehru boat race is placed each year. Another prestigious race that used to occur in Kerala during the monsoon is the Nehru boat race. Even though you will be spending a lot of time in Kerala's backwaters, don't forget to check out the rest of Alleppey.
6.Take a Scenic Boat Ride Across the Canals
Alleppey is made up of an unusual network of connected canals that span the backwaters. Others are wider while others are narrower. And at times, they can be as wide as a large lake. You will almost think you're sailing over the ocean. Make sure to ask your houseboat's driver for as many canal crossings as you can. We set off on our houseboat for our canal cruise right away. We didn't stop until it was time for lunch. And while traveling through the backwaters, we passed a number of beautiful shoreline locations.
7.Enjoy Kayaking at Backwaters
Fun activities like kayaking are a terrific chance to explore further and get a closer look at the rural life along the banks and the lush communities nearby. The canals and lagoons in these little hamlet towns provide the best views up close, but a houseboat is large, heavy, and challenging to manage among them. Locals go out of their daily tasks while becoming accustomed to tourists' interested eyes. People can be seen waiting for boats to take them across to the opposite bank much as they do for buses on land. A few feet separate homes from the water. Every house along the banks has a well-kept garden surrounding it, as well as a compound and gate going into the backwaters. Kayaking provides you the option to explore the little side canals that are closest to the villages.
8.Pay A Visit to Karumadi
In the village of Karumadi, adjacent to Ambalappuzha, there is a granite statue of Buddha from the 10th century. The Buddha statue stands about three feet tall and is missing his left hand. Many tourists, archaeologists, and a sizable number of individuals come to this location each year and are mesmerized by this monument. In 1965, His Holiness the Dalai Lama made a trip. Sunrise is the best time to view this granite figure.
9.Travel Through The Paddy Fields
The canals that you travel through Alleppey's backwaters frequently flow directly through rice fields. In the vicinity's backwaters, you can also see little plots of land being farmed. We had the good fortune to stumble onto a lovely harvest location. The natives were taking the crops away in boats after harvest. However, the tiny boats were all strung together in a line and arranged in such a lovely succession. This resulted in one of our favorite pictures of the day.
10.Visit the Stunning Kankathuruthu Island
Kankathuruthu Island All lovers of nature must visit Kakkathuruthu Island, which is a plus for Alleppey. Here is some knowledge that will definitely catch your attention. Not even National Geographic has this secluded island tucked away in Alleppey's backwaters on its list of must-see places in the globe! The name Kakkathuruthu, which means crows, refers to the island's famed bird nesting grounds. A wide variety of bird species would be quite exciting for bird lovers. One of Alleppey's most unique activities is a visit to this island. The island is quiet and free from any kind of disturbance.
11.Explore Triveni Floating Market
Lagoons, canals, and other bodies of water surround Alleppey, sometimes known as the Venice of the East. The same things happen on the water as they do on land in terms of life. On the river is a mall! This government-operated boat, which is located in the low-lying Kuttanadu area in Alleppey's backwaters, has become a well-liked tourist attraction. If you are looking for something unique to do in Alleppey, consider this option. With local produce like grains, vegetables, and fruit as well as consumer goods like shampoos, soaps, and cosmetics on the shelves, the choice is extensive and includes white goods like refrigerators and televisions.
12.Enjoy Some Delectable Cuisine in Alleppey
Both vegetarians and meat eaters will find a range of meal alternatives at this location. There are several eateries that serve genuine Kerala cuisine to tourists. Puttu, Vada, chickpea curry, fried banana chips, fish curry, etc. are among the best foods to eat. Trying some of the local mouth-watering cuisines is one of the best things to do in Alleppey.
To make the most of your family holiday, use this comprehensive travel guide to Kerala. If you are unsure of a place to stay, Alleppey offers a wide range of possibilities, including houseboats. However, Alleppey Tour Packages offered by Lock Your Trip is one of the greatest options for the ideal trip to Kerala. Embedded with regional traditions and cuisines, with incredibly spacious rooms equipped with all modern conveniences and family-friendly entertainment, it is a perfect blend of old-world charm and hospitality.
To Learn More About This Website, Click Here:-