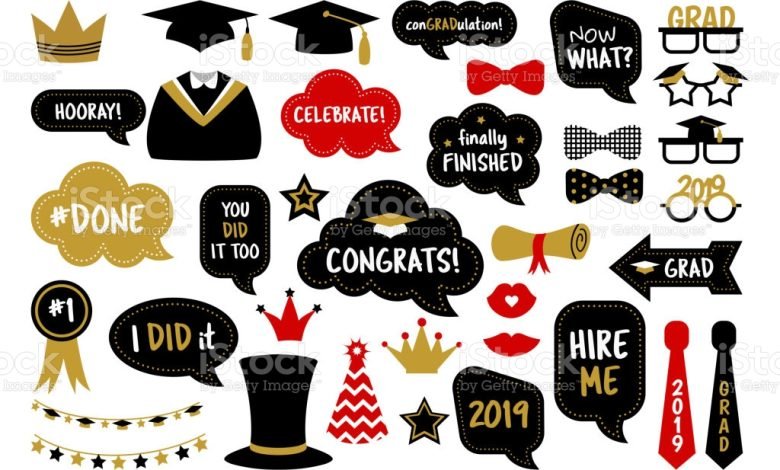 Whether it's your high school graduation or college graduation, a photo booth would double the fun and make the occasion even more exciting. 
It is going to be great in terms of making some nostalgic memories, and would definitely make it a day to remember for all your guests, including you. 
Plus, a photo booth with graduation photo booth props is a foolproof way to make people of all ages go crazy. Kids, graduates, and even parents and grandparents can have tons of joy and entertainment while clicking some memorable pictures inside a booth.
Now, when opting for a graduation photo booth for your graduation this year. You must have several questions at the back of your head. 
Well, we've got you covered in that part. In this article, we're going to list some of the most common Frequently Asked Questions (FAQs) just for you.
Is it important to have a photo booth attendant for your graduation photo booth?
Having an attendant at your graduation photo booth is not necessary, but would still probably be the best idea. 
Because you'll be having all types of guests at your graduation party including your fellow graduates, family members, seniors, and even children, there must be a professional photo booth attendant to serve all the guests and help them with the photo booth, as well as ensure everything runs smoothly. 
Also, the attendant will be responsible to set everything up, making sure no unexpected issues occur, and also ensuring all the equipment is running correctly.
When do we receive our pictures?
Well, because of the advanced technologies being incorporated into photo booths. You and all your guests will be able to get your hands on the photographs right that instant! 
This means you will no longer have to wait for days in order to take a look at all the exciting pictures you posed for. 
In fact, you won't even need to wait for the pictures to arrive and send them over through text, as new photo booths are now able to send pictures instantly via text or email.
Can photo booths be used outdoors?
Of course. Photo booths are great for outdoors, as well as indoors. You can place them wherever you want outdoors. Just remember to have ample space around your photo booth, so that individuals can walk around and access it easily.
How much space is required for a photobooth?
This depends on the type of photo booth you are going for. But, in most cases, no more than 2.5m wide (against a wall is best).
If you're going for an enclosed Booth, you will need more or less a 2.5 x 2.5-meter area.
As for Inflatable booths, you will be required to have at least 3m x 2.5m area. As well as a minimum 2.5m high ceiling.
What type of photo booth is suitable for my graduation?
This depends entirely upon your preferences. The most common types of photo booths include enclosed photo booths and open-air photo booths. 
Enclosed photo booths ensure more privacy, as they are compact and enclosed from each side. On the other hand, open-air photo booths will be open from all sides and will be able to cover a large number of people, as well as the area. 
The main factor is privacy. If you're willing to have a private and exclusive photo session with your friends, then you should go for an enclosed photo booth. 
But, if you're willing to cover a large number of people. Then go for an open-air photo booth, as an open-air photo booth will be most relevant to fit a large number of people in a single frame.
How much will it cost to purchase a graduation photo booth?
The ultimate cost of the photo booth will depend on the type of photo booth you go for, whether you'll be hiring an attendant, and the rest of the accessories, such as photo booth props and backdrops.
As an estimate, for a total DIY graduation photo booth, the price can range from $1,200 to $5,000 or even more depending on the equipment.
What is the difference between a mirror booth and an open-air photo booth?
Although both photo booth types look similar, there are still some differences. Mirror photo booths feature a large TV with a touchscreen behind a mirrored glass.  This is why it is also referred to as a magic mirror effect. The benefit of this kind of photo booth is that guests are able to see their poses before the camera captures their pictures, just like you use your normal front selfie camera.
However, an open-air photo booth features a computer. Camera, and screen in a smaller box or mounted on a slim kiosk. The difference here lies in the size, as open-air photo booths are comparatively smaller in size than mirror booths are.