Computers and Technology
How Blockchain Solutions are Transforming Real Estate
Blockchain Solutions are Transforming Real Estate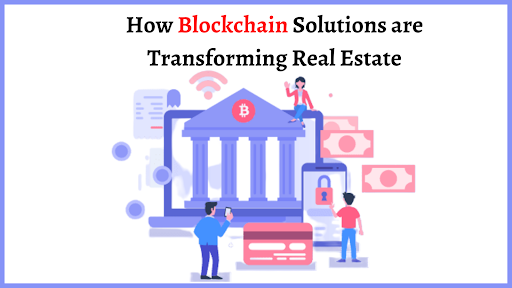 Blockchain is one of the fastest-growing technologies that provides a secure, immutable, and storage of data in the form of blocks.
Currently, many issues exist in the real estate sector, such as the absence of transparency, uncertainties among the parties involved, scams, etc.
Blockchain in real estate will give you more transparency, remove the intermediaries and reduce high costs.
Using smart contracts in real estate has provided effective ways to buy or sell a property.
Looking at the vast prospect, numerous real estate owners and enterprises have begun taking the help of renowned blockchain experts to facilitate the process of buying, selling, renting, etc.
This blog will discuss how blockchain solutions are transforming the real estate landscape.
So, let's dive in.
Platforms and Exchanges
One of the major concerns in the real estate industry has been listings and connecting buyers and sellers in one place. But, blockchain technology provides innovative methods to trade real estate properties and support real estate transactions thoroughly. For instance, you can now tokenize real property and trade on an exchange like stocks.
You can take the help of a blockchain development company to build an interactive blockchain exchange for real estate. 
No Intermediaries
The real estate industry has many intermediaries, such as banks, brokers, lawyers, etc. However, blockchain technology will remove the participation of these intermediaries to streamline the real estate transactions process. Eliminating the intermediaries will help buyers and sellers to minimize their expenses as they do not have to pay commissions and fees.
Liquidity
The real estate industry falls into the category of illiquid assets, as it takes lots of time to sell. However, this is not the scenario with tokenized real estate properties, since they can easily be traded for fiat currencies via exchanges.
Fractional Ownership
Blockchain technology helps buyers purchase a portion of the property by providing fractional ownership. Investors only need access to a trading app for buying and selling fractions of the tokenized property if they find it feasible. People can handle the properties alone in fractional ownership. 
Decentralization
Blockchain is a decentralized technology with robust security. The information stored in the blockchain network is accessible to everyone, making the data transparent and immutable. The entire decentralized network is based on trust and transparency. As the information is easily verifiable to buyers and sellers, it increases the confidence to perform transactions. Additionally, one can get rid of cyber-attacks and scams immensely. 
Reduced Costs
The costs of the real estate industry can be reduced by cutting out mediators' fees and commissions. Moreover, blockchain also removes expenses like taxes, inspections, registration, and loan fees. However, the costs may differ in different territories. 
Wrapping Up
Blockchain technology has huge potential to change the real estate industry. It can facilitate the entire real estate process, such as tokenizing properties, eliminating intermediaries, providing fractional ownership, and much more.
Blockchain presents a secure and transparent platform for everyone associated with the transaction. If you are a startup, property manager, or business owner, you can consider taking the assistance of a reliable app development company to validate your app idea.