Education
How many years are enough for NEET preparation? Sharing best tips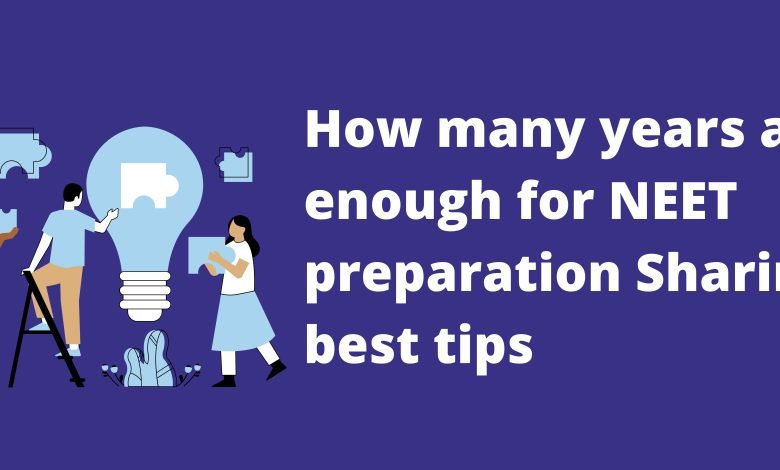 It all depends on how much time the candidate can devote to studying in a day, which we can determine by calculating his study time. Still, 1 year is enough for NEET 2023 preparation. If you prepare it with full dedication and sincerity, And if you give enough time for self-study, then you can prepare for NEET 2023 in 1 year.
Physics and chemistry are considered to be the toughest subjects for medical students. But this is also interesting. There are many excellent books on the market. You can choose any good book according to your convenience. We should first go through the concepts of books. so that our concept becomes clear. If we clear the concept of our subject-wise book, then it becomes easier for us to understand the things ahead.
Read more: Important Aspects of MBA You Should Understand
If you have any doubts so you should clear them. Keep your doubts to a minimum. Solve around 300 to 500 questions from each chapter and check them. and correct your mistakes. After that, solve it again. The more you solve, the more fluency you keep on gaining. You also start to understand. initially. The more you solve, the merrier. Initially, you will not get the answers to the key questions. The more you try, the more confidence you will have in yourself and the more faith you will have in yourself. We should also keep solving the answers to previous year's questions.
Biology: In the NEET preparation for exam, questions of 300 marks are asked mostly from NCERT books. That's why you should read more and more NCERT books. Then you can go for any good book of your choice. Solve as many questions as you can. Always be self-assured and calm in your own skin.
One year is a very good time for you to prepare well for the 11th and 12th syllabus. You must have also seen that many students prepare for one year and clear the NEET exam in their first attempt. So we can say that you can clear the NEET exam in one year.
I would like to tell you this: yes, you can prepare for the NEET exam in one year. If you follow the following important rules:
First and foremost, you should assess your own knowledge. Do you already know how much before you start studying for the exam? And do you know about the preparation of NEET? Go through the syllabus once and check your score. Where do you have to start for preparation? Make a checklist. Check all the levels and mention them in the checklist.

Plan of Your Study Journey:-After inspecting yourself, start with the basics of NEET. Prepare a study journey plan for the entire course. Set a time limit for studying. so that you should prepare yourself in the right way.

Motivate Yourself: Never give up. You have to motivate yourself in this way. No matter how many difficulties you face, you should not give up. You should keep motivating yourself time and time again. To motivate yourself, you should keep sharing positive thoughts and positive people. Answer questions and learn from your mistakes. Stick to the rules you have made. And keep believing more in yourself.
Note: Very important tips have been given for the preparation of the NEET exam.
First of all, you should know about the officially announced syllabus.

Make a planning schedule.

Stick to your timetable to the letter. Try to increase your capacity day by day.

Consider the best books and study materials for you to prepare well for the test.

You should keep on attempting Mock tests and previous year's question papers.

Correct your mistakes while practicing.

You do not have to give up, even if you have time left for your work.

You have to be tension free and healthy at the time of the NEET exam.

And you also have not to include new topics in your final preparation.
Conclusion
How many years is enough for NEET preparation? We have tried to answer this question for you through this article and to satisfy you. If you are doing a good institute fund which can prepare you for NEET 2023 preparation, then you can get information by clicking on this link of ours. How long does it take for the preparation of NEET? Through this article, we have told you that you will like it very much.