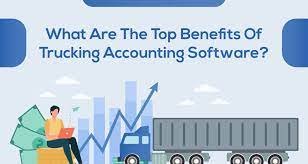 Introduction
Accounting is time-consuming and labour-intensive in any organisation, but it is especially so in trucking. In trucking accounting, there are several things to consider, including IFTA taxes, mileage, fuel, and more. You most likely have a manual system for keeping track of different bills that are due or late, but imagine if all of this could be done for you. There is accounting software available that can track your invoices, notify you of upcoming expenditures and potential late charges, and even produce professional invoices with the company name. This frees up time for staff to focus on other critical activities.
What is Trucking Accounting?
Trucking accounting ensures efficient invoice management by handling all transactions within the system. Trucking accounting software is designed to handle all the day-to-day activities of trucking companies. The software can track fuel expenses, mileage, maintenance and repairs, equipment rentals, etc.
The service has a feature that allows users to create a folder for each client and then assign them specific tasks according to their needs. They also have a feature that allows users to customise their reports based on their client's financial needs.
Trucking companies must maintain accurate records to ensure their invoices are paid on time. Trucking accounting systems allow them to track all transactions related to the movement of goods from one location to another. They also help in tracking payments for freight, fuel, driver wages and other expenses involved in running a trucking business. The service also has an auditing feature which helps detect any illegal activity that may be taking place within the company or between different departments.
Benefits of Trucking Accounting Services
Here are some main benefits of trucking accounting services:
Increased Accuracy and Efficiency
Using a trucking accounting service can increase your accuracy and efficiency in tracking your trucking company's finances. With the help of a professional, you can easily keep track of all your expenses and income during the year to ensure that all these numbers are accurate. This will also help you avoid any mistakes or errors when recording sales and expenses.
An efficient accounting system is best to ensure that your trucking company is doing well. A good accounting system can help plan for future goals and objectives for your business, allowing for better decision-making regarding where you want to go with your business in terms of expansion or reorganisation.
Reporting software makes it easy for you to stay up-to-date on your accounts receivable, inventory and general ledger information. It also provides easy access to your revenue data to make informed decisions about how much each customer owes you and when payments are due.
Track Expenses and Profit
Trucking accounting is an excellent tool for tracking expenses and profits. You can use this information to see which areas of your operation need improvement and make changes that will increase profits in those areas. You may also be able to identify new opportunities for growth that could help bring in more revenue.
Trucking accounting services will also help you keep track of the expenses associated with your business. You may not think about how much you spend on repairs or maintenance, but your trucking company needs to know what they spend their money on to get a good return on investment.
One of the main benefits of using a trucking accounting firm is that it will be able to scale as your company grows. When you start with just one truck, you may not need an accountant. As your business grows, however, you will probably want someone onsite who can handle all your financial matters.
Virtual accounting services are scalable. The more you have, the more you can process. This is because the company will access a centralised database that can calculate costs and track expenses. With trucking accounting services, there is no need to hire additional employees or purchase additional software. The data can be easily accessed from any computer or mobile device.
Another benefit of hiring a trucking accounting firm is that they will have security measures to protect your information from theft or fraud. Trucking accounting services use powerful encryption technology that keeps your information safe. As long as you have an internet connection, your data is secure and cannot be accessed by anyone else except those who need it. Trucking accounting services protect against hacking attacks using passwords and other security measures like firewalls and anti-virus software.
Conclusion
Trucking accounting services help you to maintain the right amount of money in your business, also known as profit. A trucking company needs to know how much they are earning so it can pay its employees, pay taxes, and make sure they have enough money to continue doing business.
Trucking accounting services can also help you keep track of the income that comes into your company from customers and clients. Knowing how much income comes in each month can better predict if sales will increase or decrease for the year.