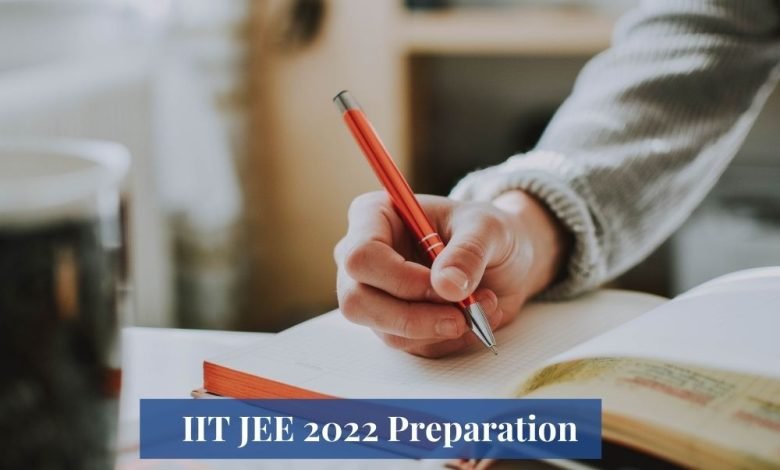 IIT JEE 2022 Preparation
Every year, hundreds of thousands of students compete in the JEE Main to gain admission to undergraduate engineering programs at the nation's top engineering universities, including IITs, NITS, IIITs, and other institutions.
However, when generating the final merit list for JEE Main 2022, the candidate's performance in the best of the four sessions would be taken into account. Students can choose to participate in one or all of the phases. The NTA has yet to announce the exact dates for the upcoming phases.
Candidates who want to apply for undergraduate programs at IITs in the year 2022 must also take Paper 1 (for B.E./B. Tech) of JEE (Main)-2022. The top 2,50,000 applicants in JEE (Main)-2022 will qualify for JEE (Advanced) 2022 based on their performance in Paper-1 (for B.E./B. Tech.). Admission to IITs will be dependent on the All India Rank (AIR) in JEE(Advanced) for each category, according to the requirements outlined on the JEE(Advanced)-2022 website.
JEE Main 2022 Preparation Tips for January Exam
Make a list of all you know about the JEE Main Syllabus.
Before you begin, go over the JEE Main 2022 syllabus to see what topics you'll need to cover. Topics from class 12 will be covered in the syllabus, which can be combined for preparation. Divide the issues into three categories: simple, challenging, and unknown. You can reinforce the easy topics while learning the unknown ones if you study both at the same time. Online Mock Test for Jee Main
After that, take on the more challenging tasks. The reason for this is that no one knows where the questions will come from, and knowing the majority of the topics is essential. While knowing all of the topics in depth is unlikely, knowing the majority of them is the next best thing.
Make a schedule for JEE Main in January 2022.
While many people believe that timetables are necessary, some disagree, particularly if they are students who feel constrained by regulations or who cannot stick to a schedule for lengthy periods. The goal of the timeline is to set parameters and dates for completing the majority, if not all, of the issues.
Try to work at your own pace, but make sure you finish what you started. Also, be certain that the strategy is feasible.
Recognize the JEE Main exam format.
It is critical to understand the exam format. How else will you know what kind of questions will be asked, how many points will be granted, how much time will be provided to complete the exam and other such details? Check the JEE Main exam pattern beforehand. Continuous practice with JEE Main exam papers will let you answer with ease.
Some key details regarding the exam include the fact that it will be a computer-based test in English, Hindi, or Gujarati (only for students from the state)
JEE Main 2022 Exam Pattern
Particulars

Details

Total Number of Questions

●

Physics – 30

● Chemistry – 30

● Mathematics – 30

Questions to be attempted

25 out of 30 questions in each section

Type of Questions

Objective Multiple Choice Questions

Marks awarded per question

Correct answer: 4 marks

Wrong answer: 1 mark deducted

Total marks

300
Books and Topics to refer
Experts and toppers' recommendations were used to build a list of books and topics that would help you study for the JEE Main 2022 exam, whether it be in January or April. Take a browse through the library. An important JEE Main January 2022 preparation tip is to go over NCERT thoroughly because they cover the basics so effectively that students can easily expand on them.
Preparation Tips for JEE Main January 2022
JEE Main 2022 Books for Physics
| | |
| --- | --- |
| Books | Author |
| Concepts of Physics | H. C. Verma |
| Fundamentals of Physics | Halliday, Resnick, and Walker |
| Problems in General Physics | I. E. Irodov |
| University Physics | Freedman and Young |
| Understanding JEE physics series | DC Pandey |
| Problem In Physics | SS Krotov |
JEE Main 2022 Books for Mathematics
| | |
| --- | --- |
| Books | Author |
| Higher Algebra | Hall and Knight |
| Coordinate Geometry | S.L. Loney |
| Differential and Integral Calculus | N. Piskunov |
| Calculus and Analytic Geometry | Thomas and Finney |
| IIT Mathematics for JEE Main & Advanced | M.L. Khanna |
| Course in Mathematics for IIT-JEE | Tata McGraw Hill publication |
| Problems Plus in IIT Mathematics | A Das Gupta |
| Trigonometry | S L Loney |
Chemistry Books for JEE Main 2022
| | |
| --- | --- |
| Books | Author |
| Modern Approach to Chemical Calculations | RC Mukherjee |
| Organic Chemistry | Solomons and Fryhle |
| Concise Inorganic | J. D. Lee |
| Organic Chemistry | Morrison and Boyd |
| University Chemistry | Freedman and Young |
| Physical Chemistry | N Awasthi |
| Arihant's Practice Book Chemistry for JEE Main And Advanced | R.K Gupta |
JEE Main Topics with Weightage
JEE Main Physics Topics with Weightage
   

Physics and Measurement – 4% weightage

   

Work Energy and Power – 3% weightage

   

Rotational Motion – 3% weightage

   

Properties of Solids and Liquids – 5% weightage

   

Kinetic theory of Gases – 3% weightage

   

Electromagnetic Induction and Alternating currents – 3% weightage

   

Experimental skills – 3% weightage

   

Kinematics – 3% weightage

   

Laws of motion – 3% weightage

   

Gravitation – 2% weightage

   

Thermodynamics – 9% weightage

   

Oscillations and Waves – 3% weightage

   

Electrostatics – 9% weightage

   

Current Electricity – 8% weightage

   

Magnetic Effects of Current and Magnetism – 5% weightage

   

Electromagnetic Waves – 5% weightage

   

Optics- 10% weightage

   

Dual Nature of Matter and Radiation – 6% weightage

   

Atoms and Nuclei – 3% weightage

   

Electronic devices – 14% weightage

   

Communication Systems – 5% weightage
JEE Main Maths Topics with Weightage
   

Sets, Relations and Functions – 5% weightage

   

Complex numbers and quadratic equations – 7% weightage

   

Matrices and Determinants – 7% weightage

   

Permutations and combinations – 4% weightage

   

Binomial theorem and its simple applications – 2% weightage

   

Sequence and series – 5% weightage

   

Integral Calculus – 9% weightage

   

Limit, continuity, and differentiability – 10% weightage

   

Coordinate geometry – 15% weightage

   

Three Dimensional Geometry – 6% weightage

   

Vector Algebra – 5% weightage

   

Statistics and Probability – 8% weightage

   

Trigonometry – 4% weightage

   

Mathematical reasoning – 3% weightage

   

Differential equations – 3% weightage

   

Mathematical Induction – 3% weightage
JEE Main Chemistry Topics with Weightage
   

Some basic concepts in chemistry – 5% weightage

   

States of matter – 3% weightage

   

Atomic Structure – 3% weightage

   

Solutions – 5% weightage

   

Chemical Thermodynamics – 4% weightage

   

Equilibrium – 6% weightage

   

Redox Reaction and Electrochemistry – 4% weightage

   

Chemical kinetics – 3% weightage

   

Surface Chemistry – 1% weightage

   

General Principle and process of Isolation of metals – 2% weightage

   

Classification of Elements and Periodic table – 3% weightage

   

Hydrogen – 3% weightage

   

p- Block Elements – 5% weightage

   

S – Block Elements Alkali and Alkaline Earth Metals – 1% weightage

   

Chemical Bonding and Molecular Structure- 5%

   

d and f BLOCK ELEMENTS – 4% weightage

   

Co-ordination Compounds – 4% weightage

   

Environmental Chemistry – 3% weightage

   

Purification and Characterisation of Organic Compounds -s 3% weightage

   

Some Basic Principles of Organic Chemistry – 3% weightage

   

Hydrocarbons – 3% weightage

   

Organic Compounds containing Halogens – 2% weightage

   

Organic Compounds containing Oxygen – 6% weightage

   

Organic Compounds Containing Nitrogen – 1% weightage

   

Polymers – 3% weightage

   

Biomolecules – 3% weightage

   

Chemistry in Everyday Life – 4% weightage

   

Principles Related to Practical Chemistry – 3% weightage
Mock Test and Question Papers
If you put everything you've learned into practice, you'll be successful. This is precisely what the mock tests will be used for, and registration for the practice centers will begin tentatively in September. Candidates, on the other hand, can download the mock test, which will be offered in three languages.
Aside from that, prior year's question papers are a fantastic location to start learning about the actual exam, question kinds, and difficulty levels. Exam environment comfort and time management are two advantages of practicing with mock exams or sample papers.
Keep the head high and motivation levels up
Recognize that it is only an exam and not a true reflection of who you are and what you can become. Another thing to bear in mind if you're taking the JEE Main January exam in 2022 is that you can take the exam again in April and improve your grades. As a result, you can treat the January exam as a litmus test and focus your efforts on the April session, which is available this year.
Motivation must be maintained since there will be moments when the pressure is intense and you may feel down as a result of poor performance on a practice test. What matters most is that you pick yourself up and get back into the race. You can also check : Finish What you Started
You can conquer mountains if you're in good health.
Maintaining your health over the following several months is critical, as only then will you be able to cope with the rigors of studying for one of the country's most difficult engineering entrance tests. You will need time to recover if you lose energy, feel down, or become ill, and you will not be able to keep up with the focused study hours required for a test of this caliber. So now is the time to consume well-balanced meals.
Allow yourself breaks and some breathing room now and then.
Nobody can work or study for long periods. It's not just impossible, but also harmful. So, now and then, take a break. Allow yourself some time to unwind with music, meditation, art, or whatever else helps you relax.
Avoid needless comparisons on social media.
Social networking can be very addictive. This covers WhatsApp as well. You could just keep conversing on it. Negative ideas and comparisons should also be avoided. Remember that your fingers aren't all the same, so how can two persons be alike?
So, while someone else may have merits, you do as well. Make the most of your abilities by focusing on them. Allow no one to persuade you that you can do it because you can if you truly believe it and work hard for it.