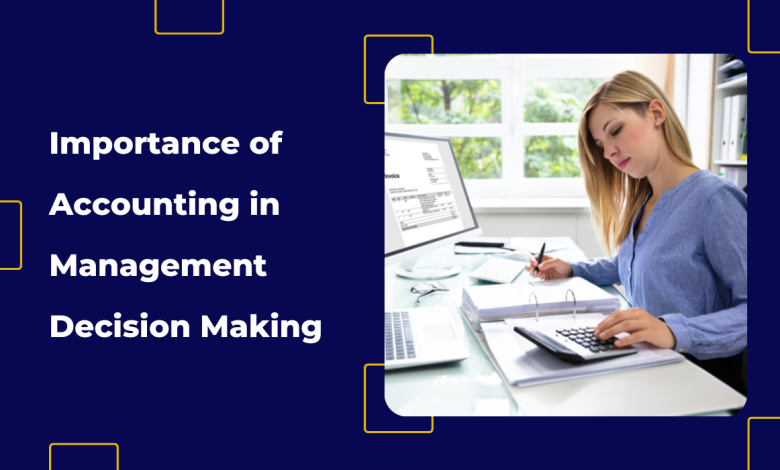 Financial accounting is a crucial requirement for businesses to maintain financial records and compilation of all finance-related processes.
As it is crucial to keep day-to-day records to maintain all financial information of the business.
Management accounting is crucial for businesses to keep reliable and relevant records while making every decision. Financial reports that are useful for both external and internal.
Why Accounting in Management decision-making?
Facts and data should be the basis for commercial decision-making. The majority of an organisation's everyday transactional data is too minute and detailed to be evaluated quickly. To provide critical answers, management accounting derives reports and insights from the actual data. Consequently, managerial accounting facilitates decision-making based on actual accounting facts. It also aids in researching trends and the results of previous choices.
Based on current data and trends, management can make strategic decisions. The information offered by management accounting will also be useful for making more specific operational decisions regarding purchases and inventory. When making business decisions, it's critical to produce accurate cash flow estimates. The Management use the historical data to create trend charts for cash flows.
Cost analysis
Cost Analysis directly impact on how a company spends its money. A corporation must conduct a cost analysis to examine expenses and better anticipate future expenses to increase profit margins. Due to the likelihood that expenses would be dispersed, expense analysis compares several suppliers, goods, services, and other elements to identify the most advantageous and profitable one.It is simple to evaluate which service provider or supplier is more favourable for the organisation when we compare the current and past accounting data. There can be more benefits than just financial ones.
Targeting potential audience
When a product or service design meets the needs of the consumer or end-user, it is successful. A business that has a solid understanding of its target market will be able to tailor both its advertising efforts and its product offerings to better appeal to them. The important knowledge that many businesses have about their current consumers is often not fully utilised. A business will be able to comprehend its demographics if it studies its client data.
Effective Planning
Management of a business entails overseeing its ongoing operations as well as developing long-term plans and guiding it toward its objectives. Data-driven planning has a higher likelihood of success. Management accounting aids in trend forecasting by examining past and present trends in the sector and the business. A company must take advantage of every chance to stay one step ahead of the competition in today's fiercely competitive marketplaces.
Budget management
It is waste of time to chose budget randomly, improperly allocated, or insufficient. They might even be exorbitant and commit funds that management spent more effectively elsewhere in the business. Examining historical spending data is the most shrewd method of defining the budget for some time. A project or marketing effort could potentially stop if not given enough funding. This may cause the entire expenditure to be wasted or impede the optimal operations of the organisation. The successful execution of every business activity depends on the planning and allocation of the budget.We should not start any project before giving adequate funding.
Report generation
To glean important information, management accounting analyses vast amounts of data. Without the right tools, creating these reports may be a time-consuming task. A management accountant may rapidly and properly prepare reports with the use of intelligent enterprise management software like Tally. Additionally, It make sure that we create the all reports at right and real time. The accountant can access and compare historical data and trends with ease using accounting software and computerised management accounting.
Why Accounting Is Important?
Accounting provides managers with information on the financial position of the company, including profit and loss, cost and earnings, liabilities and assets, etc. Because of this, accounting's significance to business cannot be overstated.
For management to make the best decision, accounting delivers statistical facts and information.  Get the best Accounting Services In Dubai.
Accounting's primary goals are to determine a company's profit-loss and financial status and to consistently record financial transactions in the books of accounts.
For every business, records, data, and accurate information related to every sale and buying are highly Important to maintain its growth and upliftment positively.