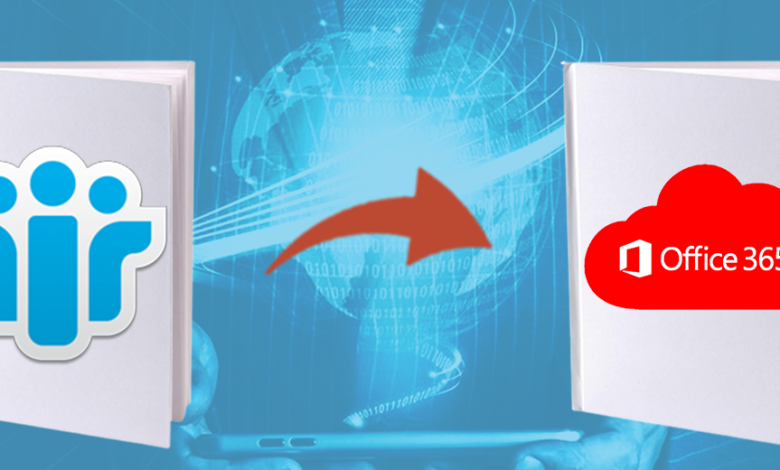 The most well-known cloud-based business service in the world is Microsoft Office 365. More than 150 million people and businesses use it. Because it has useful features, many users switch from other platforms to it. This technical guide is on how to migrate Lotus Notes to Office 365. Lotus Notes to Office 365 migration isn't too hard if users have the right tools and approaches.
Many users may transfer Lotus Notes mailboxes using the IMAP connection manually. However, experts favour pre-programmed migration software. Before we get there, consider why you should use Office 365 rather than Lotus Notes.
Office 365 instead of Lotus Notes:
Lotus Notes has been a hugely popular email program for a long time. Therefore, if users compare Lotus Notes to Microsoft Office 365, there is no comparison at all. Unlike Office 365, Lotus Notes is only available to IBM users, and using this old email client from IBM requires technical knowledge. On the other hand, MS Office 365 has numerous segments that help businesses be more productive.
Users can't import or export their email messages or other big business data forms into it. When making a Lotus Notes to Office 365 migration, users need to keep a few things in mind. All emails and IBM data are stored in an NSF file database by Lotus Notes. The NSF format will never be supported by MS Office 365. Also, there is no option or in-built feature built to migrate Lotus Notes to Office 365.
Different ways to switch from Lotus Notes to Office 365:
A specialized automated tool is the best way for this migration most of the time. Suppose that users or clients want a reasonable solution. They can move small amounts of data from Lotus Notes to Office 365 using a native method like the IMAP Connector. This technical guide explains the manual process (IMAP Connector) and the professional Lotus Notes to Office 365 migration software.
Native manual using IMAP Connector-
Follow the instructions below to use the IMAP Connector to migrate Lotus Notes to Office 365. So that people who use IBM Lotus Notes can get their emails in Office 365 to work together.
Step1: Make sure to back up the NSF files first.
Step2: Create a new mailbox for every existing NSF user with an account.
Step3: Now, follow the same actions as below to enable the TCP/IP port:
Open IBM Lotus Notes and start the Domino Administrator.
Then select the Configuration tab to move Lotus Notes to Office 365.
Launch the Server Documents to use the IMAP service.
Tap Ports, then Internet Ports, and then the Mail tab.
Enable – "TCP/IP port value status" here.
Press the Save button to keep the changes you've built.
Step 4: Using the IMAP connector, set up a link:
This step requires using the IMAP connector to sync emails from IBM Notes to your Exchange Online account. After all these steps are done, a user will be able to sync Lotus Notes with Office 365.
Lotus Notes to Office 365 migration can be made manually, but it can't do everything. In the next section, we'll talk about the problems when using this method to migrate Lotus Notes to Office 365.
Challenges using the IMAP connector process:
If a firewall or proxy is in place, IBM Notes won't be able to access the stable network.
The IMAP connection cannot be utilized if Lotus Notes is not operating.
The IMAP connector will only move online information into an Office 365 account.
The process sets the size limit for files. It can export emails that don't exceed 1GB in size.
The IMAP connector way to migrate Lotus Notes to Office 365 is inefficient because it has problems. So, the following section will also guide another way to solve the problem.
Automated, Specialized Tool:
With the Shoviv Lotus Notes to Office 365 Migration tool, you can migrate Lotus Notes to Office 365 in a reliable way. Using this efficient tool, users can move all of their IBM Notes data, including email messages, calendars, appointments, draughts, journals, address books, and attachments, among other things. This migration solution doesn't impact the way data is stored and organized in folders during the migration. This program brings very good results in the least amount of time. Its interface and actions are so simple that even anyone who isn't tech-savvy can use it.
The Final Line-
Lotus Notes to Office 365 migration with an IMAP connector produces a lot of hitches. But an automated tool from Shoviv enables it at a glance and makes it easy to do. Users can transfer the .nsf mailbox of any size to Exchange Online from IBM Notes. The expert tool has a free demo version that can be used to test how well it works to migrate Lotus Notes to Office 365. Hence, it is a recommended preference.