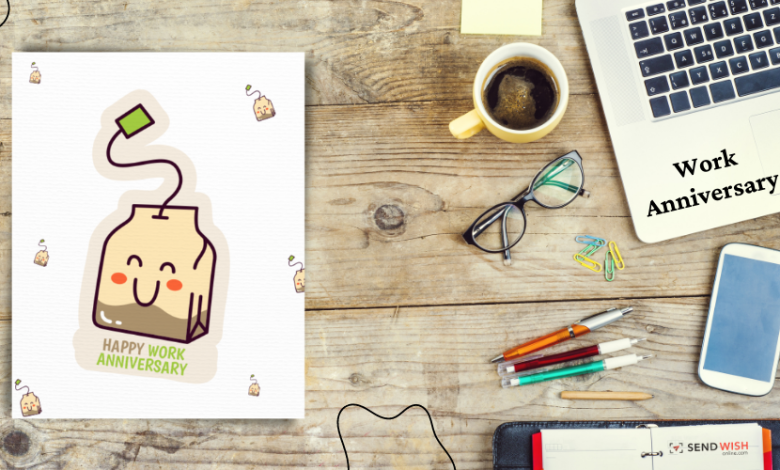 Work anniversary is considered a great milestone in almost all cultures in the professional environment. People take pride when they complete a year with any particular firm. With the growing craze of this event, we have brought something very special for you, Work anniversary ecards that can be used for all your official purposes and even by the remote teams. So the next time anyone of your employee is celebrating their anniversary surprise them with a sweet present that can be preserved forever as a reservoir of memories. Whether you are close to the colleague or just met them, make sure you try your best to build better relations and this task can be done by wishing them for this achievement with Work anniversary ecards .
SOME MESSAGES TO ADD EXCITEMENT!
An ecard is incomplete without messages of anniversary and so here we have collected some exceptional messages that you can enter into your work anniversary ecards.
Today marks the day you joined the company– and that is worth celebrating!

Happy work anniversary. We are so glad you chose to join us and that you choose to stay with us.

We would miss you if you were to leave. However, you are still here, so instead, we will say– happy work anniversary!

Here's to another year of having you here!

Once upon a time, a new employee started working here, and the company was never the same. Happy work anniversary!

Happy work anniversary to the hardest working person I know!

We are so happy every year you are here! Happy work anniversary!

You make a difference every day, and we are grateful for every day you spend with us. Happy work anniversary!

From the bottom of my heart, I hope you have an amazing day. Happy work anniversary.

Today is a day to reflect on all you have achieved so far, and all you hope to accomplish in the time to come. Happy work anniversary.

Happy work anniversary! It has been one heck of a journey so far, and I cannot wait to see where the work world takes you next!

Happy work anniversary to the most gracious team player I know!
Happy work anniversary
We were so happy to welcome you to the team this year, and are so excited to see what you will do in the years to come!

Has it been a year already? Time flies when you are having fun with teammates!

Today marks your one year work anniversary, but it feels like you have been here forever. We are so happy to have you as part of our team!

You should be proud of what you have accomplished this past year– we sure are!

One year down, countless more to go.

Thanks for giving us these past twelve months, and giving your all during that time!

One year ago today was your first day. The moment you sat down at your desk, everything changed! So grateful to have you as part of the team.

Consider this your one-year-cheer. Woo-hoo!

Of all the managers in the world, we are grateful that you are ours! Happy anniversary!

Happy work anniversary to someone who has been indispensable to our team.

Thank you for everything you have taught me in the years so far, and everything you will teach me in the years to come.

Finish off your search with our awesome collection of Group card online

Happy work anniversary to the nicest boss around!

I am so lucky to have worked under you for so long, and hope to be on your team for a long time to come!

Happy work anniversary to a manager who is more like a teammate, in all the best ways.

Happy work anniversary! We hope your bosses appreciate you as much as this team appreciates having you as a manager!
Work anniversary ecards
"This company's future is brighter because of employees like you. Well done! Enjoy the one-year anniversary of your career!"

"We want you to know that you are a valuable member of our team. We wish you all the success in your career!"

"You are one of a kind. Thank you for helping us grow. Have a happy work anniversary!"

"We are proud to be associated with you. Your contributions and commitment to our work are unparalleled. Have a happy work anniversary!"

"You are a gem that will always shine. Have a happy work anniversary."

"You understand the company culture really well. Thank you for making us what we are. We wish you a happy work anniversary."

"Congratulations on your one year of work experience! Every company needs a hard-working and intelligent employee like you. Best of luck!"

"You are respected and admired. Our company shines because of you. Have a relaxing work anniversary. You deserve it!"

"Your dedication and passion for your work make you the success that you are. Keep raising the bar, and have a happy work anniversary."

"We are lucky to have you on our team. Wishing you a happy work anniversary."

"Your commitment to your job sets an example for everyone else on this team. Have a great work anniversary."

"Your hard work and punctuality set the bar for others. Happy first work anniversary!"
Employee anniversary cards
It is extremely essential that we create a healthy working environment for all our employees.  When people decide to contribute the maximum part of their lives to a particular company they have a lot of expectations. Everyone expects to be appreciated and valued for all those long hours they spend for the betterment of a company. Events like anniversaries create a greater charm and significance for the members of a company because it marks the day when they have completed years of commitment to a particular firm. It does not just describe loyalty but also sincerity for each other. 
Let us take a step ahead and make work anniversaries an important event in our life by being more active and surprising the receiver with simple and sweet gestures. For this, we have brought to you employee anniversary cards. They are designed with utmost love and care and some very pretty graphics. Our collection of some very wonderful employee anniversary cards is the perfect present that you can gift your colleagues without much  tension or hassle. 
SOME MORE WAYS TO CELEBRATE!
Not just this we also have some new ideas that would add charm to your celebration. Try and organise a small party for the receiver to show that you care for them and their efforts.  Try to think of a thoughtful present besides employee anniversary cards that can be perfect for the receiver's desk or working space so that whenever they see it, they are reminded that there are people who care for them and will always remain friendly. Perhaps a small mug stating best employee ever or maybe some humorous taglines that could be some of your inside jokes is also a good way to go ahead. 
The office place is not always supposed to be formal, it is your second home and it should feel like it. It should feel like you belong there and have the freedom to carry on with your ideas. Each place has a particular significance and employees work hard to earn that place. 
Visit to  Free birthday cards