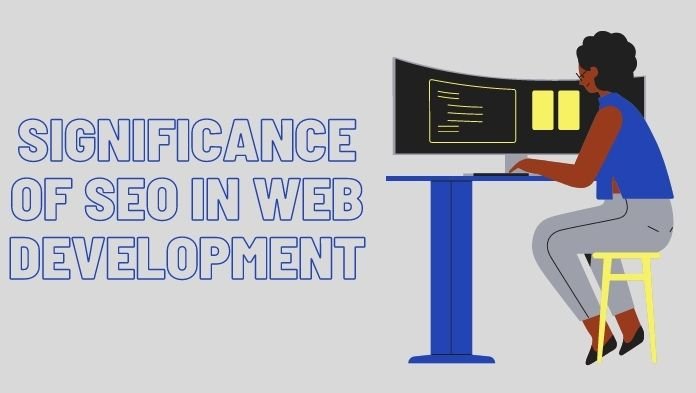 Search Engine Optimization is a framework that consists of various rules and processes that allows a website to appear on the search engine. It plays a vital role in the web development process and ensures that a website performs its targeted actions well. Since it is an entire process, it is divided into either three types or three stages that direct the strategy of the web development procedure.
Technical SEO: It is the first step of the SEO process that contributes to the crawling and indexing of the website on the search engine.
On-page SEO: The second stage is on-page SEO which primarily deals with the content and other elements of the webpage including its structure, optimization, heading, and links. On-page SEO aims to send adequate signals to the search engine crawlers so that can read through them and connect them to the targeted user.
Off-page SEO: The third and last stage is off-page SEO which includes strategies that rank the website better on SERPs.
HOW DOES SEO HELP?
Most of the internet traffic goes to the first five results on Google's first page. Web development services rely on SEO to ensure that a website presents itself on the first page and to render it the following advantages.
INCREASES WEBSITE SPEED
When a person visits a website, they require an instantaneous answer to their search intent. A website that loads slowly also witnesses loss in sales and revenue, conspicuous drop in its SEO ranking, and less consumer engagement and their subsequent conversions. Furthermore, statistics from a study by Upbound revealed that slow eCommerce websites experience 45% fewer transactions. Therefore, to prevent a business from experiencing such dreadful results, it is better to opt for an SEO web design.
According to Google, page speed is also a considerable factor that determines the website's ranking. SEO aims to minimize redirects, optimizes images and codes, leverages browser caching, enable compression, and improves the server response time – all to ensure a better website speed and its ranking on the search engine result pages (SERPs)
CREATES A RESPONSIVE DESIGN
Studies have shown that mobile phones are responsible for 53% of global website traffic. Since the device accounts for more than half of website influx. It is crucial to optimize the website to be compatible with it. Mobile-optimized websites render a better user experience, which in turn, increases user retention. According to Google, 49% of people refused to revisit a site with a poor phone experience while 61% of consumers make transactional activity from their phones. Therefore, it would not be wrong to say that to sustain itself in the market. Every business needs to present a mobile-friendly, responsive website.
SEO renders web pages an appropriate site design, structure, and speed that is ideal for mobile phones. By doing so it helps increase in user engagement, retention, and their average time on the website
FACILITATES A SEAMLESS USER EXPERIENCE
An efficient layout is a prerequisite for a website to engage and cater to its audience. A strategic webpage template retains the customer's attention and presence for a sufficient time, within which, they tend to make a purchase. The ultimate priority of every brand is to satisfy the audience that lands on its website. When the said digital platform is optimized well enough to engage the people who navigate it, there is a better chance of conversion from mere visitors to potential life-long customers. However, amongst all the ways to optimize a web to perform such conversion, the simplest is to use SEO bakırköy escort strategies.
An adequate SEO webpage considers the slightest details to ensure that the website is consistent and user-friendly.  Be it an aesthetic layout, quality content, well-placed headings, subheadings, and images – an SEO website guarantees better ranking and traffic.
ENHANCES URL STRUCTURE
A URL structure mirrors what the website represents and delivers. A remote developer that provides web development services is responsible to integrate the appropriate keywords into the link that briefly describes the page. The use of SEO in web development aims to optimize the link by shortening and rendering them. A better ranking due to the presence of the target keyword in the link. Therefore, when the user searches the said keyword, the website reveals it to them and thus, increases traffic.
OPTIMIZES CONVERSION RATE
When a user visits a website, navigates through it, and ends up closing a sell. That is referred to as conversion. SEO web design is crucial to optimize conversion rate. As it is a key factor that drives revenue to the website. A well-executed website that employs all the required SEO strategies. Renders a seamless web experience while the CTA tools help the user make the right transactional choice.
In addition, micro-conversion activities such as clicking a link, signing up for a newspaper, taking a quiz, or watching a video have also been shown to increase brand awareness and conversion rates.
IMPROVES SECURITY
A website that is built with various security features not only helps protect personal information and company data. But also minimizes the risk of financial and legal risks. Cyber security involves the protection of computer systems, networks, and data from phishing attacks. Even though it has been highly prioritized for a long time, today, however, it is even more important because the cyber integrity of websites is all more susceptible to attacks due to the rise in technologies and our dependency on them.
Customers belonging to health, retail, and financial industries are aware of their increased susceptibility to emerging threats, and hence require these businesses to employ some tentative and strong measures for the protection of their data. SEO web page, for instance, helps attain an HTTPS ranking that is visual evidence that its robust security features.
Check: Website developers in India
BRINGS VALUABLE TRAFFIC
Having traffic on the website is one thing. But it does not mean the influx of visitors includes the potential customers that bring revenue. Since an online business relies solely on its and best digital agency presence to attract its potential customers, custom SEO web pages utilize visual and textual content that appeals to the audience and engages them in eCommerce activities. A web developer considers the demographic of the targeted audience to customize the website accordingly. The use of the appropriate keyword, site layout, and visual appearance are some SEO strategies that target the right audience.
INCREASES ORGANIC TRAFFIC
SEO strategies such as the optimization of title tags, meta descriptions, meta tags, URL structure, submitting XML sitemap, and removing duplicate content help increase the organic traffic to the website. Organic search results include the non-paid ads on SERPs and contribute 50% to the traffic on websites globally.
If a website appears in the organic search results. It connects to the customer at a critical point in their eCommerce activity. Furthermore, it also reduces marketing costs over time as it eradicates the need of running ads on other digital platforms.
CONCLUSION
It is the process of search engine optimization that renders a website to perform actions and deliver the results that the company wants. From a better ranking on the initial SERPs to connecting to the prospective audience. It is the SEO strategy that helps a brand not only establish a robust digital identity. But also sustain itself in the ever-growing market. Hire developers in India for the best development solutions for your future tasks.