Business
Things to consider if looking for Vinyl Record Pressing in Australia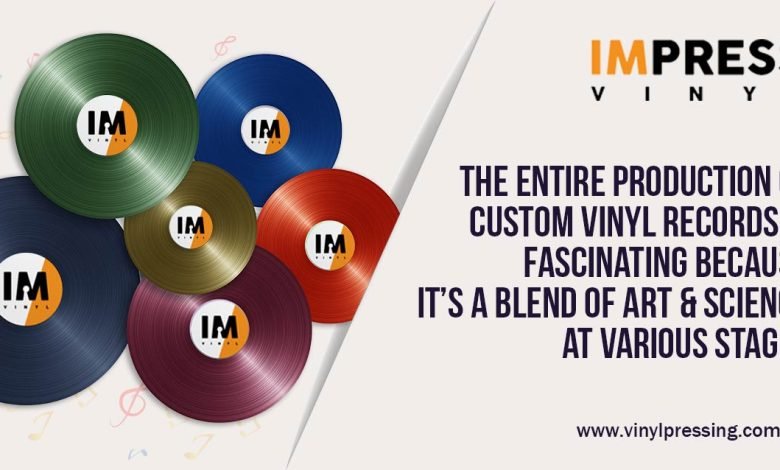 You might be thinking why anyone in the right mind would even opt to press music into a medium that dates back to the late 20th century. Things to consider if you are looking for Vinyl Record pressing in Australia.
Well, if you are an independent artist, vinyl is one of the few remaining mediums that permit an artist to connect directly to the audience in an intimate, engaging, physical and highly innovative manner. As the famous phrase says, "Old is Gold", what once was old is new again.
People love to groove with their favourite music band via cover art, eye-catching coloured vinyl, and the physical activity of lowering a needle onto a revolving disc that produces pops, crackles, and warm sound.
So, your popular band has recorded a new album, and you're thinking of unleashing it on vinyl. Who does not love a classic vinyl, right? Well, let me take you through the things you should consider for vinyl record pressing to make a knowledgeable decision.
Guide to consider vinyl record pressing

Decide your music project
Before you consider vinyl record pressing, you have to know what you will press into vinyl.
If you are a music artist that presses just about everything and plays vinyl out, then there is no barrier; it's just the quantity you have to agonize. Vinyl pressing is not the best idea for a single random track.
You need to consider a more significant project such as an album with some serious buzz in the music industry. The unique album with hype will make your fans crazy and take your vinyl copy home.
your first or second-best song or track you care about should give primary preference in the side's tracklisting.
As the needle moves to the centre of the record and diameter of the groves and gets smaller and smaller, audio quality slowly and subtly degrades.
Engineer experience
First and foremost, if you are selecting to release music in vinyl, you should be well aware that you can't just send your files to a usual engineer and ask them to make custom vinyl record printing out of it.
Many modern-day engineers have not mastered vinyl record pressing, so make sure they have abundant experience to master a vinyl record personally. To master a vinyl record pressing, an engineer should recognize the critical things like discography, sound levels and EQ, overly high and low frequencies in the mix, Etc.
If you have mastered your songs for vinyl, then you've overthrown the purpose of even having your music project pressed on vinyl. Vinyl record pressing in Australia has decades of experience mastering your track for vinyl.
Plan your vinyl pressing
While vinyl record pressing Australia is significantly expanding the amount of pressing plants, here is where things get trickier. Do you want your music pressed on 12″ standard weight vinyl? or do you need a 7″ record pressed? What about the 180-gram studier or heavier record?
A 12″ record holds about 22 minutes worth of music on each side. Mainly reserved for full-length albums.
A 12″ record usually whirls at 33-1/3 RPM but can also spin at 45 RPM to reach higher musical fidelity.
 7″ record contains about four and a half minutes of music on each side and is best suited for single albums.
 7″ vinyl record usually spins at just 45 RPM.
Making vinyl record pressing can take a long time; it can take a few months if your order gets struck down at a plant in favour of a more prominent client.
Vinyl record pressing comes in different colours, and your artwork is modified and designed at the vinyl pressing australia plant. However, colouring or mixing can adversely affect the sound of the music and even add more time.
Choose your artwork
vinyl record pressing Australia created unique colour pressing and special editions for famous music artists.
Most vinyl is all black in colours; you can also request pressing plant to produce a blend of colours that fit your album. Choosing out the text, font and style in which you write out the credits and any additional information on the vinyl helps preserve the artistic contributions.
Making the sleeves and record jackets are the final piece's main important artwork. Artists have many options, including special die-cut covers, inserts, and gatefolds.
Offset custom vinyl record printing is more cost-effective. For large runs and lets you maintain consistent quality throughout a large batch of printed material.
Finally, records are packaged shrink-wrapped and sent to labels for distribution.
Find a pressing plant
Presently, a couple of dozen vinyl pressing plants are available within Australia, so it's vital to cite that once you have thought of how you want your vinyl pressed, you should shop around for the best turnaround time and price.
Turnaround time is very consequential. With numerous labels and artists pressing vinyl, you need to make sure the plant is a one-stop-shop solution for pressing, jacket printing, labelling Etc., and you have enough time for manufacturing your vinyl properly.
It is incredible to see how records begin as a bag of small plastic pieces. Evolve into a treasured item that perhaps we line up for in a record store for hours.
Vinyl pressing plant produces custom vinyl records australia from lacquer mastering, record pressing, sleeves, jackets to label printing. With an abundance of experience in creating top-notch vinyl, reproducing the warm sound in a state of the art manufacturing facility. Vinyl pressing quality and dedication to excellence accompany your classic vinyl from start to finish. Talk to our vinyl specialist today.