Life Style
Types Of Non-Profit Organization & How It Helps Government?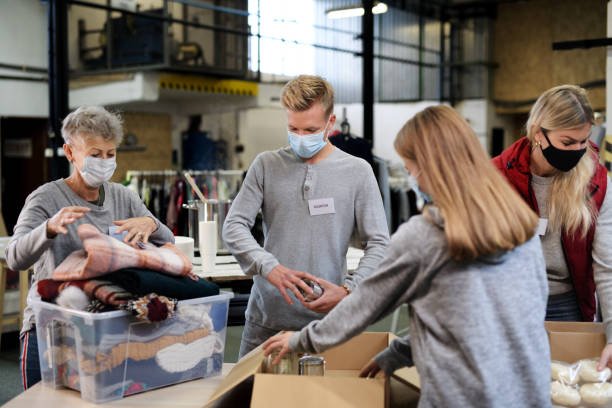 There are a variety of reasons why these government nonprofit organizations exist. They all have one thing in common: the goal can't be to fill people's pockets. All the funds that Nonprofit organizations spend on their good mission get help from nonprofit organization rather than on the founders or donors.
Feeding the homeless, administering a business organization, and proclaiming the gospel are all examples of nonprofit purposes. There are almost two dozen different types of tax-exempt charities listed by the IRS.
Types of Non-Profit Organization
There are many more non-profit organizations and for this, we only group them according to their mission.
Animal Welfare Organizations
These are philanthropic organizations that provide services to animals such as caring for them and saving them from harm, as well as ensuring and teaching others how to care for animals.
Dogs Trust, 

People for Ethical Treatment Foundation for Animal (PETA), 

World Animal Protection, 

The Human Society International 
All of these organizations are very beneficial for the country's economy.
Environmental charities
These are environmental groups whose aim is to ensure that the environment remains healthy. They also provide instruction on environmental stewardship.
Earthwatch 

Farming and Wildlife Advisory Group (FWAG),

Rainforest Foundation UK, National Botanic of Wales

Plantlife International 
NGO (Non-Governmental Organization) International
These are international organizations that help people all across the world.
They provide a variety of charitable services. These organizations include, for example,
Doctors Without Borders (Doctors Without Borders)
It's useful in combat zones, following natural disasters, and other situations.
The Red Cross International
They provide assistance to persons who realize any big disasters such as floods.
International Junior Chamber (JCI)
This is a non-profit international non-governmental organization aimed at young people aged 18 to 40.
Health-related charities
These organizations take on the responsibility of treating the sick, raising awareness about particular health dangers, and teaching people how to avoid illnesses and diseases. They deal with anything that has to do with overall health.
Some of these charities are,
Disease  and Disorder Charities

Medical Treatment and Services
Educational Charities
These organizations deliver education to students by making it accessible and cheap to all pupils.
Colleges and Universities

Financial assistance and scholarship services
Five ways through non-profit organizations help the government
The fundamental benefit of a non-profit organization is that it contributes to the overall growth of society while also assisting the government in numerous ways. The following are some of the primary advantages and significance of non-profit organizations:
Education
Many of the schools established in the interior have demonstrated to be the result of non-profit organizations.
They never ask for money from the people in the communities because they have volunteered to teach these children and give them the required learning materials due to their good intentions.
Apart from training children, if the community is experiencing hunger due to a lack of food, educate them on how to reclaim their land and supply them with the tools they need to get all of their initiatives off the ground.
Treatment 
In addition to providing educational services to children, non-profit organizations have sprung up to provide treatment for illnesses that have been a major issue in the community. They accomplish this by constructing hospitals in the interior where sufferers can receive free treatment.
And also teach the community how to prevent certain diseases, such as Malaria, which has claimed many lives because many people do not know how to prevent it and do not have medicine to treat it when they become ill.
They also educate community members on personal hygiene, as many illnesses are caused by a dirty environment and contaminated food.
Provide assistance in the event of a tragedy
It has been presented on a variety of platforms. Including television, in places devastated by natural disasters such as floods, droughts, and other natural disasters.
These non-profits play an important role in assisting those who have been affected by providing food, clothing, and temporary housing.
They are able to do so thanks to contributions from individuals, businesses, and organizations.
This is not to say that the government does not assist, but nonprofits serve as a second line of defense for the people.
Employment
For non-profits, employees are necessary just like any other company, to assist them to deliver services and achieve their objectives.
Many people are employed by these organizations nowadays, and they are paid well enough to pay their monthly expenditures and maintain their families (life gets easier when you have a job).
Unemployment has decreased dramatically as a result of nonprofits. As a result, the youth's crime rate has decreased, as these nonprofits have used their energy to provide services.
Improvement or development
Many of the interior settlements have flourished as a result of the non-profits' missions, such as having passable roads that enable transportation services in and out of the town, as well as lighting.
These nonprofits are also a big reason why inner villages have lights at night because they teach people how to use solar to create light and electricity, which makes life easier for them.
Conclusion
There are numerous types of charities and benefits of non-profit organizations, but what they all have in common is that they are all here to make life on our planet easier. As these organizations do their best to assist, you should do your best to donate to these foundations so that they can continue to make a difference in people's lives while also making the environment healthier and protecting our wildlife.
We all have a part to play in making the world a better place, so let us all try our best to make that happen. If not for us, let it be for future generations.
The government makes every effort to improve people's lives by offering common services to its residents. Because the government is a single entity, services may be delayed or unavailable to certain people.
In order for everyone to receive equitable services, especially those in the interior, non-profit organizations occasionally lend a hand to provide services and assist the government. 
Read more: Latest Technologies Used for Games Development in 2022