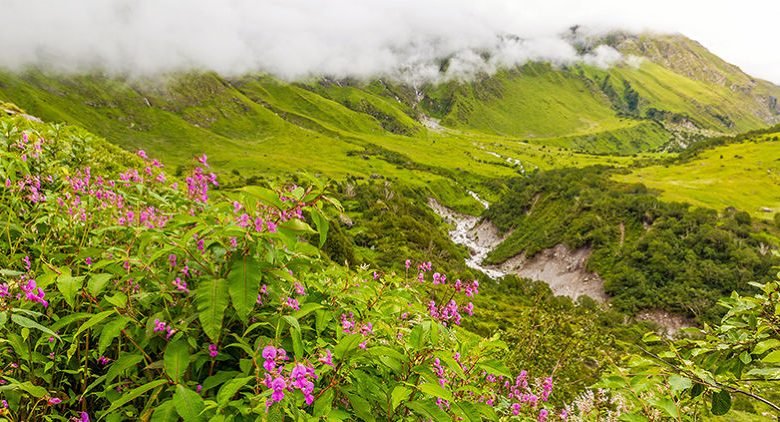 Introduction
The Valley of Flower Trek is a legendary trek of the great Himalayas in the northeastern part of India. It is also asserted to be the oldest trek in India as it was formulated in 1980 by the government of India as the Valley of Flowers National Park but later in 2002, it was adopted as a UNESCO World Heritage Site which gave rise to a bunch of more trekkers in Valley of Flowers trek. The level of the trekking is moderate type so it requires a certain kind of practice for climbing there. 
The Valley of flowers trek offers you numerous flowers as long as you can view, there is an assortment of flowers of different textures of colors, sizes, shapes, and fragrances that can be glimpsed all around the wonderful peak. The pleasing meadows, different snow cliffs, and the dissimilitude greenery mountains will make you stare at them several times. Also, the fog and the mist make the view more fascinating than ever. The Valley of Flowers National park is situated in Uttarakhand and comes in one of the fresh biospheres in India.
Details
Trek type – Moderate

Height – 14,400 ft.

Location – Uttarakhand

Duration of the trek: 6 days
How to reach
The place is realistic and raw due to which it gets tougher for the trekkers to climb over there. Here you have to take several trips straight to Govindahat from Delhi which is almost 500kms away averting a few strides, ie. From Delhi to Haridwar/Dehradun(by bus/ train/ flights), 
Then from Haridwar/Dehradun to Joshimath which is nearly 280kms away and can be covered in 10 hours by public transport( taxi). Moving to Govindahat from Joshimath which is approximately 20kms and covered in 45mins duration.
Now let's go for the actual path of the trek from the base.
Route A(Budget option) – the trek spot is 4kms and can be covered easily by walking, jeeps, or taxis. After reaching the further trek place starts from Ghangaria that is of 11kms approx. The Ghangaria to Valley of Flowers trek is 5 km away so you can reach that place on foot simply, porters.

Route B- (splurge option) – From Govindahat to Ghangaria through (helicopter) and from Ghangaria to VOF trek through (walking), Porters.
Important Note
Many porters are available for hiring at the trekking place, so it's manageable for you to cover the path simply. 

Also, hotels are present therein Ghangaria where they can send your backpacks by the mules. 

You have to get approval for moving towards the Valley of Flowers trek from the forest department. (For India, it charges 150 INR, and for foreigners, it charges 600 INR respectively) at the ticket counter. After purchasing the ticket, the maximum validity of the ticket is 3 days.

Night Campings in the valleys are not authorized.

Due to this, visitors have to leave and go back by 5 pm itself.
Essentials required for the trek
2 or 3 liters of the water bottle are necessary.

Your ID cards.

Trekking shoes or Hiking shoes.

Backpacks to carry extra clothes, water bottles, and woolen clothes for emergency circumstances.

High calories and nutritious snacks or lunch are musts.

Plastics for protecting electronic devices from snow and rain

First aid ( Mild pain relief tablets, motion sickness tablets, cotton bandages, antiseptic liquid, etc).
Best time to visit
Every year a stunning flowering bonanza can be observed in the elevated altitudes of the Himalayan meadows, the flowers start blooming from July to August. As the valley is not susceptible beyond December until soon may Every month flowers bloom with beautiful colors and fragrances which make the view more elegant than other trek places.
Conclusion
Valley of flowers trek can be the best suitable option for your trekking spot as it's a mixture of elegance, adventures, and new experiences that you can ever have in the range of Himalayan journeys. So what are you waiting for? Just let out yes and move to the best trek place in Uttarakhand. I hope this article helped you know further about the Valley of Flowers trek in the Himalayas.