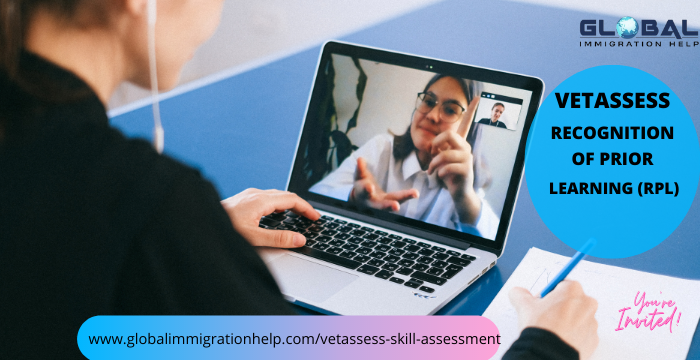 If you dream of Australian immigration through having a positive assessment from VETASSESS, then read this article. Here, we will tell you about the RPL (Recognition of Prior Learning), and things related to this. VETASSESS is a skill assessment authority in Australia to assess skill assessment applications of professionals who intend to migrate to Australia on skilled Visas.
VETASSESS RPL (Recognition of Prior Learning):
Before you know about it ask yourself how to prove your job-related skills and have proof available for this. Now, look for the answer to this question below.
RPL or Recognition of Prior Learning acknowledges skills you earned through formal and informal learning and work experience. The process of RPL assessment evaluates proof of your competency. It happens to determine whether you satisfy the necessary standards or not. Besides that, the authority also makes sure that you deserve a formal qualification or credits towards a qualification.
VETASSESS RPL qualifications and fees:
The RPL price has changed. The new pricing is in the list below, as well as in the Qualifications and Fees table.
Cookery:
SIT30816
Certificate III in Commercial Cookery
$ 4.995
SIT40516
Certificate IV in Commercial Cookery
$ 4.995
SIT31116
Certificate III in Asian Cookery
$ 4.995
SIT40816
Certificate IV in Asian Cookery
$ 4.995
Automotive:
AUR31120
Certificate III in Heavy Commercial Vehicle Mechanical Technology
$4, 995
AUR31220
Certificate III in Mobile Plant Technology
$ 4,995
AUR30620
Certificate III in Light Vehicle Mechanical Technology
$ 4,995
The VETASSESS RPL service fee is all-inclusive and will give you the following:
You will have access to the simple use, yet advanced quality RPL tools and industry qualified experts. These experts will support the assessment of proof you give
A dedicated mentor to assist you by guiding you through the RPL process
Loyalty benefits, like a deduction of up to 60% in RPL service fees for extra qualifications
Technical assistant to help you navigate the online systems and trouble any concerns and questions
Administrative support for payment, issuance, enrollment (and, if necessary, re-issuance) of certificates and statements. You will also have progress reports and updates
Fee structure:
The below-given table shows an indication of how the fee structure works. For the exact fees for your chosen qualification, see the above list.
| | |
| --- | --- |
| Payment 1: at enrollment | $ 1,500. |
| Payment 2: Before attempting knowledge assessment | 50% of the remaining balance: up to $1,747.50 |
| Payment 3: Before giving proof of necessary skills | Remaining balance: up to $1,747.50 |
Enrollment process of VETASSESS RPL:
Timeframe
The RPL assessment process consists of three stages:
Demonstration skills
Demonstrating knowledge
Confirming experience
If providing payment on time before each stage, you will have 8 weeks to collate related sufficient and relevant proof. Besides that, assessors will get another two weeks to evaluate and offer you feedback for each stage.
Assessment process:
Step 1: Confirmation of experience:
After making the initial payment, you need to show your competency against your chosen qualification. Do so by completing an online self-assessment against the skills and knowledge necessary.
The authority will then need two different employers to confirm your skills and knowledge. You will get a link directly to those referees.
Step 2: Showing underpinning knowledge:
After successfully setting up your skills and knowledge and making the second payment, show your skills and underpinning knowledge. Here, you have to show them against the units within the qualification.
You will do this through an online Q&A.
Step 3: Proof of the necessary skills:
After showing the knowledge of unties within the qualification and making your final payment, upload proof for each unit. You will do so by uploading related documents, videos, pictures and statements according to the instructions.
Result:
If the authority finds your RPL acceptable:
All units of competency under the qualification have been evaluated
You will get a Certificate and Statement of Results and a Digital Badge
If the authority doesn't find your RPL acceptable:
All or some of the competency units under the qualification have been evaluated, as your RPL faces rejection. If it happens, you will get a Statement of Attainment (RPL granted). Another thing you will get is a Statement of Results (RPL granted, RPL not granted and/or Credit Transfer).
Why should you hire a VETASSESS expert?
Only knowing all the necessary things regarding RPL VETASSESS assessment, fees and the like is not enough. It is because the assessment authority receives countless applications; therefore, your report must be effective. So, you'd better take professional VETASSESS skill assessment writing services.