Business
Ways to Encourage Employee Personal and Professional Development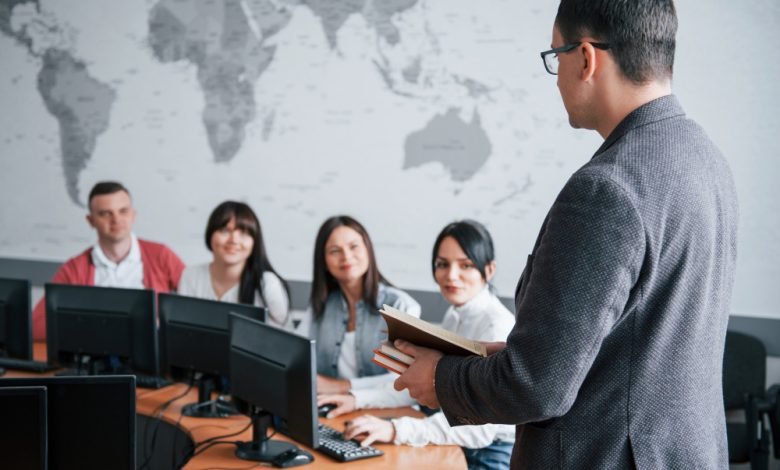 Employee retention is one of the most serious threats to businesses across the country. In recent years, the tide has shifted, and employees now wield more power than ever in their interactions with employers. In fact, 65 percent of workers believe they can use this power to their advantage by negotiating pay and benefits. Employee personal and professional development initiatives are one way for businesses to keep employees satisfied and committed.  You can reduce employee turnover and increase productivity by taking a proactive approach to your employee growth and professional development strategies. Keep reading this blog to learn more.
Training and development programmes can assist organisations in clarifying their expectations of their employees. This initiative fosters a performance-based culture in which employees establish attainable goals based on well-defined organisational principles.
Surprisingly, many of today's managers are lacking in soft-skill development. Most organisations promote their top performers to management positions, even if they lack the necessary management skills, training, or experience. In fact, 87 percent of managers wish they had more training before being asked to lead.
Employees who have taken part in training and development programmes will be more confident in their knowledge and abilities, as will their managers. This assurance fosters enthusiasm and accountability for work results.
While productivity is important, organisations must also be proactive in assessing and developing soft skills for employees and managers. 
Strategies for Encouraging Employee Growth and Professional Development
Provide acknowledgement and rewards
If you want to encourage employee growth and development, you must first keep them satisfied and motivated. This begins with developing a company culture that rewards and recognises exceptional performance. Let's dive into the details.
Giving your employees recognition and rewards can motivate them and foster loyalty, both of which are driving forces behind employee growth. When employees feel valued and their efforts are recognised, their performance levels rise. According to an Alight Solutions study, employees who believe their rewards have been met are seven times more likely to be engaged with their work.
Give feedback in real time, not just at annual reviews
According to a Wakefield Research survey, more than 90% of employees would prefer that their manager address learning opportunities and mistakes in real-time rather than only during an annual review. Organizations that do not provide continuous feedback to employees cannot expect them to grow or develop in areas where they struggle.
Knowing your own shortcomings is a critical step in personal and professional development.
Organizations must put in place processes that assist management in organising and assessing their employees' strengths and weaknesses on an ongoing basis. These managers must then communicate the results of those assessments on a weekly, monthly, or quarterly basis throughout the year.
This ongoing evaluation and communication process provides a feedback loop that assists employees in understanding the areas in which they require additional training, as well as developmental areas to improve employee aptitude and performance.
Make use of a Learning Management System (LMS)
A learning management system (LMS) provides organisations with a scalable solution for employee growth and development. Learning management systems, as the name implies, are applications that assist businesses in creating, storing, tracking, delivering, and reporting educational resources, trainings, and developmental programmes.
LMS software provides businesses with an alternative to manually creating, managing, and delivering training materials and courses. Instead of spending valuable time training new employees or working one-on-one on redundant training programmes, businesses can use LMS software to move that training into an eLearning platform. LMS software not only streamlines employee training, but it also allows the organisation to deliver consistent material and maintain quality assurance.
Promote mentoring and coaching
Mentoring and coaching programmes are another way for businesses to look internally to support employee growth and professional development. Employees in the modern workforce no longer respond well to demands or orders. Managers must instead learn to collaborate with their employees, much like a coach or mentor.
Organisations can help their employees grow by fostering a management culture that values communication and training. Managers should not be afraid to ask employees if they need assistance, and they should welcome the opportunity to teach their employees new skills or knowledge.
Professional development and training are typically the responsibility of one's direct managers; therefore, emphasising a culture of coaching and mentoring is an excellent way to encourage employee growth.
Recognise and Develop Soft Skills
Soft skills are personal characteristics and non-technical abilities that help you succeed in your career. These abilities can include, among other things, time management, delegation, active listening, and communication.
Organisations that provide soft-skill development training and educational resources. They can boost the productivity of their entire team, not just the employee.
Establish Inter-Departmental Training Programs
Today's businesses are becoming increasingly decentralised.
Understanding how each unit operates is beneficial whether you are a production manager or a front-line sales representative.
As a result, by implementing cross-departmental professional career development training programmes, organisations can support employee growth and professional development. Furthermore, breaking down these departmental barriers can improve communication from one unit to the next. It increasing the overall efficiency of your organisation.
Learn Human Resource Skills to Support Effective Training and Development
Training and development programmes offer numerous advantages. They improve employee performance, productivity, and turnover while also improving company culture. By pursuing a career in human resources, you can learn about the importance of training and development programmes for both employees and employers.
2. The online Bachelor of Science in Human Resource Management provide you with the knowledge and skills to assist businesses in providing effective employee training and development opportunities.
3. With a foundation in business concepts, you will focus on critical evaluation, cultural effectiveness, leadership, consultation, communication, ethics, and relationship management. And you'll learn about these topics through a flexible online curriculum that allows you to pursue a master's degree alongside your undergraduate studies.
4. Employee retention is heavily influenced by opportunities. With this in mind, the Society for Human Resource Management (SHRM) recommends that businesses train managers to keep employees motivated, engaged, and feeling appreciated.
5. Training and development programmes can also help employees who have mastered their initial tasks avoid burnout. Providing opportunities for advancement can revitalise employees and give them a fresh perspective on their work.
6. Employees who receive clear communication about their job and its necessary processes and procedures are more likely to stay with it. Training and development programmes aid in the dissemination of this information and ensure that employees have the tools they need to carry out their responsibilities in accordance with corporate policies.
7. Promoting Continuous Improvement Today's ever-changing technologies necessitate regular up skill, and training and development programmes provide that opportunity. These initiatives promote innovation and a willingness to take risks in order to improve processes — with less supervision required.
Final Thoughts
Cross-departmental training programmes can educate your employees about various aspects of your business while also improving communication between different departments. Employers can target the knowledge and skills they want their employees to have by providing training and development. To increase productivity, training and personal growth and professional development can teach employees new skills or update existing ones. Employers can target the knowledge and skills they want their employees to have by providing training and development. To increase productivity, training and development programmes can teach employees new skills or update existing ones.