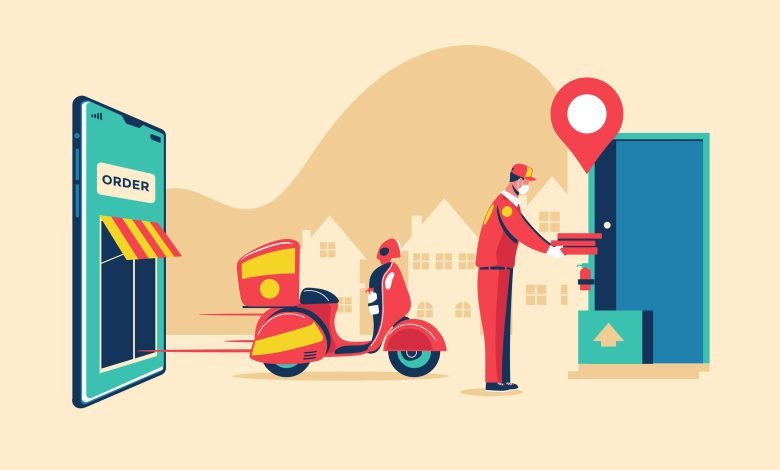 Nowadays, people are busy with work and don't have time to cook or go to restaurants. That's why food delivery apps are getting more and more popular. In this blog post, we will show you a basic idea of how to build an UberEats clone or an online food delivery app. If you want to enter this market, you need to know about the process and what costs you will incur. Let's get started!
About Online Food Delivery Business in Detail
In recent years, the online food delivery business has taken off. This is partly thanks to apps like UberEats that make it easy for people to order food from their favorite restaurants and have it delivered to their doorstep.
So, what exactly is an online food delivery app all about?
An online food delivery app is a mobile application that allows users to order food from restaurants and have it delivered to their doorstep.
These apps typically offer a wide range of restaurants to choose from and allow users to pay for their orders using their credit or debit card.
Some major and popular online food delivery app players include UberEats, GrubHub, DoorDash, Postmates, and Delivery Hero.
Facts Regarding Online Food Delivery App Market
The online food delivery app market is expected to grow significantly in the coming years. The following are some key facts regarding this industry:
The global online food delivery market was valued at $43 billion in 2018 and is projected to reach $75 billion by 2025, growing at a CAGR of 9.5%.
North America was the largest regional market for online food delivery in 2018, accounting for 37.5% of the global market.
By 2025, Asia-Pacific is expected to be the fastest-growing region for online food delivery, with a CAGR of 11.7%.
What Is UberEats?
UberEats is a popular food delivery app that allows users to order and pay for meals from their favorite restaurants. The app then sends a driver to pick up the food and deliver it to the user's location. UberEats is available in many cities worldwide and is constantly expanding its reach.
The UberEats accounted for $8.3 billion in revenue in 2021,
The gross bookings of the UberEats app crossed $50 billion in 2021
Uber Eats proudly boasts of having over 81 million users worldwide.
The app is available in over 200 cities worldwide and offers delivery from various top restaurant brands.
Some of the most popular restaurants on UberEats include McDonald's, Subway, and Starbucks. However, many other local and regional restaurants are also available through the app.
How Does the UberEats Clone App Work?
The UberEats app is a food delivery service that allows users to order and pay for food from local restaurants. The app uses the same interface as the Uber ride-sharing app, and customers can track their orders in real-time on a map.
To use the UberEats app, customers must first download it from their app store and create an account.
They then enter their delivery address and choose from a list of nearby restaurants on the app.
Once they have selected their restaurant, they can browse the menu and add items to their cart.
Customers can then pay for their order using a credit or debit card and receive a confirmation email when their order is placed.
Once the order is placed, it will be assigned to an Uber driver who will pick up the food and deliver it to the customer's address.
Customers can track the progress of their order on a map within the app, and they will receive a notification when their food has been delivered.
What Are the Features and Benefits of an UberEats Clone?
An UberEats clone will have all of the features of the original app, plus more optimized and newer features. The clone will allow users to order food from restaurants that are not on the UberEats platform and view ratings and reviews for each restaurant. Additionally, the clone will offer a loyalty program where users can earn points for every order they make.
The UberEats clone app, in addition, can be equipped with COVID-19 safeguarding measures and guidelines in light of the pandemic. Such features include the following.
COVID Heatmap
"Always Mask-on" Functionality
Regular Body Temperature Scanners
You can also apply the benevolent concept of making your app act as a promotional platform that delineates everything related to the coronavirus and the safety measures to be taken. This way you are sure to gain widespread acclaim for you. You can easily become an entrepreneur who cares about the well-being of his/her employees and customers.
Guide to Starting Your Online Food Delivery Business
If you're thinking about starting your own online food delivery business, there are a few things you need to know.
First, you'll need to choose a platform or marketplace to host your business. There are many options, so do your research to find one that best suits your needs.
Next, you'll need to create a menu of items people can order from your site or app. Be sure to include popular dishes from popular restaurants and some unique offerings.
Lastly, you'll need to set up a delivery system. You can either partner with an existing delivery service like UberEats, or create your delivery fleet. Whichever option you choose, be sure to consider the costs and logistics involved. With this, you can make your business as efficient and profitable as possible.
However, you can wield the power of an UberEats clone script instead of taking the long, challenging route of developing a food delivery app from scratch. With its help, you can arrive at a feature-rich UberEats clone developed as per your vision in a matter of days.
How Much Does It Cost to Build an UberEats Clone App?
There is no one-size-fits-all answer to this question, as the cost of building an UberEats will vary depending on several factors, such as the following.
The features and functionalities you want to include.
Application platform you want to build it on.
UI/UX Design
Your ambitious vision of a food-delivery application
And most importantly whether you choose to outsource any part of the development process.
That said, you can expect to spend anything from $5,000 to $50,000+ on building an UberEats clone app. If you have a limited budget and are looking for a basic app with core features only, then you can get away with spending around $5,000 – $10,000.
However, your costs will increase if you want to include more advanced features or build a native app for both iOS and Android platforms.
One way to keep costs down is to use a white-label solution like an UberEats clone script, which is economically priced. With this option, you get access to a ready-made UberEats clone app that can be customized according to your unique requirements.
So, there you have it – an overview of how much it would cost to build an UberEats clone app. Remember that the final cost will depend on various factors, so get in touch with a few app development companies for accurate quotes.
Conclusion
Building a food delivery app like UberEats doesn't have to be complicated or expensive. By following the tips in this article, you can create an app that is user-friendly and popular with customers. You can make things easy using a highly scalable and 100% customizable UberEats clone script. With a bit of planning and effort, you can have your own successful food delivery app up and running in no time.