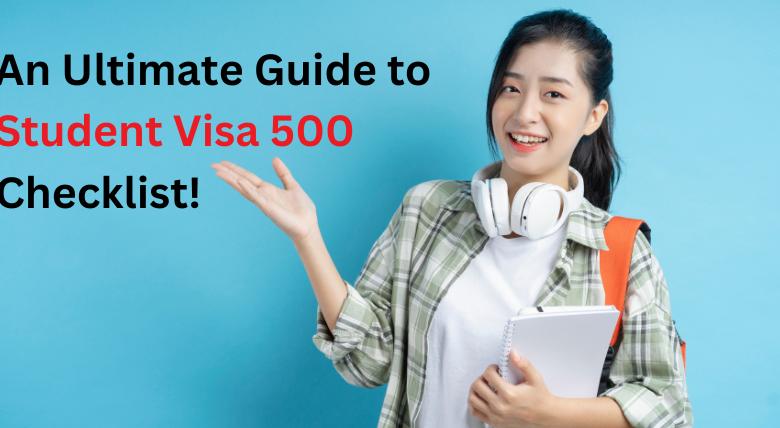 Are you are searching for opportunities to study in Australia? If yes, then you are in for a treat as some of the most renowned universities in Australia that provide quality education. You can enrol for the course as you will learn new skills. This means that while pursuing your educational course, you will be able to interact with a diverse group of people. Eventually, this will lead you to grow in your career.
You will also have access to different study and research opportunities in the country. However, to study in Australia, you will need a student visa. One of the best student visa for Australia is student visa 500. With this visa, you can live and study in Australia. Also, if you find the study expensive in Australia, you can also apply for scholarships.
To apply you will need a 500 visa guide that can lead your way. In this guide, you will get to know everything about the student visa and its checklist.
Eligibility for the Subclass 500 Student Visa:
Before applying for the Australia student visa, you need to make sure that you are eligible to apply for this visa. You need to submit some important documents for this visa. The Student Visa 500 Requirements are as follows:
You need to possess an acceptance letter from the university where you are applying via the COE or a certificate of enrolment that you receive via email.
You need to meet the health and character requirements.
You must show evidence of funds to ensure you can bear your expenses during your stay and study.
You will require health insurance or even an Overseas Student Health Cover during your stay in Australia.
You need to show English language test results to prove that you are proficient in the language. Some reputed tests are PTE, TOEFL and IELTS.
What is GTE or Genuine Temporary Entrant?
Under the Australian student visa process, each international student needs to follow the rules laid out by the GTE. If you cannot submit the important and proper documents your visa can get rejected by the embassy. Under Genuine Temporary Entrant, all applicants need to show that they are temporarily coming to study in Australia. Also, there are some essential requirements under this that every student needs to fill, which are as follows:
You need to write a statement of purpose for the Visa Subclass 500 that addresses the GTE requirements. You need to support the information with proper evidence.
You must include your past study experiences, such as academic transcripts showing your qualifications, length of the course, name of the institution and attainment certificates.
You need to be unique and ensure to provide information about gaps between your studies and the reasons behind those gaps.
Providing details of your current employer, employment status, employment period, address of the company and contact details of people who can confirm your status are important too.
You also need to provide financial evidence and social and family ties. You need to show that there are important reasons for you to return to your home country.
Application for the Australian Student Visa:
After you have ticked the eligibility requirements, the GTE requirements, fees and documents, you need to gather important documents for the 500 visa. You will need the checklist to apply for the visa, so you can deserve the chances of visa rejection. The student visa 500 checklist is as follows:
A valid identity proof
You will need a COE (Certificate of Enrolment), a letter of support and acceptance.
Proof of having enough financial support to bear your expenses during your stay in Australia.
Evidence of having genuine access to money.
GTE documents
Proof of OSHC
English language test scores
Partner documents, if valid in your case
Documents for children and dependents in your visa application
You might need to submit some additional documents as the requirements can vary from person to person. You can use the online Document Checklist tool for visa 500 to find the other documents you will need for your application. You can also get help from registered migration agents who are experts in the field. They can apply for the visa on your behalf.
Steps to Apply for the Student Visa:
To get the successful 500 subclass visa to study in Australia, you need to be careful while filling out the application form. To begin applying for an Australian visa, you can check the official website for Australian visas or follow the steps mentioned below:
Create or login into your ImmiAccount
Crosscheck your documents once as per the given instructions and then submit the documents according to the list.
Pay the application fees for the visa
You can pay the fees for the student visa via American Express, MasterCard, Diners Club, JCB and many other methods accepted by the embassy.
You need to complete the process through your ImmiAccount.
Provide Biometrics
You need to undergo health examinations and provide medical referral letters.
You will need to provide authentic, valid, and correct information.
You need to follow Australia's laws and respect the Australian government.
Student Visa Fees in Australia:
The fee will be the same despite the type of student visa you applied for. As an overseas student in Australia, you must pay fees of AUD 650. You may need to pay more fees for applicable charges if needed, and you need to know the accepted credit cards.
The total fees for the visa subclass 500 based on the age of the student are mentioned below:
For the students who are below 18 years of age – AUD 650 + AUD 485
For the students who are over 18 years of age – AUD 650 + AUD 485
Interview for the Australian Student Visa:
All the students who apply for the student visa are assigned to a case officer. The case officer will conduct an assessment of GTE or Genuine Temporary Entrant. Based on the performance, the student visa subclass 500 might get approved or denied. However, you need to perform your best for the interview. Some of the important points regarding interviews for Australian student visa are as follows:
It is important that each student undergoes a visa interview to acquire a student visa in Australia.
Most of the interview questions will be based on certain requirements, submitted documents and how motivated and focused an applicant is to excel in Australian education.
You must remember that the answers you provide must be verifiable and honest.
You need to take every supporting document for the student visa like bank statements, original documents or educational qualifications.
Experts suggest that you must check each document regarding your educational history at least twice or thrice. You need to ensure that you have all the information that will be questioned in the interview.
Bottom Line:
If you are going to apply for the subclass 500 visa, the information and document checklist provided above can help you. However, it's possible that you can get confused while filling out the application form. If you need further help with the student visa Australia, you can contact a registered migration agent Perth who can help you with the visa application. These are the tristed immigration agents who give a hassle-free experience.
You might also like to read: Why You Should Choose Visa Subclass 600 To Travel To Australia?