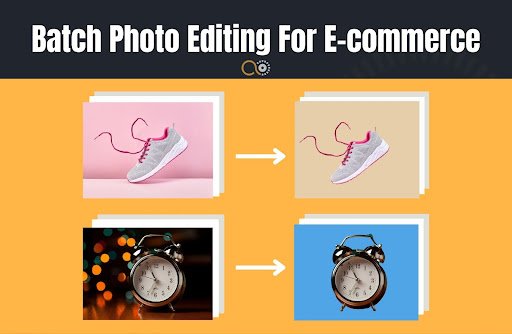 Most shoppers consider product images highly influential in their purchasing decisions; they rank above product descriptions, ratings, reviews, and specifications. In the case of e-commerce, where consumers have to rely on product images initially to base their purchasing decision, we see a significant role played by them.
For a business reliant on images to sell its product or services, it makes sense for them to invest in photography and photo editing heavily.
A brand could deal from a few to hundreds of images based on the catalog size. One cannot reduce the duration of photography sessions, but we can minimize the time during post-production with batch photo editing to speed up the process.
What is Batch editing?
Automated photo editing that applies the same editing actions to multiple images to create visual consistency. These programs often use AI to quicken the process and reduce time and load on the PC.
The process reduces grueling and repetitive work in time and effort, such as retouching images, adding colors, and resizing images. Thereby giving individuals free time on hand as the machine or service edits them in batches.
In this article, we'll take an in-depth look at the pros and cons of Batch editing that you might be familiar with.
Pros
Productivity
Manually editing images individually takes considerable time and effort, considering one has to focus on the finer details of each image as one goes on. The chances of missing specific details increases as you exert mental effort. To avoid overworking oneself and doing a poor job, one has to spend considerable time for an individual to process them and making sure they are up to industry standards.
The convenience of software and applications allowing you to edit your images in bulk to give desired results that can be visited at a future date for tweaking and adjustments is invaluable to professionals and average consumers. This allows them to save time and focus on more productive things.
In the competitive field of fashion and e-commerce, where images play a vital role in selling products, time is of the essence. Small to large brands have multiple items to sell, each requiring a fair bit of time to edit them and create various sizes and shapes to fit billboards, social media, and websites. In bulk, having software that automates post-production aspects, such as cropping, resizing, retouching, etc., reduces the time significantly.
Post-production usually involves various people as they divide the work to finish effectively with minimal mistakes, and having others review the work improves the overall results of a team in delivering consistent results.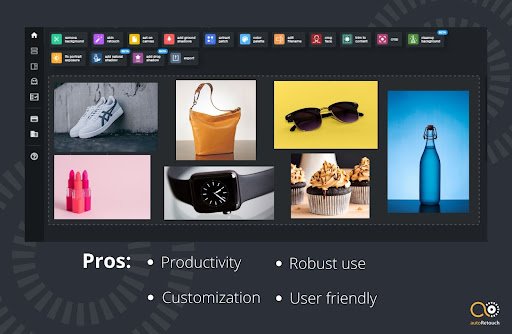 Customization
When you can delegate the bulk of the essential work, you expand the time you would on other processes, one of which is in post-production. 
Customization is integral to brands in setting their images apart from the competition and relaying a message that would reach consumers. As each product is different from the others, so are the people who would like to purchase them, so we have to go a different way to market them to consumers. 
Two brands can sell the same thing but advertise them differently. An example is Adidas and Nike, selling sportswear, but how they show their images. Advertisements of two products that are similar in use but differing in whom they are targeted to require their styling to display whom the products are for. A running shoe will be portrayed differently than a basketball shoe in advertisements.
Applying effects and styles to a picture in batches keep up the image's consistency while enhancing the process's effectiveness by editing all the images together.
Robust use
Consideration of planning is overlooked in advertising a product to appeal to consumers. When you have an idea or previous object to work from, it saves considerable time in the planning process of the campaign.
Advertising on social media requires you to know what shape, resolution, and size would suit them while also considering mobile users who have a different experience from PC users. Another aspect to consider is the theme and color palette for the typical product. In a scene with various objects and colors, the editor dulls the colors and blurs the things surrounding the subject of the image to direct our focus on the product.
Using the same image from one photo shoot with some editing can save considerable time, money, and effort and get a greater return from previous investments. By doing so, we gain a greater return from investment in previous photo shoots and the software.
User friendly
Developers of software and apps have found that a simple and friendly user interface (UI) will ease a person's time using the app and help him navigate the various options while working. With the wide availability of different editing software and the competition on the market, one is sure to find competitive prices.
Unique features such as cloud-based operations don't require or even strain much of the hardware of the PC or smartphone, as they use AI on cloud storage to process and even have the option to store the workload on their cloud storage.
Cons
Learning curve
Simple tasks such as cropping, background removal, and retouching might be simple to process in batches, but as you add numerous and complex commands, it requires an experienced person to perform the task.
When editing images, simple things such as cropping and resizing can be learned quickly, but as more processes are needed to enhance the picture, a person familiar with the tools in the software is required, which limits the people who can be delegated the task of batch photo editing.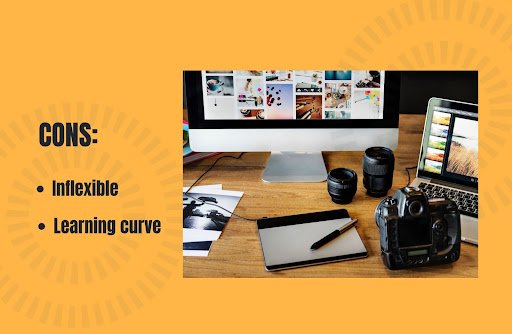 Inflexible
The inflexibility of batch processing is a significant disadvantage for most software and apps. The setup is difficult to change once it has been prepared. This means that if you don't like a particular aspect of the image, you would have to start from scratch to obtain the desired effect, causing you to lose time and causes much frustration.
Conclusion
Batch editing is a valuable tool, and like any tool, it has benefits and weaknesses which require the user to be aware of them before thinking there is no trade-off.