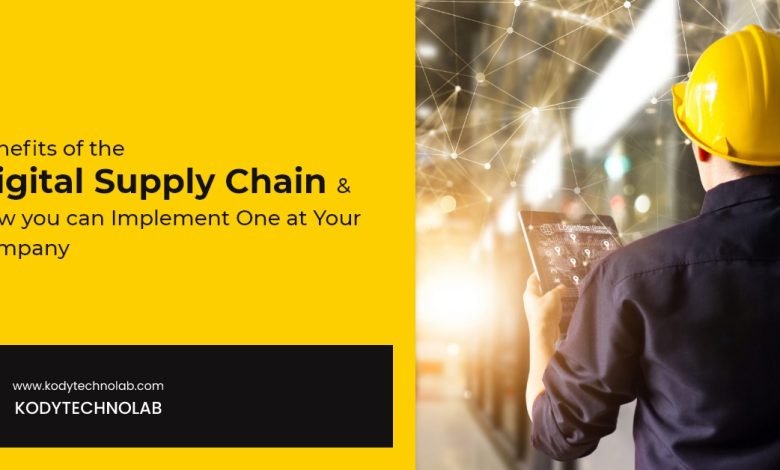 Digital supply chain management is a new way of doing business. That involves creating and using digital technologies to transform how goods are manufactured, distributed, and consumed. In addition to offering new opportunities for companies. In terms of cost reduction, and customer experience, supply chain transformation also has the potential to enhance the bottom line.
The digital supply chain is a way to manage the flow of information and product from the point of origin to the point of consumption. It has become crucial in today's global economy, as businesses are increasingly relying on the Internet for their day-to-day operations.
What is the Digital Supply Chain and what are its impacts?
Basically, Digital Supply Chain is a software-enabled integrated process that enables businesses to manage their supply chain in real time. It allows enterprises to track, control, and optimize the entire value chain, including sourcing, production, transportation, sales, and distribution.
Hence, Digital Supply Chain has become essential to the world's supply chain management. This technology has changed how companies handle their inventory and logistics, providing them with the following:
Improved Inventory Management: Digital supply chain helps companies improve their inventory management by tracking all products from order to delivery in real-time. Companies use this technology to monitor items that are waiting for shipment so they can be issued at the earliest possible time.
Improved Customer Service: Companies can use the digital supply chain to provide faster customer service by allowing customers to track their orders online or via mobile devices anywhere in the world. Customers can also get updates about shipments or deliveries, so they know when their packages will arrive at their homes or offices.
Eliminate error and reduce cost: By replacing paper records with digital data entry, the digital supply chain makes the data available to all parties involved in the supply chain, provides extreme transparency, eliminates human error, and reduces operating costs.
Benefits of the Digital Supply Chain
1 Enhance supply chain performance visibility 
The digital supply chain transformation is inevitable as organizations are carrying out their digital business strategies and working towards their goals. The advancements in technologies, cloud computing, and the usage of big data analytics have made the digital supply chain transformation possible. As a result, it helps in the enhancement of visibility into supply chain performance compared to the traditional supply chain. The use of digital transformation also improves the processes, systems, and overall performance of supply chain management.
2 Real-time Collaboration
A digital supply chain is a network of organizations that are involved in the process of transforming raw materials into finished products. This network includes suppliers, manufacturers, distributors, and retailers. The term digital refers to the use of technology to automate and improve the efficiency of the supply chain. 
By using technology, businesses can connect with each other, share data effortlessly, and manage the flow of goods and information from suppliers to customers. Thus, companies can reduce costs and focus on innovation by automating and connecting the supply chain.
3 Optimize the entire supply chain
The digital supply chain provides a set of information technology solutions that enable enterprises to plan, source, make, deliver, and return products more efficiently and effectively. 
In a digital supply chain, enterprises can coordinate processes and share information between them to enable real-time decision-making and collaboration. This allows enterprises to optimize the entire supply chain, not just individual processes.
4 Connect and collect data
The world is moving in a direction where data is defining business models, influencing the way businesses operate and how companies go about their supply chains. The supply chain is no longer about simple, linear, and sequential processes; it has become about real-time collaboration and a holistic view of the entire network. Supply chain transformation aims at moving from reactive, sequential, and sequential to proactive, real-time, end-to-end, and collaborative supply chain management.
5 Data visualization for efficient planning 
Supply chain transformation is the process of improving the visibility of your supply chain and the overall performance of your company with technology implementation. It is about channeling the power of data and technology to increase visibility and collaboration and enhance performance. Supply chain transformation helps you gain new insights into your supply chain with data visualization to achieve desired business outcomes.
Where should I start for my supply chain transformation?
Do not rush to buy any white-label solution for your digital supply chain that promises the moon. 
Get your basics clear first
Start with inspecting your current supply chain and analyze if the current setup causes any performance issues. Figure out what process needs improvements before you integrate new technology. 
Bring unique functions together
Defining the goals of the digital supply chain requires collaboration and communication between businesses and their supply chain partners. Understanding the expected benefits is crucial to ensuring that the new digital system meets the needs of all stakeholders. It can also be a challenging task to transition from traditional supply chains to fully integrated digital supply chains. So a clear strategy and roadmap must be developed for implementation.
Invest in Technology
Invest in suitable technology when you clearly understand your supply chain digitalization objectives, expectations, and potential benefits. Technology plays an essential role in digital supply chain success, whether you develop software to manage supply chains or digital logistics, radio frequency identification (RFID) tags.
Get your team together
The digital supply chain minimizes the need for human intervention. However, you still need human problem-solving and decision-making to improve stability, accuracy, quality, and predictability. In order to succeed with digitalization, your staff must be well-informed and sufficiently trained so they can handle the new technologies effectively.
Track Performance for Continuous Improvement
The performance of the digitized supply chain must be regularly assessed once digitized systems and processes have been implemented. Over time, it is necessary to capture, analyze, and compare productivity, ROI, lead times, inventory turns, and perfect order rates. Consequently, such analysis will help you reckon if your digital supply chain is performing as you expected. Then you can also identify opportunities for optimization and growth.
Upgrade your supply chain with the digital transformation! 
Supply chain management is a crucial part of any business, and companies are taking the digital part of it very seriously. Although the term "supply chain" was born in the manufacturing industry, it has come to the entire network of suppliers, manufacturers, and distributors that bring a product or service to market. In supply chain management, transparency is the main rule.
Furthermore, the digital supply chain transformation combined with the latest technologies. Such as AI, ML, IoT, and Big Data, is creating a new level of efficiency and agility in the business world. 
With the use of sophisticated technology, companies can now expand their reach and resources to customers worldwide. The benefits of digital supply chain transformation are clear. The businesses of all sizes should begin to explore these options to improve their efficiency and performance.
Final thoughts
Organizations are rethinking how they conduct business as a result of the rapidly evolving technological landscape and raised client expectations.
The optimum time for companies to start implementing their plans is now as they reevaluate their supply networks. One of the best and safest methods to create a resilient company today is through digital supply chain transformation.