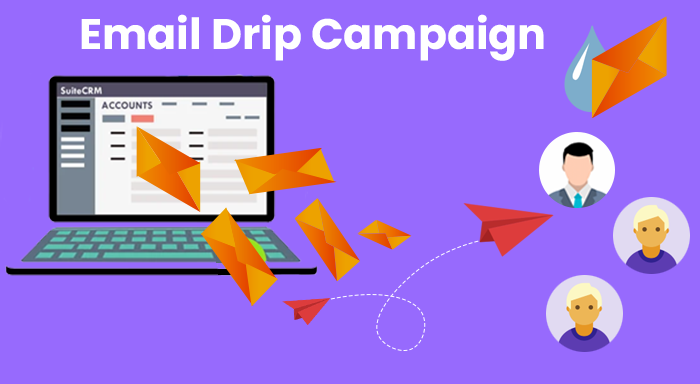 A Great product is like a fuel that keeps your CRM business running with no hurdle. This time we are going to assist the marketing team if they want to nurture the leads easily and faster. Whenever a lead comes you shoot a welcome email to catch the attention. Yes, personalized email is a good option but that should be done in an advanced concept. So, your marketing team must be under an Email drip campaign product that saves their time and money. But how? 
Drip Campaign Plugin Explained
Choose a drip campaign plugin that helps in delivering the right email to the right person at the right time as per the record's status. Whatever the lead perform any action, you want to deliver an email at a precise moment. No delay at all. It would be possible if you take the assistance of this plugin that will perform every task automatically without your involvement. 
A user just needs to set the predefined timing. The goal of nurturing the leads can be done more swiftly and seamlessly. At every stage, the product will shoot the drip without extra manual effort. 
Allow us to share a Real-life example
Yesterday your business launched a product for a CRM software. The marketing team has done the high-level promotion so the audience gets to know what actually it is and how it is going to help them. Now you have seen that few visitors came to your website. Don't you think to nurture those leads at the right moment? You can share appropriate emails with all those. 
The extension Email Drip Campaign will help you by sharing such emails automatically as per their record status. By setting the right time period, the drip campaign add-on will handle all this without any human involvement. It not only saves your time but is also a superior choice for not letting you keep crucial work aside. 
The Fact is:
80% is the Open Rate of Drip Campaign

You can see an increase of 20% in Sale

The CTR (Click through Rate) is 3 times higher than normal email sharing 
What is the Drip Manager Dashboard here?
So, are you clear with the fact that this plugin shoots an email to the right person at the opportune time automatically? 
If yes, let's move to the module of this product called Drip Manager dashboard. Here you will see the module and field as per your choice. This extension is not restricted to any particular module. 
The most important: you are allowed to choose various email senders. It's not like only the admin can share the drip campaign with the audience. Other users too can perform this task. 
About Drip Controller here
Firstly, let us inform you that this extension is not just to create a single drip controller. It enables you to set a bunch of controllers as per your need. 
Also, the drip controller here helps in setting the right email template. After getting info related to audience action, you can share the template according to that. A user can set the appropriate timing here as well. It is mandatory because the drip will be delivered according to that. 
Would you like to track the insights of Recipients?
It is important or we would say indispensable for businesses to track the activity of recipients. We are here talking about IP addresses, total impressions, etc. 
So, you will get the functionality of the Recipient activity dashboard here. It lets you track all these easily. Drip email Dashboard is there too which lets you see the email delivered status. For example: when you shoot any campaign it will share the status like sent, in a queue, etc.  
Also Read: Email to Lead