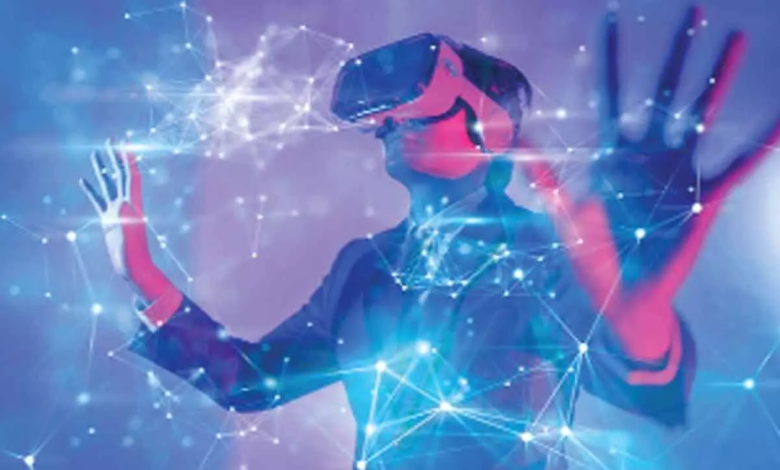 Digital transformation and future-ready technologies are changing the face of the travel industry. More and more travel businesses are trying to adopt these technologies to improve their customer experience and business operations. For this reason, concepts like the Metaverse are gaining massive popularity among travel businesses and users.
The Covid-19 global pandemic was also a major factor in changing the operations of the travelling industry. Above all, people started to realize the importance of virtual tours. In this blog, we are going to discuss how the Metaverse is changing the travel industry.
Before we learn how Metaverse is transforming the travel industry, we should learn about the concept first. 
What is the Metaverse? 
The Metaverse is like an interactive virtual world where people can have an immersive experience and interact with each other. It will work like a gateway to a virtual world where people will have a 3D life-like environment, and can play, work, earn, and have social interactions with others.
VR and AR technologies in the travel industry are already opening new possibilities for the Metaverse. Thus, these technologies can have a drastic impact on the virtual tours and marketing materials of travel companies. If you are also planning to implement such innovative technologies, then it would be advisable to hire a Blockchain development company for job.
How will the Metaverse Transform the Travel Industry? 
Firstly, we shouldn't consider Metaverse as the clear alternative for the travel & tourism industry. Instead, it is going to be a remarkable extension of the different services and user experiences provided by the travel & tourism companies. Therefore, the Metaverse isn't going to harm the real bookings of hotels and holiday packages.
Instead, it is going to be a remarkable addition to the travelling and tourism experience. Here's the hoe metaverse will transform the travel industry.
Creating New Marketing Channels 
Traditionally, the travelling & tourism industry has been reliant on brochures and digital advertisements. It is true that videos of tours add a more immersive touch to the travelling experience. However, they are still not enough to provide us with a first-person perspective of travelling or tourism.
For this reason, the Metaverse is expected to create the most immersive and life-like experience. The tourists would be more attracted to realistic virtual tours where they can interact with the location. Moreover, they would be able to compare different locations, services, and attractions.
The Whole New Flying Experience 
You will be amazed to know that now we can actually fly in virtual airlines and explore the best aviation experience. Above all, popular airline companies like Lufthansa, Emirates, and Qatar Airways are already offering a digital experience where users can explore virtual flights, e-stores, and lounges before actually using them in the real world.
This provides the passengers with almost a first-hand experience and airlines with a great customer loyalty program. In fact, these companies can provide loyalty points for exclusive discounts on flights and cabin upgrades.
The possibilities could be extended if they plan to collaborate with a credit card company to provide additional benefits. This would ensure a quality virtual experience in the Metaverse. Moreover, some private jet companies are also looking to collaborate with the top animation studios to create their own immersive and custom virtual flight experiences in the Metaverse. Ultimately, this would bring new possibilities for travellers looking for the ultimate luxury and opulence.
Innovation in Virtual Events 
Organising an event requires a lot of planning and proper allocation of resources. Moreover, the global pandemic greatly slowed down the industry with tons of unsold tickets and a lack of attendance. For this reason, virtual events help organizers to hold amazing virtual events.
The Metaverse could be a huge game changer for the virtual events industry. Big event companies like MetaEvents are already investing heavily in the Metaverse tools for their own digital event experience, NFTs, and digital collectables.
It is amazing to know that the virtual events in the Metaverse will be life-life and immersive. In fact, it would enable the users to have a more interactive experience.
The attendees would be able to join the event from the convenience of their homes instead of travelling to any distant event venue. Above all, VR and AR technology would play a massive role in enabling such immersive and life-life experiences for these attendees.
Changing the Booking Experience 
The booking experience in the travel & tourism industry is relatively boring and time-consuming. Even a website or a mobile app might not be able to provide a good level of engagement. Booking tickets in the Metaverse would provide a booking experience just like a traditional brick-and-mortar store. Therefore, the users will be freer to ask questions, negotiate better deals, and make convenient payments.
Exploring Hotels and Accommodations in the Metaverse 
Booking hotels & accommodations could be very challenging especially when you have to decide on the basis of a couple of images or reviews. Exploring these venuses on the Metaverse would be more realistic, life-like, and immersive. Therefore, it would be much easier to choose between hotels, rooms, their peculiarities, etc.
Event organizers looking for meeting spaces, seminar rooms, or halls don't have to physically visit the location while making a decision. Every aspect of the property can be easily examined in the Metaverse while having the ultimate comfort of home.
Popular international hotel chains like Marriott, Movenpick, and others are already collaborating with a Blockchain development company to create three-dimensional copies of their properties. Furthermore, these 3D experiences can create new revenue sources for hotels and travel companies.
Next-Gen In-Flight Entertainment 
Flights are quite boring, we have to admit this fact. Plus, almost everyone feels the monotony and boredom of a long flight. The age-old in-flight entertainment systems are getting obsolete. Thus, having a VR headset with the Metaverse could completely revolutionize the next-gen in-flight entertainment system. These immersive experiences could make the flights more entertaining and engaging for the passengers.
Awesome Theme Parks & Other Attractions
Let's admit it, we all want some unique experience at a theme park or some other attractive venue. However, the Covid-19 global pandemic had created huge restrictions on travelling and such attractions.
The Metaverse could certainly open up new possibilities for such theme parks and attractions with the help of VR technology. It would allow the users to explore these parks and attractions in a whole new way. Moreover, the business owners could even add some supernatural elements which might not be possible to create in the real world.
This would certainly amp up the experience of the virtual world to explore amazing theme parks and other attractions.
Summing Up 
The Metaverse is destined to have a significant impact on multiple industries. For this reason, it would be a remarkable addition to the travel & tourism industry. There would be better customer experience, marketing opportunities, and a lot more.
This could be the perfect time to prepare your travel & tourism business for the future technologies and the Metaverse. Thus, you should hire a prominent Blockchain development company to start innovating your business. It would help you attract better leads, provide a better customer experience, and improve your overall business operations. In fact, people also appreciate businesses that give importance to innovation.
Author Bio 
Erma Winter is a professional mobile app developer at MobileCoderz, a prominent Blockchain development company. Over the years, she and her team have developed dozens of travel apps with Blockchain technology. Lastly, apart from her professional experience, she takes a keen interest in biking and playing with her dogs.
Also Read: How Writing Affects Your Level of Stress