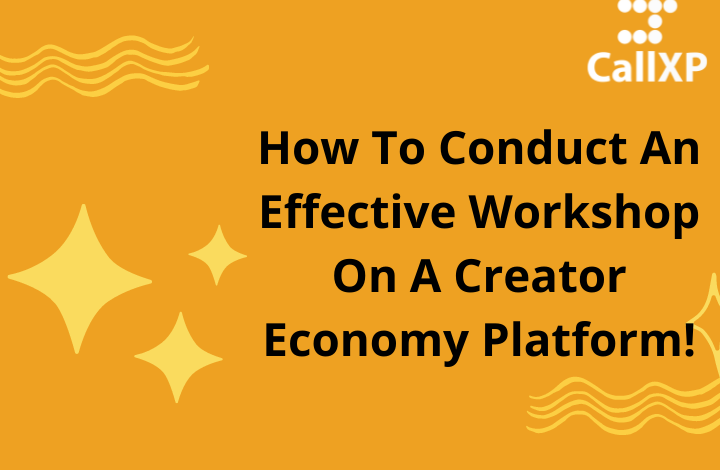 Workshops nowadays are the best way to get your message delivered and train people on creator economy platforms. After the advent of Coronavirus, there has been a surge in virtual workshops via a virtual conferencing medium. 
When it comes to addressing a large audience base by hosting a workshop or a webinar. Online is the best way to deliver your message Whether you need to speak with the product managers on a topic. On how to launch their first product or you want to teach them a skill. Hosting a workshop is one of the effective ways of communication and training. 
The plus point of a workshop is, it is not a monologue. Rather it is a dialogue. In a workshop, people get a chance to share knowledge amongst themselves. Many times in a virtual workshop breakout sessions are made forming groups of people. To exchange and share what they have learned. 
Five mistakes to avoid while hosting a workshop on a creator economy platform:
Coming unprepared for the workshop: 

Firstly, a workshop is a method of teaching something to a group of individuals from a particular niche. Suppose you are a Start-up coach who is conducting a workshop on how to prepare a well-grounded and profitable business model canvas.
So, you must know what you want to achieve from the workshop, what exactly you want to teach, and of course, the pattern of teaching or training it. 
Like to teach business model canvas, you first need to ask the attendees to form small groups via launching breakout sessions and think of a business idea. You can also present some visuals which will help them understand how to describe their business idea. 
Being the host of the workshop, you must know the final objective and prepare accordingly. 
Not testing the content and presentation:


This is something of relevance when it comes to hosting a virtual webinar or a virtual workshop. You must conduct a mock test beforehand to know how well your content is working and if there are any technical issues or not. 
This point is one of the major parts of your preparation, and even experts forget about it at times, maybe due to overconfidence or might be they are overburdened with something else. It's just like AB testing. You can test your presentation and what you are going to teach in the workshop with a few participants, like a mock session. 
Multi-tasking or trying to do too many things:


Yes, multi-tasking is good at times, and even when you become an expert in a field, you anyway have to multi-task. But avoid multi-tasking in your very first workshop because this can mess up the things. 
Just focus on one concept first, and then go to the second. For example, if you teach how to prepare a profitable revenue model, just focus on that particular topic. 
Using a lot of technical jargon:


This can be a major hurdle in delivering your message to your target audience. While you are conducting a webinar or a workshop, there would be a lot of people from different backgrounds, different skillsets, and obviously having different sets of knowledge. 
So you need to avoid technical jargon and speak in a standard language that can be understood by everyone. This is one of the various effective measures to train people or impart them with the required skillset. 
Not providing necessary material to your audience:


Providing your attendees with the workshop study material and anything other which can be used while conducting a workshop is a must. 
Though nowadays, there are virtual platforms containing an in-built whiteboard that can act as a means of communication and can be used by the host while explaining something. 
CallXP can be of help to conduct your virtual workshop: 
CallXP is a virtual interaction and conferencing platform for monetization. Content creators like Educators, entertainers, and consultants can join the platform by paying an annual license starting from INR 14,999. 
The limitless services provided by CallXP:
CallXP provides a creator with his own customized website and admin panel. Wherein the content creators can schedule their calendar and monetize their skillset using our virtual interaction platform. 
Moreover, if you have scheduled a workshop on your admin panel, you need not send any link to your attendees. The audience can directly book their slot from the admin panel. Also, join the workshop by paying the specified amount of fees. 
Our virtual platform contains various in-built tools to help the creator, like a whiteboard. The whiteboard can be accessed by the audience as well. If needed for explanation or any other purpose during the workshop. Also, the user controls are in the hands of the host. 
So, let's get ready for an upgraded version of a virtual conferencing platform!