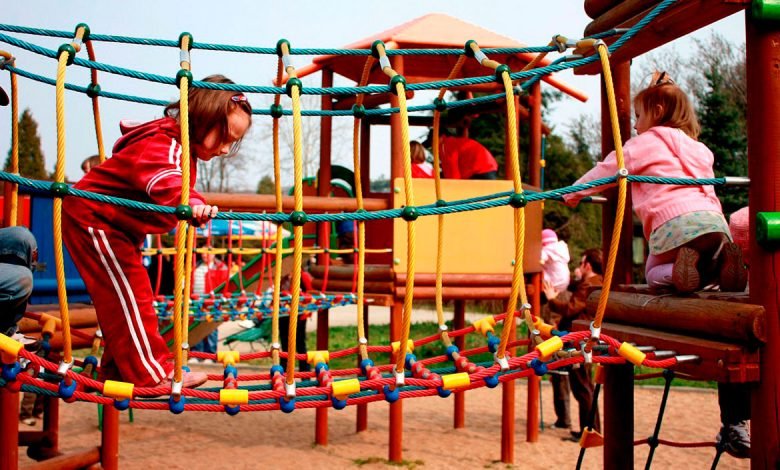 Early childhood play is crucial to a child's development in a number of ways and lays the groundwork for future learning. Creative Recreational System's objective includes creating environments that promote learning, sociability, and emotional growth, and we can't wait to work with you on this. Daycare and preschool playground equipment is specifically designed for children between the ages of 6 and 23 months and 2 and 5 years old; Children's playgrounds aren't simply scaled down versions of playgrounds for school children. Don't forget about the exciting and engaging play that the 5–12-year-olds enjoy in the afterschool programs! Developed goods must foster play-based learning, imagination, exploration and excitement.
See how the Creative Recreational System can help you bring a higher level of play to your daycare! To get start, please contact us today.
Preschool Outdoor Play Equipment
We provide play structures with an emphasis on skill development, age-appropriate stimulation, and secure areas for crawling, rolling, and exploring for both infant and early childhood age groups. A secure, organized environment should be provided for young children.
Children want to play outside when the weather is pleasant. If your play area isn't being use by your students, it's important to ensure that it is ready to serve them when they need it. Here are some ideas on how to keep your preschool's outdoor play equipment in good condition and safe for kids.
Read more interesting articles at articlesall.com
Broken Equipment:

Look for cracked or loose pieces of equipment, as well as missing caps and loose bolts. Make sure to inspect the plastic for cracks. To determine whether a component needs to be shut down immediately, repaired immediately, or repaired later if money and time permit, you must evaluate the severity of the problem.

Broken Glass, Trash, and Debris:

Keep your playground free of broken glass, trash, and debris. You can avoid cuts and unhygienic conditions by getting rid of broken glass and other trash. If you see that trash and other debris are a recurring issue in your outdoor play area, you might want to think about installing trash cans to help solve the issue.

Loose Anchoring:

If the equipment isn't firmly anchor, its durability is in doubt. You should probably stop using the piece of play equipment if something is loose until it can be fixed. Always ask the manufacturer for their suggestions.

Examine Damage:

If your equipment is made of natural materials, insects can cause significant damage. Remember that if you use natural materials in your play area, they will need annual upkeep. To help prevent splinters, you should regularly sand down any rough spots. Additionally, wood can be sealed to help the pieces maintain their colour and smoothness.

Surfacing issues:

Your surfacing is essential to keeping a secure play area. If your playground has loose-fill surfacing, check to make sure that it hasn't moved in high-use locations like beneath swing sets and slide landings. On equipment posts, optimum surfacing depths can be mark to make this easier. If your surface is unitary, look for buckling, flakes, and holes. Every other year, you should seal your unitary surfacing, and you should fix any holes or cracks as soon as you notice them.

User Modifications:

Look for modifications made by the user, such as ropes fastened to components or rearranged equipment. You will need to examine the play equipment to make sure that there haven't been any lasting alterations before you erase these modifications.

Vandalism:

Make sure to look for any sort of vandalism, from graffiti to tampering with equipment. If so, make every effort to remove the graffiti. You should think about removing or replacing the piece if it cannot be removed.

Rusted or Corroded Metals:

If your equipment contains rust or corrod metals, its durability is called into question. Pay close attention to any areas where metals touch the earth. Additionally, it's crucial to inspect the connecting points on the swing frame and the spaces between each piece of the swing chain.
Contacting the equipment maker should always be your first port of call if you have any questions concerning your equipment. You can get any new parts you might need from the manufacturer to fix your current equipment. To comply with your state's licencing regulations, be ready to receive a playground inspection by a Certified Playground Safety Inspector if you wish to install new items of play equipment.
Toddlers and preschoolers have engaged learners who make immediate, practical use of their surroundings. Movement, pretend play, and social contact should all be incorporate into indoor and outdoor play areas and playground equipment.
CRS offers preschool playground equipment that caters to the developmental milestones of toddlers and preschool kids, helping them develop socially, cognitively, and physically.
Outdoor Play Equipment for 10 Year Olds
Children's playing preferences will alter as they grow older. The thrill of running around outside, swinging, and sliding is one of those things that never go out of style. However, older children might prefer greater thrills and more rapid-fire enjoyment, and we have just the solution for them! For children 10 years of age and older, check out some fantastic swing sets!
At CRS, we craft a wide range of high-quality outdoor swing sets that kids of all ages enjoy. Four of our top pieces of outdoor play equipment for 10 year olds are profiled, along with tips on what to look for when buying for older kids.
The Best Playsets for 10-Year-Olds
If your children are 10 years old or older and have never experienced the fun of a playset in their backyard, they will adore this new addition! These four playsets for 10-year-olds were design with older and larger children in mind!
Our fantastic playset is perfect for energetic 10-year-olds! Children will adore learning to master the acrobatic fun of the monkey bars and will not be able to get enough of them. They will also have a lot of fun in their backyard, thanks to the various swings and slides. Additionally, the set's linear layout encourages running back and forth, which is excellent exercise!
 Due to the numerous slides and swings in their backyard, they will also have a lot of fun. The set's linear layout is also meant to get players to run back and forth, which is also great exercise!
The Importance of Playing with Friends
The importance of playing with friends increases as children get older. Swing sets designed for children aged 10 and up enable side-by-side play! For fast racing, the two tandem slides are fantastic. The tower makes a great base camp for the kids to chat. Finally, because the monkey bars are so close to the swings, kids may talk while using other playset features.  Your kids can enjoy endless outdoor fun all day long! Any of these pieces of outdoor play equipment for 10 year olds can be the ideal choice for your family. The day is full of outdoor fun for your kids! Any of these bits of open air play gear for long term olds can be the best decision for your loved ones. Find a nearby dealer to purchase your Star Quality swing set as the first step.
Your children can appreciate perpetual outside fun the entire day! Your family might find that any one of these pieces of 10 year old outdoor play equipment is the best option. The day is loaded with outside diversion for your children! The best choice for your loved ones may be one of these pieces of outdoor play equipment for elderly people. The first step is to locate a nearby dealer to purchase your Star Quality swing set.