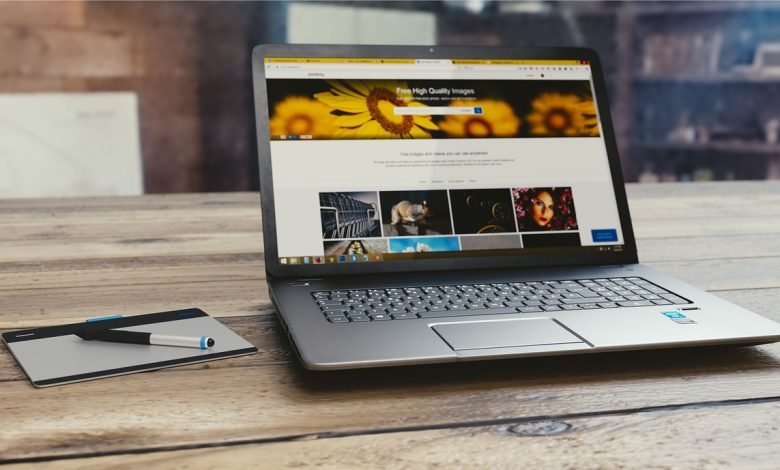 Just listening to it is already attractive when the HP Pavilion x360 i3 is only priced at about $700 but has many modern features.
This HP Pavilion x360 i3 laptop has an eye-catching appearance, a luxurious machine design with a slim design, and delicate lines. The machine is only 1.87cm thin and has a weight of 1.6kg with this weight, you can be convenient in moving without feeling entangled, suitable for people work from home or travel.
The case is made of high-quality silver material, which looks stunning and luxurious
The case feels smooth, sturdy, and less prone to fingerprints and dust when holding the device in hand. The separate steel hinge design for this machine is quite sturdy, so you can rotate and fold the device comfortably without worry, it can use for a long time without worrying about breaking or damaging the cable.
Besides luxurious design and a durable design, this HP Pavilion x360 i3 laptop is also very versatile when it can change many positions in all different working environments. Typically, you can leave the machine in the form of a regular laptop to work, but you can also put it up in tent mode to save workspace. This mode is very suitable when you want to sketch or draw. Or when you need to exchange information when meeting or exchanging work with a partner. The HP Pavilion x360 i3 computer can fold back into a compact and convenient tablet for use.
HP Pavilion x360 i3 is equipped with a mirror screen, 14-inch multi-touch, FHD resolution (1920 x 1080) IPS panel. It is bringing wide viewing angles, bright colors, and smooth multi-touch.
HP Pavilion x360 i5 – configuration guaranteed to do all office tasks well
HP Pavilion x360 i5 laptop computer with Intel core i5-1135G7 chip. Maximum clock speed up to 4.2GHz, combined with Intel Iris Xe graphics card for strong performance. From there, it is possible to do well in office applications such as programming. Management, sales, … but also can edit 2D images on Photoshop, AI software smoothly.
Besides, the machine also has 8GB DDR4 RAM configuration to use many chrome tabs without worrying about lag. 512 NVME SSD hard drive has a fast Windows startup speed or opens software quickly; data access speed also improves work efficiency. With the HP Pavilion x360 i5 i5 code, you can now do well with software like Word. Excel or even light games like LOL, CS: GO, FO4, etc…
HP Pavilion X360 i5 has an ultra-thin screen. Full HD resolution with an IPS panel that provides sharp images even when changing the viewing angle. The screen of this laptop is extremely responsive and smooth when you perform touch, swipe, or zoom operations.
Speaking of HP Pavilion X360, the machine will certainly have the ability to rotate 360 ​​degrees of high-end design, can use the machine in many different positions such as: leaving the machine in the form of a regular laptop when working, erecting. The device can convert into a hut position to save workspace or use when you want to sketch ideas. Can fold the device into a convenient tablet when meeting.
Read More: Which Section Organizes Assigns and Supervises Tactical Response Resources?