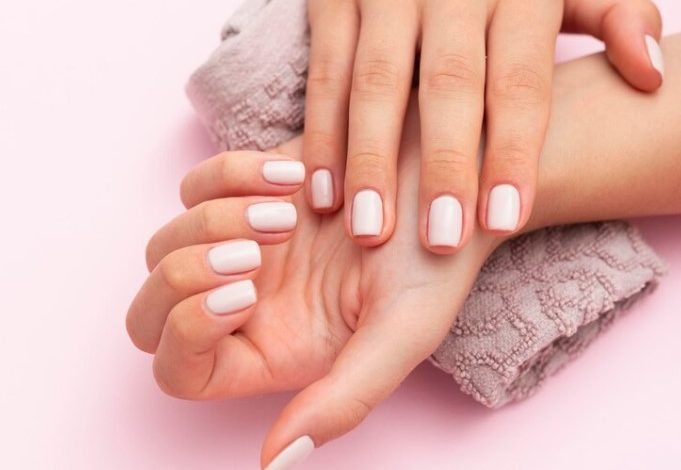 Manicure on short nails is a difficult task, but doable. To make your nails look nice and neat you need to search for short nail designs on the internet and go to a nail service to get the result you are expecting. But first of all read this topic up to the very end and be sure you are choosing the right short nail design.
It doesn't matter which polish you choose – regular or gel polish. The main thing is to choose the right shade. A great option is the classic red lacquer: it is suitable for any length. If you prefer a calmer color, pay attention to nude, beige, dusty pink, peach, and pale blue. Don't be afraid to use dark shades. As for the finish, choose lacquers with a matte or glossy finish without glitter and mother-of-pearl.
Dark shades are your choice for every day. Bet on wine, pomegranate, plum, chocolate, cobalt blue. It all depends on your taste.
Do not get carried away with design: it is difficult to draw complex patterns on short nails. If you want to dilute a monochromatic coating, choose minimalist patterns: graphic stripes and polka dots.
Glitter is "friends" with short nails. A dense glitter of dark shades or varnishes with a fine "sandy" coating will suit you. Cover the entire nail plate with the varnish you like and do not divide the nail into parts.
Light colors visually lengthen the nail plate, but be careful: when using light shades, the manicure should be perfect.
Look for varnishes that are glossy, without pearlescent particles. The ideal choice is a dense white or beige varnish. Apply it in two layers so that it lays down tightly and evenly, without leaving streaks or gaps.
Rules for a perfect manicure on short nails.
 When choosing a nail design, be guided by the shape of the fingers (our guide will help you!). However, small almond-shaped or soft square nails look best at this length; rounder tips will shorten the nails.
For short nails, a solid manicure is the ideal option. Bright colors can appear defiant on long ones, while they will appear delicate on short ones.
If you like the French manicure, try this variant. Apply a skin-tone lacquer to your nails and draw a tiny white line around the edge. Your fingertips will appear attractive and well-groomed without any additional effort.
On long nails, special adhesives and stamping are preferable, although you may get away with one modest motif per nail.
The simplest scheme for applying varnish on short nails looks like this: draw a strip along the center of the nail, starting from its base, and then two more of the same on the sides of the main one.
3 ways to make short nails longer.
Watch your cuticles! This rule applies to nails of any length, but it is especially crucial for short nails to follow: if you push back the cuticle, the nail plate will lengthen slightly. The cuticle performs protective functions, so cutting it is not recommended. It is preferable to use a particular instrument to soften the cuticle before pushing it back with an orange stick.
 Perhaps the most effective way to quickly lengthen nails visually is to draw vertical stripes. Your goal is to make the stripes and the base contrast so they don't blend together.
 Diagonal stripes will also help to slightly lengthen the nail plate optically. Experiment with rich hues such as crimson, dark green, and golden finishes.