Automotive
What To Do When Your Car Is Damaged By Hail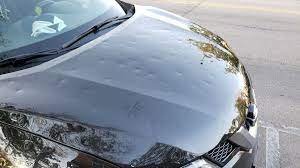 The sound of hail pounding against your car can be an unpleasant surprise, especially if you know it will likely damage your vehicle. Hail storms can wreak havoc on cars, leaving dents, broken windows, and paint damage.
The aftermath of a hail storm can be stressful, but with the right steps, you can ensure that your car is repaired and back to its pre-storm condition as quickly and smoothly as possible.
In this blog, we'll explore what to do when your car is damaged by hail and how you minimize the hassle and stress of a hail storm and get back on the road with a fully repaired vehicle.
Assess the Damage
If your car is damaged by hail, the first step you should take is to assess the extent of the damage. This will give you a better understanding of the cost of repairs and what type of repair services you need.
When assessing the damage, take note of the number and size of the dents, as well as any broken windows or paint damage. Be sure to inspect the entire vehicle, as hail can damage cars in many different ways, including the roof, hood, trunk, and sides.
If you are still determining the extent of the damage, consider getting a professional assessment from an auto hail damage repair service.
It is important to remember that the damage caused by hail can sometimes be challenging to see, so be sure to inspect your car thoroughly. Some dents may be hidden behind doors or in areas that are difficult to see, so be sure to check these areas carefully.
File an Insurance Claim
Filing an insurance claim can vary depending on the insurance company and policy you have. However, some general steps can help you navigate the process.
The first step is to take pictures of the hail damage to your car and gather any other documentation that may be relevant, such as the date and time of the storm and any previous damage to your car. This documentation will be necessary to support your insurance claim.
Next, you should report the damage to your insurance company. They will likely ask you to provide the documentation you gathered and answer some questions about the damage and the circumstances surrounding it.
They will then assess the damage and determine whether it is covered under your policy.
If your insurance company determines that the damage is covered, they will give you an estimate for the cost of repairs. It is essential to understand that this estimate is only an approximation, and the actual cost of repairs may be higher or lower.
If you disagree with the forecast, you can discuss it with your insurance company or seek a second opinion from another auto repair service.
Choose an Auto Hail Repair Service
When it comes to repairing hail damage on your vehicle, you want to make sure you're choosing the right service. Here are some key factors to consider when selecting a car's hail repair service.
Begin your search by gathering information on available options in your area. Ask for recommendations from people you know and trust, or look online for reviews and ratings of local services.
Go with a reputable and experienced service to ensure your car is properly repaired. Look for a service that specializes in hail damage repair, as this will give you confidence that they have the necessary expertise and tools to effectively fix your vehicle.
Some of these specialists travel to storm locations and they should be upfront about it too. For example, StormWise is a Denver auto hail repair company that travels to a few states where it has a satellite mobile office during the storm season.
It's a good idea to check if your insurance policy covers hail damage repairs. If it does, the repair cost will be covered by insurance and you'll only be responsible for paying your deductible. If not, be sure to get quotes from multiple services to find the most affordable option.
Finally, consider a service that offers a warranty or guarantee for their work. This will give you peace of mind knowing the repair work is done to a high standard and that any future problems will be handled by the service.
Conclusion 
Dealing with hail damage to your car can be a stressful and overwhelming experience. Still, following the steps outlined in this article, you can minimize the damage and ensure that your vehicle is repaired quickly.
Remember, hail damage repair is a specialized field, and it's essential to choose a service provider with the experience and expertise to repair your car correctly.