Business
Where to get a Custom 12-inch Vinyl Record Mixtape in Australia?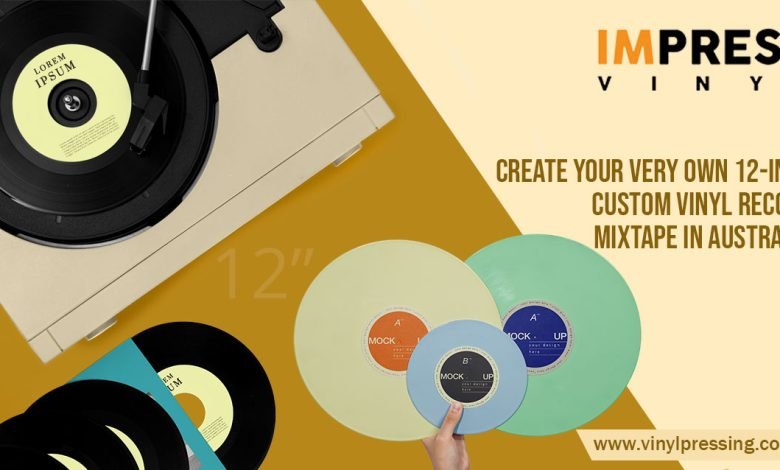 Are you a vinyl lover, and do you want to have your mixtape pressed on a custom 12-inch vinyl record? Will you gift personalized 12-inch vinyl records to your loved ones, or are you planning to give them to your vinyl fans for any occasion?
If you are pondering where to get a custom 12-inch vinyl record mixtape in Australia. The most straightforward answer would be having a vinyl pressing manufacturer do it.
It would be a great experience to have your favorite mixtape on custom vinyl records. I'm confident you will enjoy & relish the format even more. Let's look at the process of creating a mixtape with 12-inch vinyl records.
Most Effortless Method is to Order From a Vinyl Pressing Plant
Do not worry about the custom 12-inch vinyl mixtape record by actual cutting or pressing. You need to prepare the files your selected pressing plant needs, and you will have your personalized 12-inch vinyl record ready.
There will be no custom vinyl records without the file preparation to start the work without the file preparation. There are many stages to complete on time to deliver a top-notch vinyl record with your desired mixtape.
Let us look into the process of getting a custom 12-inch vinyl record mixtape.
Production phase
Step 1: Requirements
It would be best to decide on many things required to press a custom vinyl mixtape. List the songs you need to add on vinyl and decide what you can follow through to organize your decisions & thoughts.
Vinyl record size
There are three standard vinyl record sizes, 7-inch, 10-inch & 12-inch, and come in three speeds, 33, 45 & 78 RPM. Depending upon the speed, there are advantages & disadvantages to this, so choose your desired records at your own risk.
Do You Need Jacket or Not
Jackets are a must for a musician to release their album with a 12-inch vinyl pressing because it acts as the face of the vinyl album. However, it's unnecessary for mixtapes since the fans would not have any promotional purpose.
If you forgot this part of the packaging, your pressing plant manufacturer would indeed have you choose an inner sleeve to have your vinyl record protected.
Type of Jacket
Various types of jackets will dictate the dimensions and the number of artwork or designs you'll have for them.
Do You Need an Inner Sleeve/s or Not
The inner sleeves are another integral part of your packaging vinyl. You need to select your desired jacket to have sleeves on your custom vinyl record. If you don't pick your sleeves, the jacket is meaningless.
Type of Inner Sleeve
Inner sleeves have many options, including paper, plastic, colored or transparent, printed or plain. If you need to showcase your visual graphics, you should choose printed paper or plastic inner sleeves.
Manufactory to Order From
Another vital part of deciding is to help you know what files to prepare & if you will be able to achieve your dream of a personalized 12-inch vinyl record mixtape.
Standard Process or Custom Vinyl Mastering?
The pressing will depend on the manufacturer you've chosen. Remember that mastering will demand you a fee if the choices are present in vinyl for a 12-inch record mixtape. If you don't want to spend money, don't worry; it still sounds great.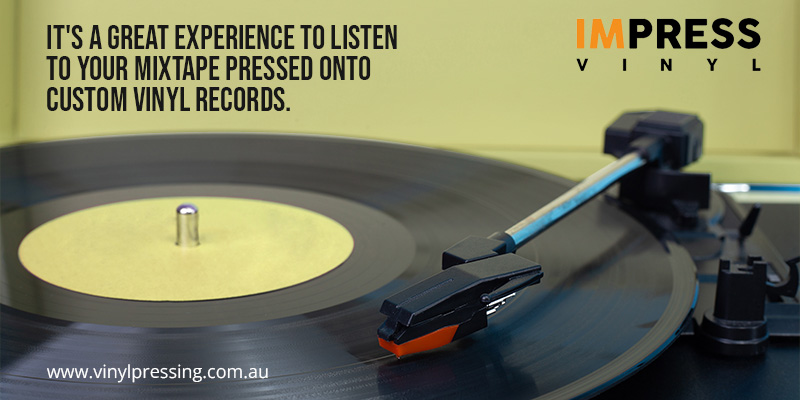 Assembling
After determining the above things, now you can start assembling the songs you need to have on your custom vinyl record. Selecting a custom 12-inch vinyl record for your mixtape can add many songs, probably around 12-15 songs. If you choose 12-inch vinyl singles, presumably, you can add 7-10 songs.
It would be best if you also remembered when compiling the songs to have saved the file type your pressing plant prefers. Most pressing plants require you to have your songs on standard MP3 files or WAV format & they might also accept AAC file type for iTunes.
Eye-Catching Designs
While listing your songs, you need to tell the pressing plant to print your desired image or message on the front cover. Make sure you have colorful & eye-catching designs.
Vinyl pressing in Australia has many eye-catching designs, sleeves, and jackets. If you select to have no jacket on your personalized 12-inch vinyl record and have a plain & simple inner sleeve, you can skip this part and go right into ordering your custom vinyl records in Australia.
Ordering
Ater incepting that everything is prepared & good, you can place your order. You need to send the files or upload them through email, and the preparations stage ends for custom vinyl 12-inch records.
Waiting Stage
Request
Don't get confused about the waiting stage. You can request updates or changes in a custom vinyl record. Do not hesitate to ask for it, and don't ask them too often.
Waiting
Step two is what you will be doing for most of the waiting stage, so have patience. Do not overthink or worry. Vinyl pressing has fast lead times to 8/6/4 weeks with test press options.
Repeat
The last step is to repeat the first two steps for the waiting stage. If you are an edgy person, I suggest repeating them a day or two after the promised delivery time. Vinyl pressing delivers to every part of Australia and then onto the world.
How many songs fit on a custom vinyl record is not a straightforward answer; it depends on the record's RPM and size. Regardless of the size of your vinyl, with proper cleaning & storage, custom vinyl records can last for a long time to enjoy the warmth of the music. Vinyl pressing has fast lead times for custom 12-inch vinyl record mixtapes in Australia at affordable rates.