Tech
Why Salesforce is an Ideal CRM choice for all kinds of businesses?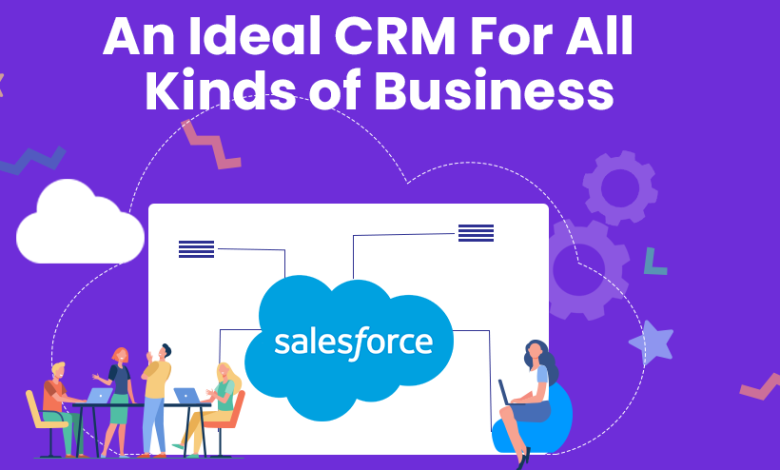 Suppose you are an emerging entrepreneur along with three more comrades and inevitably as time flies by businesses are bound to grow. And Salesforce is capable of scaling as fast as your business. You can say that Salesforce is the software of the future. To get a wider view, let's have a look at some key points that will show you why Salesforce is the ideal choice for every type of business.
Salesforce might not be as easy to use as Freshworks, but once you get the hold on it, you can grow your business at an immense rate. The one way in which Salesforce is superior to others is its ability to scale simultaneously as the business grows.
Why Salesforce with proven facts
Since its inception in 1999, Salesforce has only grown and eventually managed to dominate the CRM industry. Whether it's implementation, integration, customization, advanced workflow Salesforce is atop the line in every section.
Well Established and Profound Reputation
Here, we are not just talking about CRM, but Salesforce is also a market leader in the cloud computing and software-as-a-service (SaaS) industry. As a matter of fact, Salesforce is a synonym of CRM (Customer Relationship Management). On top of that, big firms from all the sectors like Adidas, Western Union, Schneider Electric, Mercedes-Benz, etc use this software.
However, it doesn't mean that Salesforce is only suitable for large companies. They have designed their pricing and plans based on the needs of all sizes of companies. In addition, the user can customize the Salesforce as per their needs.
Scalability and Customization
A business should think of CRM (Customer Relationship Management) software as an investment and you should calculate its benefits based on ROI (Return on Investment). So while choosing the CRM, in addition to the current needs, you should look at the potential forthcoming requirements as well. Only after that, you will be able to reach the untapped potential of the company.
Salesforce is capable of all we mentioned above. It can handle the future customer base with the same proficiency as it takes care of your current clients.
Also, you can argue with the fact that every business is unique in its own way and a statistic from the survey from Salesforce also confirms the same. According to their study, 86% of CRM users admit that personalization plays a crucial role in purchasing a CRM. Most of the users are more comfortable buying an application that is flexible and easily customizable. This reason gives us a huge argument confirming why Salesforce is the optimal choice.
Data Security is their top priority
In current times, we have witnessed a lot of companies losing customer information undeliberately or sometimes due to weak security. However, Salesforce tries to improve the security of their applications and servers to keep customer data safe.
Even if breachers managed to break through the firewall, Salesforce makes sure to run top-of-the-shelf data recovery protocols.
The Bottom Line
In the end, you should not blindly trust any recommendations or software advice websites. Instead, complete your own due diligence and after having a free trial of a bunch of other software, you should choose one. In the article, we have focused on the pros of the application and highlighted why Salesforce is the dominant force of the CRM industry as of now. However, new contenders are always emerging in the market and some are even capable of dethroning Salesforce.